The Kelowna Dermatologists have been handpicked exclusively based on rating factors including but not limited to – Clinic History, Public Reviews, Location, Range of Dermatology Services, Cost of Dermatology Services, Special Offers, Client Engagement, and Awards & Recognition.
KELOWNA'S 12 BEST DERMATOLOGISTS
Here's the list of 12 top-rated dermatology clinics that you could find in Kelowna, British Columbia:
Interior Dermatology Centre
Okanagan Dermatology Clinic
Kelowna Skin Cancer Clinic
Cerulean Medical Institute
Okanagan Skin Care Centre
Revive Skincare
Dermapure – Kelowna
Serenity Aesthetics Skin Care
Illuminate Skin care and Esthetics
Oval Medical Laser Aesthetics
Event SkinCare
Odette's Skin Laser Wellness Clinic
1. Interior Dermatology Centre
Reviews
Excellent first experience with Dr. Borrows! I have been working with the other dermatologist in town as well as other skin clinics here in Kelowna and not had much luck with solving my skin concerns. Dr. Borrows was very knowledgeable, polite and listened to my concerns. She offered different services that may be able to target my concerns and was very accommodating with her schedule to squeeze me in one more time prior to my May wedding. Furthermore, the clinic is lovely inside, very clean, modern and the front desk staff was great! So glad to finally have a wonderful Dermatologist here in the Interior.

Emily Cooney
2. Okanagan Dermatology Clinic
Reviews
What a pleasure to see a dermatologist…
Dr. Teegee was on time, friendly, and knowledgeable. Finally, I am getting the right treatment! I have had so many creams prescribed by my GP over the years, to no avail. It has been pretty disheartening, to say the least. So my visit was a relief, and I feel we are lucky to have such a qualified doctor in the Okanagan.

Barb Setterfield
3. Kelowna Skin Cancer Clinic
Reviews
As there is a history of skin cancer in my family, I want to be proactive in taking care of my skin. Dr. Ben's yearly mole mapping has helped to ease my concerns. I'm glad I have a baseline mapping as a reference for any changes. He's passionate about helping to decrease the chances of getting skin cancer by focusing on prevention. I follow his advice about sunscreen and covering up as well as a yearly checkup.

Catherine Hein
4. Cerulean Medical Institute
Reviews
I visited the clinic in 2019, the first treatment I got was skin tightening around my eyes, the results were amazing, I had further positive procedures that year.. I have been back this year and had the skin tightening again as well as filler in my cheeks. I am so impressed, I looked at pictures from 2019 compared to this month and I look younger today that the previous pictures.

Dr. Chetty is very knowledgeable and professional explaining what treatments will work best for me, and I greatly appreciate the follow up appointments to check on my progress. I highly recommend Cerulean for your skin care needs.

Michelle
5. Okanagan Skin Care Centre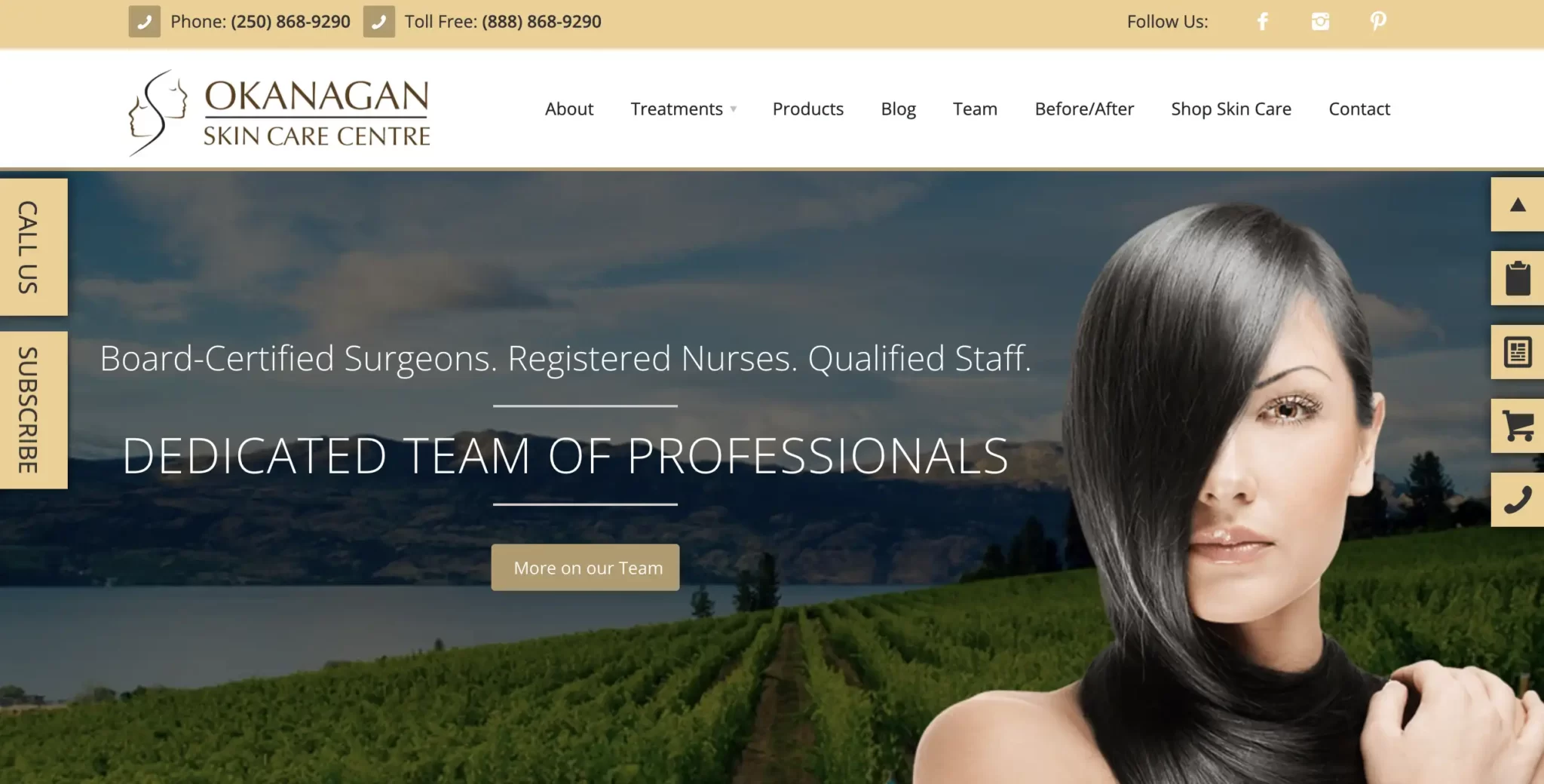 Reviews
Kimberly is absolutely the best! She takes the time to explain the service and is so knowledgeable and amazing at what she does.I have recommended her & the clinic to many. Thank you for the superior service 🙂

Susan
6. Revive Skincare
Reviews
Montana is just incredible. She never pushes me to do anything I'm not comfortable doing. I go to her for her knowledge and advice and in skin care. She always carefully assesses my skin, And gets me on a plan that I can follow with ease. All the skin products she has recommended me have been amazing and like they were made for the skin. She's so passionate about her work, and you feel truly cared for when you're in her hands. It's such a privilege to have someone like her in Kelowna. Thank you so much!

Harmony
7. Dermapure – Kelowna
Reviews
The team at Dermapure feels like family! They are friendly and supportive and have so many options to make you feel your best. Highly recommend them for their BBL Hero, Hydrafacial and Electone treatments!

Izabela
8. Serenity Aesthetics Skin Care
Reviews
I love Serenity Aesthetics! The new location is beautiful and clean and the staff are always so friendly and welcoming. I love the fact that the clinic offers a monthly facial special for 80$. I really appreciate that the owner offers this deal because the value for the price is unbeatable and makes quality self-care affordable, especially during such a financially challenging time for most. I highly recommend Krista for facials, she's knowledgeable and gives the best massage!

Martine
9. Illuminate Skin care and Esthetics
Reviews
When it comes to skin care, Meredith is the best! Meredith has worked with me over the years to find the perfect combination of skincare products to make my skin look and feel the best it ever has.

Not only is she knowledgable, but she is passionate about providing the highest quality of care to her clients and that really shows through the time and effort she puts into customizing the perfect skin care regime. I am so grateful to have come across Meredith's business.

Carolyn
10. Oval Medical Laser Aesthetics
Reviews
Tara is amazing!!! I live up north and have been struggling with horribly dry sky etc. I booked the 5D Skin Tightening and honestly didn't have a clue what to expect! The service was top notch. You can tell Tara truly cares about what she does as she was just as excited as me seeing the results happening over the weeks. I'm also using her face line now and so far so good!! I wouldn't hesitate in recommending her and can't wait to get back so I can continue with my treatments!

Christa Jones
11. Event SkinCare
Reviews
I have finally found my skin lady! I highly recommend Melanie. She is extremely knowledgeable, gentle, and made me feel very comfortable. I had the acne facial, as well as added a few products to my routine. I don't remember the last time I felt this confident in my own skin. I look forward to having the laser resurfacing done in the near future. Thank you Melanie!!

Jordan Ober
12. Odette's Skin Laser Wellness Clinic
Reviews
I had the pleasure of having a microdermabrasion by Madison.
She was so professional and engaging, she immediately put me at ease.
My facial was so relaxing. My skin is so soft and glowing. Thank you Madison !!
"Odette's Laser.Skin.Wellness Clinic" is a high caliber skin care salon with an honest, helpful staff and comfortable setting.
Already looking forward to my next appointment!

Gerda W.
Final Thoughts
To cut a long story short, if you're looking for the top-rated dermatology clinics in Kelowna, BC and nearby, look no further than these 12 Best Dermatologists.
And if you're specifically looking for fat-freezing methods to get rid of your stubborn fat, here are Kelowna's Best CoolSculpting Clinics for further reading.