The Oakville Dermatologists have been handpicked exclusively based on rating factors including but not limited to – Clinic History, Public Reviews, Location, Range of Dermatology Services, Cost of Dermatology Services, Special Offers, Client Engagement, and Awards & Recognition.
OAKVILLE'S 13 BEST DERMATOLOGISTS
Here's the list of 13 top-rated dermatology clinics that are most loved by the people of Oakville, Ontario:
GraceMed Oakville Dermatology
Oakville Dermatology and Cosmetics
Rejuvenation Dermatology Oakville
ICLS Dermatology & Plastic Surgery
CENTRAL PARK MEDICAL CENTRE
Skin Vitality Medical Clinic
O'Neill Cosmetic Dermatology
Dr. Craw Medical Aesthetics
Boutique Medical Aesthetics
Epiphany Skin Clinic and Med Spa
APT Medical Aesthetics
The Shores Skin Clinic
TWINESSE Skin & Laser Clinic
1. GraceMed Oakville Dermatology
Reviews
I saw Dr. Taylor after a referral by a family member. He is so amazing at what he does. Highly recommend this Dermatologist.

I heard about Tina while at Grace Med and have visited her for laser and micro needling treatments for a few years now. She has completely changed my skin and got it back on track. Highly recommend Tina!

Overall the clinic is clean, professional and knowledgeable.

The wait times are the only thing I notice could be improved when seeing the Dermatologist at this clinic. Even with a scheduled appointment give yourself extra time as you will still be waiting well past your appointment time slot.

D. Simp
2. Oakville Dermatology and Cosmetics
Reviews
We have all been to specialists, clinicians, doctors and professionals in different areas. I haven't been to an office or a Doctor where I felt more welcomed and comfortable. Dr. Carr is a lovely individual who is caring in her treatments, listens to the client, and thoughtfully assists you to make informed decisions. It's beyond obvious that Dr. Carr is doing what she loves and doing it with care. I am so impressed with every level of service at Oakville Dermatology, from the professionalism at the front end to Nicole the rock star. My results have far exceeded my expectations. My self-esteem has improved and I'm loving the results.

Julie
3. Rejuvenation Dermatology Oakville
Reviews
I was referred to this clinic for Moh's surgery on my face. As a first time patient, I felt that was treated like an important client. Staff were welcoming, kind, caring and even gave me a bottle of water. I did not wait long before I was in a room being prepped by a nurse who was also wonderful. Dr Xing explained the procedure and certainly gave me the confidence that I was in the best place for this procedure.

Donald Warren
4. ICLS Dermatology & Plastic Surgery
Reviews
Very professional place and knowledge. Julia has been my nurse for all my laser treatment. She is nice, kind, patient and very friendly. Dr. Sapra is very good in acne treatment as well. Their price may cost a bit more than other, but you pay whatever it deserve. I wish I could know them a lot longer than now. Highly recommend.

Rian Lam
5. CENTRAL PARK MEDICAL CENTRE
Reviews
I've been a patient of Dr. Jirjis' for many years and have remained her patient despite moving 40 minutes north of oakville. I have had nothing but incredible support and care by her, as well as the walk in doctors on site when she hasn't been available. I have A LOT of medical needs due to physical complications and I have honestly had the best care and advocacy I can imagine with this care team.

The reception staff are always friendly and welcoming and the pharmacy is run by a fantastic pharmacist and staff. I read other reviews and feel bad for those who have had negative experiences because this doctors office has been a lifeline for many years.

Kristin
6. Skin Vitality Medical Clinic
🚨FAQ: "How Do I Get Rid Of My Dark Circles?"
We have the answer for you👇🏻
Helping the most people look and feel beautiful in Canada since 1992 🖤​​​​​​​​https://t.co/sjMrN4MgiD#botox #filler #botox #dermalfillers #facialaesthetics #nurseinjector pic.twitter.com/XAHLKTG1GM

— Skin Vitality Medical Clinic (@SkinVitality) December 6, 2022
Reviews
Each and every one of the ladies at Skin V is lovely. Whether front line, consultants or the nurses conducting the treatments; you're in the best of hands for all your cosmetic needs and the atmosphere is very uplifting. 10/10 would recommend it for my friends and family and although Oakville is the only location I've been to, it's officially my go-to.

Noor Al-Lababidi
7. O'Neill Cosmetic Dermatology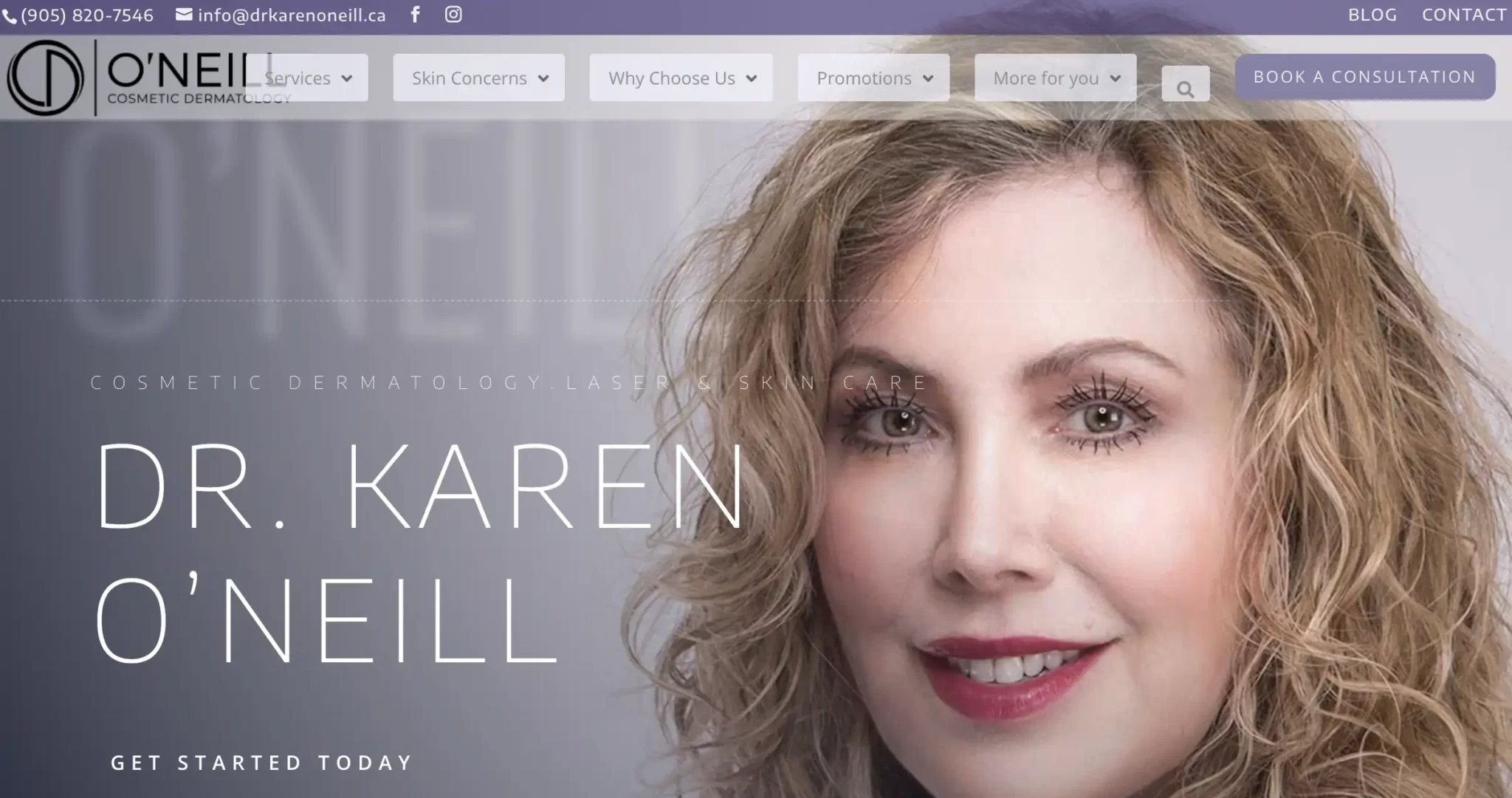 Reviews
Awesome physician and awesome staff. The office always picks up their calls and also available by email. They are really nice and accommodating.

Dr. O'Neill is a kind, caring person. Answered all my questions regarding my concerns (acne) and gave me the best course of action. I've met a lot of dermatologists and most will sit on the computer and barely look at you. Dr. O'Neill has an actual conversation with you which is refreshing!

It was great to meet her and the other staff at the office. 🙂

Angela
8. Dr. Craw Medical Aesthetics
Reviews
If you're looking for an outstanding Dermatologist, look no further! Dr. Craw is very knowledgeable, extremely thorough, kind and caring. My teenage son recently saw her for a long-standing skin condition that has improved significantly in a short period of time under her care.

The fact that Dr. Craw runs on schedule is a real blessing! Who wants to wait up to 2 hours to see a specialist? Linda, the Receptionist, is much like Dr. Craw – helpful, personable and a real pleasure to interact with. I would highly recommend this team to anyone!

Cheryl Mercer
9. Boutique Medical Aesthetics
Reviews
my skin!! I was unhappy with my skin prior to going to Boutique Medical, she has been absolutely amazing and so kind. She has recommended treatments and products that have completely transformed my skin for the better. I highly recommend going to Cynthia if you are struggling. She is absolutely amazing!!!

Katie Wilson
10. Epiphany Skin Clinic and Med Spa
Take Years Off with a Dysport Injectable Treatment at Epiphany Spa until Feb. 1 — only $8/unit. Fillers only $475/syringe. pic.twitter.com/JhKUnrhPnZ

— Epiphany Spa (@EpiphanySpa) January 22, 2020
Reviews
Lovely, clean, calming and overall wonderful experience! I had a fabulous facial that left my skin feeling so soft. I will definitely be coming back!

Maureen Hanson
11. APT Medical Aesthetics
Reviews
I went here to get a Chemical Peel treatment and it was honestly amazing! My skin was glowing and I was treated with so much care! If you ever want to pamper yourself & your skin, this is the place you need to go to!

Mahi Yordanos
12. The Shores Skin Clinic
Reviews
Amazing skin care clinic! The entire team is highly educated and applies this in their work which shows amazing results. Also, the team is knowledgeable about highly effective products which allows them to build a personalized routine that caters to specific skin care needs and goals which in turn delivers amazing results. This clinic also offers incredible spray tans, skin procedures such as microneedling and laser hair removal… what can't they do! Highly recommend TS Skin Clinic for your all your self-care needs!

Rochelle
13. TWINESSE Skin & Laser Clinic
Reviews
I had my filler treatment with Virginia 3 weeks ago. It was my first time going to Twinesse and I was very impressed with both the clinic and my injector. The clinic was clean and beautiful and I felt very comfortable having my injections done here.
Virginia was fabulous. She is professional and knowledgeable. She took her time going over my wants and what she felt worked best with my budget. She was very gentle and always checked in to see how I was feeling. I did cheeks, chin and lips and couldn't be happier with my results.
I definitely recommend!

Amanda Johnson
Final Thoughts
In a nutshell, if you're looking for the top-rated dermatology clinics in Oakville, Ontario and nearby, look no further than these 13 Best Dermatologists.