The Calgary Laser Hair Removal Clinics have been handpicked exclusively based on rating factors including but not limited to – Clinic History, Public Reviews, Location, Range of Services, Cost of Laser Hair Removal, Special Offers, Client Engagement, and Awards & Recognition.
CALGARY'S 15 BEST LASER HAIR REMOVAL CLINICS
Interested in removing unwanted hair from the face, legs, arms, underarms, chin, back, bikini line, and other areas? So, here are the 15 laser hair removal clinics that are most loved by the people of Calgary, Alberta:
Revive Laser and Skin Clinic Inc
My Girl Souz
Fresh Laser Skin Studio
Illume Skin & Laser
Laser Hair & Skin Centre
Chiq Cliniq Inc
RestoBod Laser & Skin Clinics
Skinpossible Laser & Light
Genie Laser Hair Removal
DermaKarma Laser Spa
Enlighten Laser And Skin Care Clinic
Oasis Laser Skin Clinic
Kalon Medical Aesthetics
New Skin YYC
Marvy's Skin Care Laser & Esthetics
1. Revive Laser and Skin Clinic Inc
Reviews
Make you feel welcome…
Revive Laser is the BEST place in Calgary hands down! When you first enter, they immediately put you at ease and make you feel welcome. I was hesitant and mentioned this worry during my initial consultation because I had previously had a very bad laser hair removal experience. The women listened to me and gave me comfort. They converse with you and guide you through the procedure. That was swift! I cannot stress how highly I regard this clinic.

Selina Artis
2. My Girl Souz
Reviews
Wonderful experience…
I recently had my first laser hair removal appointment, and I couldn't be happier with the results! My hair doesn't grow as quick as it did with shaving; I only shaved once in 3.5 weeks. Suzy was also really prompt and effective; she listened to me and treated me like a friend. I can't wait to see her for my upcoming treatments! I appreciate you making this such a wonderful experience!

Anne Choi
3. Fresh Laser Skin Studio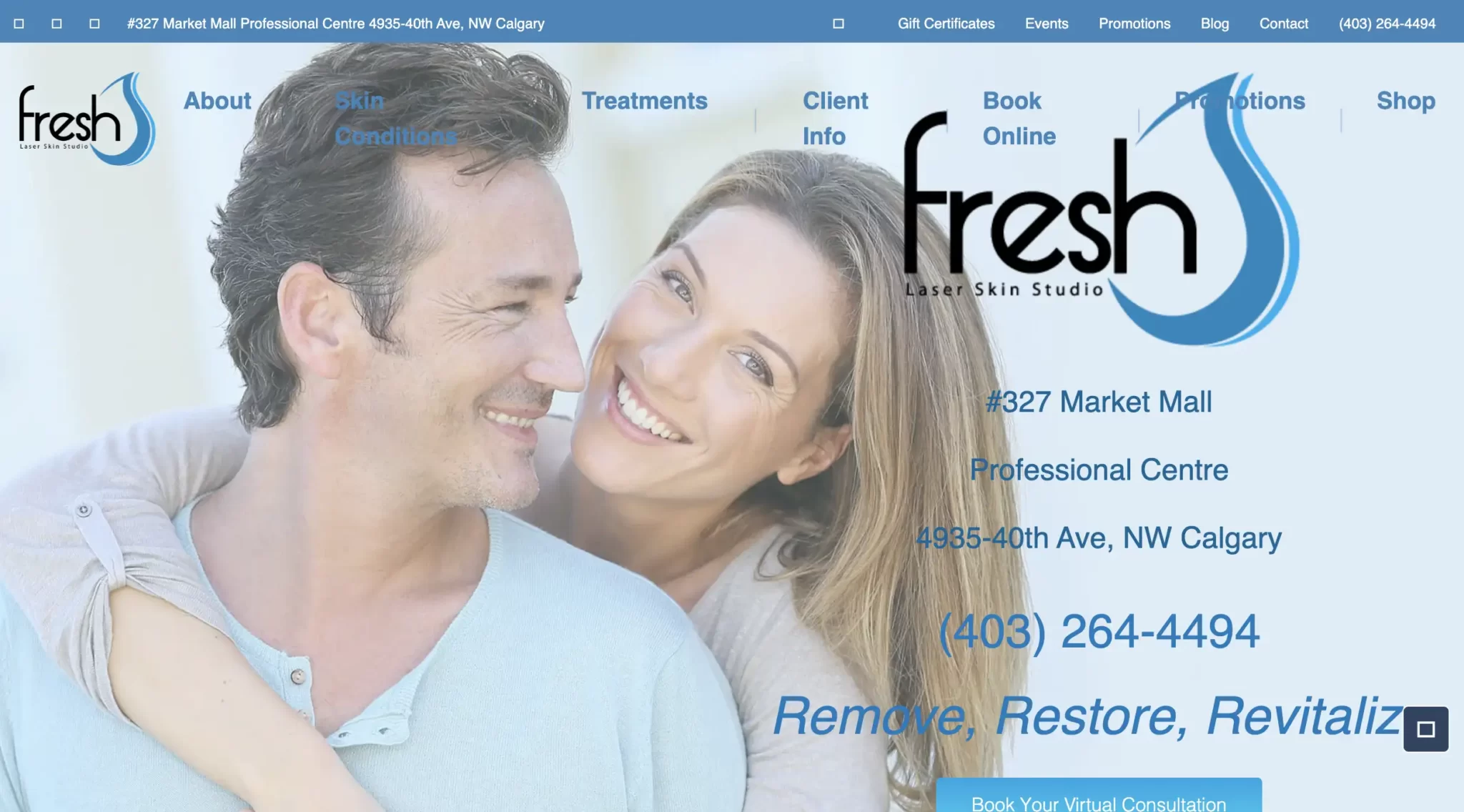 Reviews
Values you as a client…
First time here! I had the most amazing laser experience at Fresh. The staff could not be more kind and accommodating. Coral was the absolute best!! You can really see how much she loves her job and values you as a client. She made certain that I was comfortable and that I was happy with the hair removal results (which I certainly was!!!) 10/10 – highly recommend!

Leela
4. Illume Skin & Laser
Reviews
The service was excellent…
Booked in for laser hair removal on my back with Molly it was super easy, convenient and I have very minimal hair growth left after only a handful of sessions.
The hair service was excellent and everyone at Illume was super friendly.
The consultation I was given explained the whole process and time frames but I didn't expect to see such great results already!
The clinic was extremely clean, well organised and looks fantastic.

Ryan
5. Laser Hair & Skin Centre
Reviews
Overjoyed…
I've already had four laser hair removal procedures. I met with Ashley for my consultation and every following appointment. Your suffering is unavoidable, and each person will experience it differently in terms of intensity and tolerance. Despite the fact that I'm just about halfway through the anticipated number of treatments, I'm overjoyed with the preliminary results.

Zahra H
6. Chiq Cliniq Inc
📷 Ultimate Laser Hair Removal Experience with The ZENSER Infinite Ice | Alexandrite | Diode | Yag | All Skin Tones | All Hair Colours | Voted Best LHR Clinic | #calgary #diodelaserhairremoval #laserhairremovalcalgary (at https://t.co/WgRHWWAl0F)… https://t.co/CUEbFfVLtS

— ChiqCliniq (@CCliniq) August 12, 2020
Reviews
Full body laser…
10/10 Very pleased with the results! I've travelled far and utilised a variety of laser equipment. I felt I was in good hands with Salima after our first session. She is really knowledgable and speaks from personal experience. She really does take her time to make sure every hair has been taken care of and that you are totally at ease. I decided to get a full body laser (facial, entire legs, complete brazilian, underarms, face, and neck). I had four full sessions, and I feel so much more satisfied as a result that the cost was well worth it.

Preet Johal
7. RestoBod Laser & Skin Clinics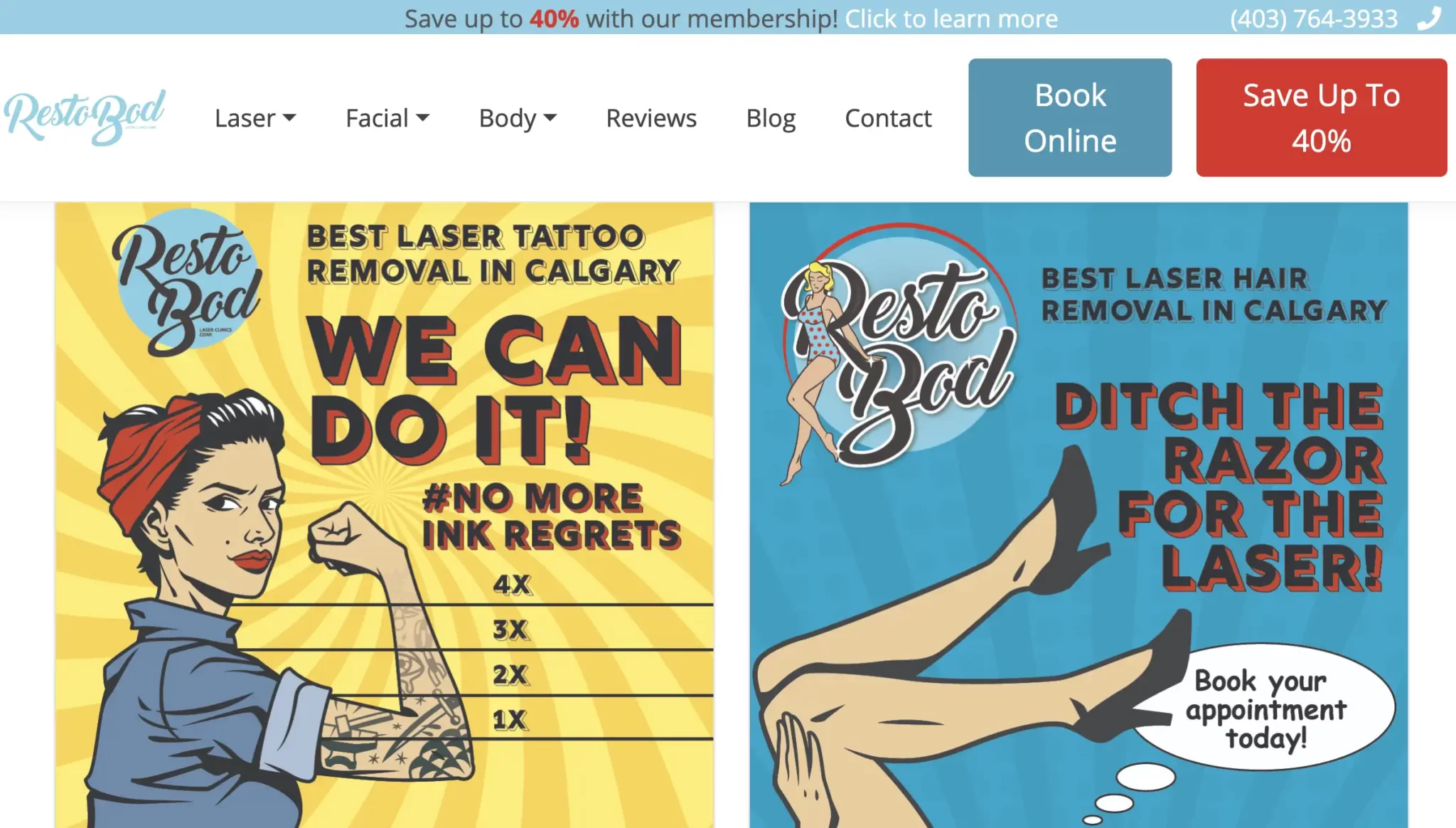 Reviews
So far, so good…
For years, I held off getting laser hair removal. I was terrified about getting hurt and being uncomfortable, but the staff at RestoBod made me feel so at ease that I started the procedure! I can't wait to see the outcome!

I appreciate the excellent team's help in guiding me and making me feel comfortable. Bonus: Despite what some people think or say, laser hair removal does not have to be excruciatingly unpleasant. So far, so good:)

Steph Belanger
8. Skinpossible Laser & Light
Reviews
Positive, informative, and encouraging…
I Will be having 1st treatment in early December, Linda was positive, informative, and encouraging for me. I had been for a consult in 2021 but with Covid getting into a dermatologist took time.

Pamela
9. Genie Laser Hair Removal
Reviews
Amazing experience…
I had such an amazing experience with Genie that I would recommend anyone looking for laser hair removal in Calgary NW to go with her! From the minute that I walked in – I felt so welcomed, super comfortable and It was such a painless service. After months of going to her, I can definitely say that the results are AMAZING and it has made my life so much easier.

Rana M.
10. DermaKarma Laser Spa
Reviews
Reputable facility…
My laser hair removal treatment with Monika is going well thus far. My results have more than satisfied me. Monika is extremely competent and knowledgeable in her field. She is enthusiastic about what she does and will stop at nothing to make you feel comfortable throughout the sessions.
I was desperate to get rid of my facial hair and searched for a reputable facility to get the procedure done; happily, I discovered this one. I am overjoyed with the outcomes, and I heartily recommend DermaKarma Laser Spa to anyone searching for a clinic they can trust to deliver results.

Khushboo Singh
11. Enlighten Laser And Skin Care Clinic
Reviews
Fantastic experience…
Great place. All the staff are friendly and do an amazing job! My husband and I got a Groupon for laser hair removal and we had a fantastic experience here.

Jess
12. Oasis Laser Skin Clinic
Reviews
City's best laser hair removal…
Salima genuinely cares about providing you with the best outcomes and reasonable pricing. This has been the city's best laser hair removal treatment for me.

I always look forward to my appointments, and Salima and her lovely clinic make me feel quite at ease. I know she will give me effective treatments, a breakdown of the procedure, and advice on how to achieve the greatest outcomes. I would highly recommend her to anyone searching for someone who genuinely cares about you and your results.

Isabella
13. Kalon Medical Aesthetics
Reviews
Wealth of knowledge…
I absolutely love Kalon, Haylee and the team! They are so welcoming and caring. I appreciate their warmth and kindness as well as their wealth of knowledge about skincare and laser hair removal. I have been back a few times and definitely recommend it!

Erin
14. New Skin YYC
Reviews
Well-run and reasonably priced…
For laser hair removal, I thoroughly recommend New Skin YYC. Professional, knowledgeable, and compassionate. Melanie is an expert in the area due to her training in medicine. After three full body treatments, I've seen a SIGNIFICANT improvement in my hair growth. This place is fantastic if you're searching for laser hair removal. This company is extremely well-run and reasonably priced. The results are amazing.

Anitha
15. Marvy's Skin Care Laser & Esthetics
Reviews
Super friendly…
Rosie is great! She's super friendly and makes you feel comfortable as soon as you walk through the doors. She's efficient and has the best laser machines! Also, very clean and inviting space for hair removals.

Lindsay
Final Thoughts
To sum it up, if you're not happy with shaving, plucking or waxing to get rid of unwanted hair, laser hair removal from one of these Calgary's top clinics is an option worth considering.
—END—