The Edmonton Dermatologists have been handpicked exclusively based on rating factors including but not limited to – Clinic History, Public Reviews, Location, Range of Dermatology Services, Cost of Dermatology Services, Special Offers, Client Engagement, and Awards & Recognition.
EDMONTON'S 13 BEST DERMATOLOGISTS
Here's the list of 13 top-rated dermatology clinics that are most loved by the people of Edmonton, Alberta:
Edmonton Dermatology Centre
Rejuvenation Dermatology Clinic (Edmonton South)
Lucere Dermatology & Laser Clinic
Rao Dermatology
Stratica Dermatology
Skin Physicians Dermatology Clinic
Nakatsui DermaSurgery
RejuvaDERM Cosmetic Dermatology & Laser Centre
Symmetry Dermatology, Laser & Esthetics
Alberta Dermatology Consultants
VIDA Dermatology
Searles Gordon Dr (South Edmonton)
Sharma Skin & Hair Surgery
1. Edmonton Dermatology Centre
Reviews
When I required a follow up procedure on a skin cancer issue, I researched doctors in Edmonton and found Dr. Taher to be highly rated, so I requested the referral to his office from my GP. I was not disappointed, and found the whole experience to be top notch.

Annette
2. Rejuvenation Dermatology Clinic (Edmonton South)
Reviews
Once again, I am completely impressed with your service. I was seen exactly on time (within less than 5 minutes). The attendant looking after my initial interview was professional and friendly. Dr. Karpman once again did a thorough evaluation of my skin for possible skin cancer indications and answered all of my questions to put my mind at ease.

Raymond D.
3. Lucere Dermatology & Laser Clinic
Reviews
The minute you enter Lucere (I've been to both locations) you are greeted with the biggest smiles. Today, I saw Nurse Tracey at the downtown location. She is exceptional! She's kind, gentle, very knowledgeable and takes time to explain a treatment plan suited to your needs. I am always thrilled with my results.

Lydia Andrews
4. Rao Dermatology
Reviews
I tried Rao Dermatology for the first time for Botox and Filler and all I can say is wow! Mr. Rao really knows what he is doing and did a fantastic job. I would recommend him to anyone. Thank you so much Mr. Rao!!

Sangeeta Richardson
5. Stratica Dermatology
Reviews
Appreciated the quick follow up from referral time to getting an appointment. Front desk staff were welcoming, patient and accommodating.

The doctor's nurse was personable, informative and respectful. Dr. Giberson provides a wide range of treatment options and honest feedback on the success rates of each option.

A positive experience. Thanks to the Strathcona Dermatology team.

Teresa
6. Skin Physicians Dermatology Clinic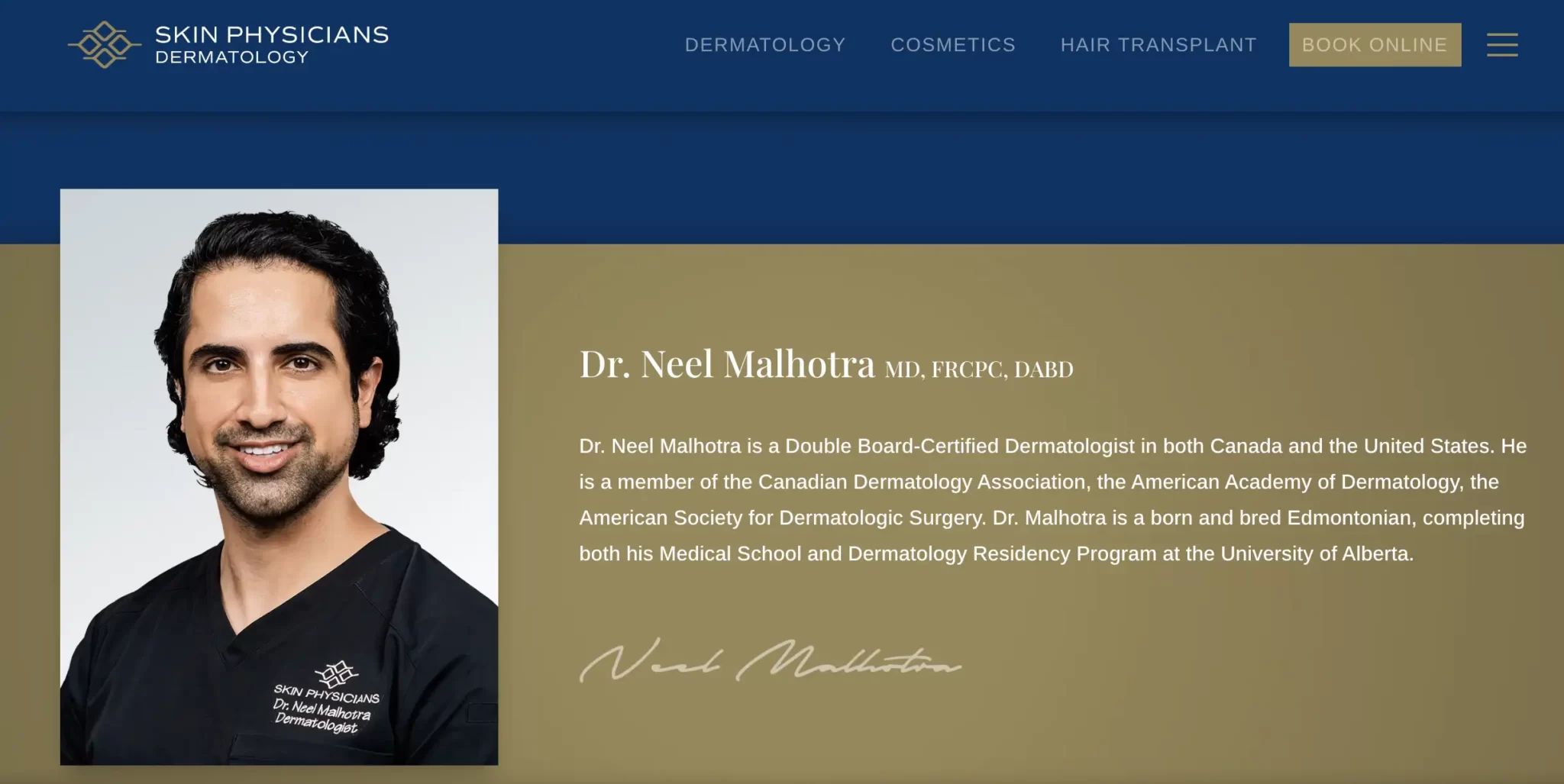 Reviews
This was my first visit to a dermatology clinic. My visit with the doctor went so well. He was very thorough and provided many options to try for my specific skin issue. And the esthetician was also so knowledgeable. And took me to step by step through a skincare regime that would work for my skin type. She also provided instructions on how to follow my skincare routine via email.

Rachel Young
7. Nakatsui DermaSurgery
Reviews
Dr. Nakatsui is a rockstar in the field of dermatology and skin care in Edmonton! We go there because we trust him and his competent and professional staff! Expertise par excellence!

JC Clbs
8. RejuvaDERM Cosmetic Dermatology & Laser Centre
Reviews
I've had Christie now for two treatments and both have been very lovely with results to show. My first was a chemical peel and micro and she was informative and personable. My second was a Hydrafacial to get my skin wedding ready! Can't wait for my next treatment with Christie!

Heather Reid
9. Symmetry Dermatology, Laser & Esthetics
Loving your skin is as easy as asking us which skincare line would be best for your skin type! Make a trip to Symmetry and let us get you that glow!

Get your glow on with a GLOW PEEL. Book one in December for you or someone on your list & get 2 free tickets to Glow Edmonton! pic.twitter.com/x5xOZMofYb

— Symmetry (@SymmetryDerm) December 17, 2019
Reviews
I drive all the way from Calgary to Edmonton to deal with Symmetry for our entire family's dermatology needs. I would never go anywhere else. Lisa(laser)Beth, Dr. Keeling, the entire staff are all amazing friendly caring compassionate people.

Missi Holman
10. Alberta Dermatology Consultants
Reviews
Dr Wong has been my Dermatologist for the past year and he's been absolutely amazing! Very thorough, explaining and answering all my questions with knowledge and professionalism. So grateful to have such a caring Doctor in Edmonton that travels to Grande Prairie.

Jessica
11. VIDA Dermatology
Reviews
I never had poor skin, and a separate doctor utilised acne medications to treat something completely unrelated, so to say that my skin has gone through the wringer is an understatement. Afterward, more acne medications were taken in an effort to treat the outbreaks that the first medications had brought on, which resulted in cystic acne. Again, up until this point in my life, I had had clear skin. I noticed a significant change after just two weeks here, and now, more than a month later, I'm amazed at how well my skin is responding to such a straightforward procedure. Sincerely, I sense that a part of my identity has been restored.

Kallista Wilkinson
12. Searles Gordon Dr (South Edmonton)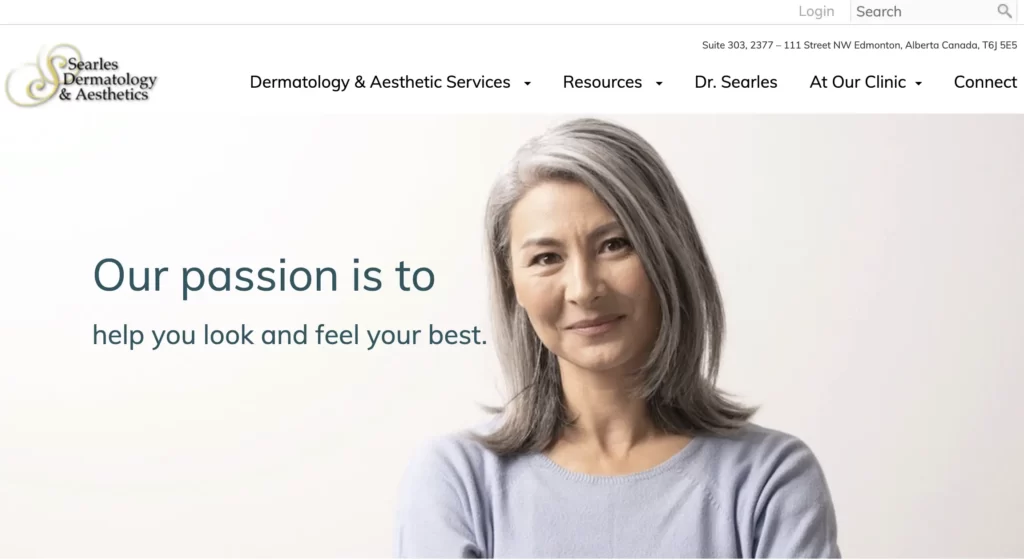 Reviews
I have been seeing Dr. Searles for many years. He is the most caring doctor I have ever had. He is professional and is always helpful in addressing my multiple issues. He truly loves medicine and shows in his care. I had damage from seeing another specialist a few years ago, he went beyond his way to cure me. His crew is also top-notch and helpful. Thank you!

Linda
13. Sharma Skin & Hair Surgery
Reviews
As a medical professional in the aesthetic industry, I have access to some of the top injectors in Western Canada and I recently had filler injected by Dr. Anil Sharma in Edmonton, AB. My problem area was my tear troughs (under eye bags) and being in the industry, I know this is a very tricky area to inject. I have been injected two times before my appointment with Dr. Sharma, and while the overall result was an improvement, I still noticed this area in photos and came across as tired looking. Dr. Sharma is known in the industry for his injectable technique, especially with male patients.

Chris T.
Final Thoughts
To sum things up, if you're looking for the top-rated dermatology clinics in Edmonton, Alberta and nearby, look no further than these 13 Best Dermatologists.
And if you're specifically looking for fat-freezing methods to get rid of your stubborn fat, here are Edmonton's Best CoolSculpting Clinics for further reading.