The Calgary Chemical Peel experts have been handpicked exclusively based on factors including but not limited to – Clinic History, Public Reviews, Location, Range of Skincare Services, Cost of Chemical Peel Treatment, Special Offers, Client Engagement, and Awards & Recognition.
CALGARY'S 8 BEST CHEMICAL PEELS
Searching for the best chemical peel near me? Here are the 8 top-rated chemexfoliation clinics that you could find in Calgary, Alberta:
Juvea Aesthetics
Perfexion Skin Care
Vitality Skin Bar
Prestige Medispa
Illume Skin & Laser
Calgary MediSpa
Fresh Laser Skin Studio
LiLyDermis
1. Juvea Aesthetics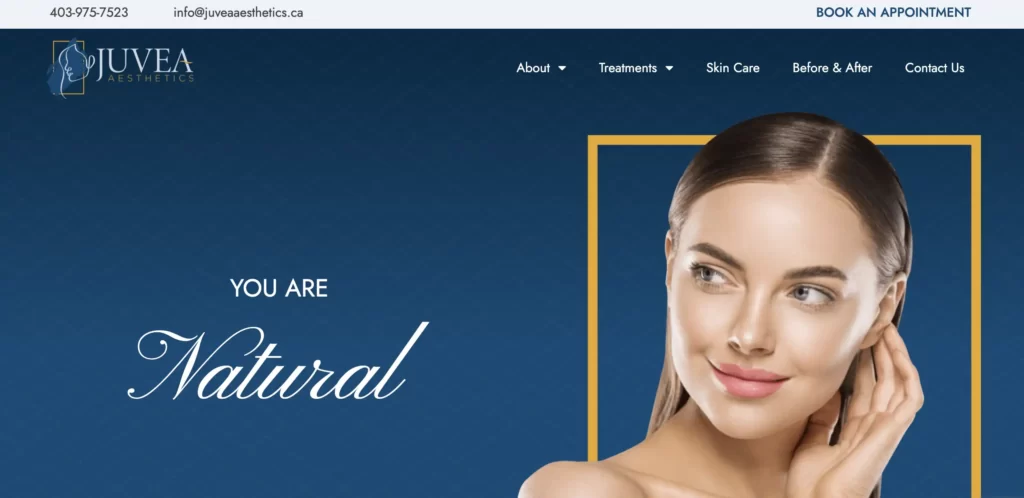 Reviews
I could not be more happy with my chemical peel. Jade made me feel so comfortable. I felt like I was at home. If you get the chance to have jade for your service, you are one lucky person!

Sarah
2. Perfexion Skin Care
Reviews
I would recommend this clinic to anyone!!! I regularly fly to Calgary for work from Texas and make it a point to get services done with Erin while in town as I have not been able to find anyone who can give me the same results. Erin has an incredible eye for what I need and I have never felt overdone. She always has the latest chemical peel techniques and products and takes the time to explain each procedure and answer and questions I may have. I always feel five years younger when I leave. I wish this clinic would open up in Texas!!!

Glory Jewitt
3. Vitality Skin Bar
Reviews
I am thoroughly impressed and satisfied so far with my treatments at Vitality. I have been seeing Candace for hair removal and it's been great. She's very good at what she does, and has a way of making the customer feel very comfortable – something very important to me, especially when having more "personal" procedures done. I've also noticed that she takes her time and I never feel like i'm being rushed out the door. I say all of this as someone who has been to multiple places for other cosmetic procedures and been unimpressed with each one so far. Needless to say, I've found the place that i'll be sticking with for a while to come! I drive across the city to go here and it's definitely worth it. I haven't seen any of the other staff yet but so far everyone seems positively splended and a pleasure to communicate with! I also purchased my sessions at a discounted price when they were on sale which is a huge plus! It seems like Vitality does these sales quite a bit. Really great! Thank you!

Ashley Rose
4. Prestige Medispa
| | |
| --- | --- |
| CHEMICAL PEEL EXPERT | Yvonne |
| WEBSITE | https://prestigemedispa.ca/treatments/#chemical-peels |
| PHONE NUMBER | +1 403-281-5005 |
| EMAIL | info@prestigemedispa.ca |
| LOCATION | 11625 Elbow Dr SW #223, Calgary, AB T2W 1G8, Canada |
Reviews
Yvonne is amazing – not only does she have your best interest in mind she is also very friendly and professional. I just had my 3rd appointment at Prestige Medi Spa. My first 2 appointments were for a chemical peel and I just started my first of 3 micro-needling appointments to help with acne and acne scarring. I can't wait to see the results!

L. Williams
5. Illume Skin & Laser
| | |
| --- | --- |
| CHEMICAL PEEL EXPERT | Kailey |
| PRICE OF CHEMICAL PEEL TREATMENT | $300 (Full Face) |
| WEBSITE | https://illumelaser.ca/services/perfect-derma-peel |
| PHONE NUMBER | +1 403-910-1823 |
| EMAIL | info@illumelaser.ca |
| LOCATION | 2761 17 Ave SW, Calgary, AB T3E 7E1, Canada |
Reviews
My acne is something I have struggled with for almost 10 years and about 6 months ago, my horrible acne somehow managed to get 1000x worse… My face was extremely swollen and red, acne would flair up constantly and I would always feel the need to cover my face up with foundation – which was extremely painful and the worst part of it was meeting new people that would still see the acne first before me. I had the intention of getting Accutane for my horrible acne to just make it stop – which I really didn't want to do. I have been to so many different clinics and have seen many different dermatologists/ aestheticians and it honestly just felt like they wanted to get as much money out of me as possible because I was desperate. Then I met Kailey and within 6 months my acne started to disappear! I had a series of chemical peels done, laser treatments and anti-biotics but knowing I had someone that truly cared got me through it! My self-confidence is coming back, I am no longer stressed about having to cover-up my acne and I am no longer anticipating my next breakout. I URGE you, if this is something your struggling with go see Kailey @ Illume!! She says her passion is to help people with this problem because she also has been through it and I believe her! The girl is honestly amazing. Thank-you Kailey!!

Vanessa John
6. Calgary MediSpa
| | |
| --- | --- |
| CHEMICAL PEEL EXPERT | Vicki |
| WEBSITE | https://calgarymedispa.com/facial-and-chemical-peels |
| PHONE NUMBER | +1 403-879-1257 |
| EMAIL | Info@calgarymedispa.com |
| LOCATION | Located in Marda loop, 2022 34 Ave SW, Calgary, AB T2T 2C3, Canada |
Reviews
I had a great experience and the results I was looking for from my chemical peel.

Nadia
7. Fresh Laser Skin Studio
Reviews
I have come to the studio both for laser hair removal with Amanda and rosacea facial laser treatment with Coral. I highly recommend their services. The hair removal was perfect – quick, painless and professional. Another clinic damaged my face treating for rosacea in the past leaving me scarred physically and emotionally. Coral was kind, patient, and conservative with me as I considered the treatment. The results are great and I'm so relieved to be able to safely treat my condition. I appreciate how they follow up after by email and responded to me regarding my recovery. This place and the staff are great!

Sansira
8. LiLyDermis
| | |
| --- | --- |
| CHEMICAL PEEL EXPERT | Dr Farrokh Farrahi |
| PRICE OF CHEMICAL PEEL TREATMENT | $109-$179 |
| WEBSITE | https://www.lilydermis.com/services/chemical-peel/ |
| PHONE NUMBER | +1 587-231-9901 |
| EMAIL | info@lilydermis.com |
| LOCATION | Shopping Centre, 3630 Brentwood Rd NW Unit 326, Calgary, AB T2L 1K8, Canada |
Reviews
I have been seeing Dr. Farrahi over the past four years for a number of facial treatments. The prices are a little higher than in some places but I'm happy to pay them for his knowledge of this industry, the level of trust I have in his recommendations and the quality of equipment and supplies he uses.

Robin
Final Thoughts
In a nutshell, if you're looking to improve the appearance of your skin via derma peeling in Calgary and nearby, look no further than these 8 Best Chemical Peel Specialists.
—END—
This article is a private opinion and does not constitute advice or any suggestion. We encourage you to seek a professional advice to find out which places or local service providers are best for you. Note that any pricing, operating hours, or other such information provided above may have changed since initial publication. Read full disclaimer here.