Teeth whitening is one of the most popular cosmetic dentistry treatments in Calgary offering a quick, non-invasive and affordable way to improve your smile. However, finding professional teeth whitening options in the neighbourhood can be a bit of a hassle.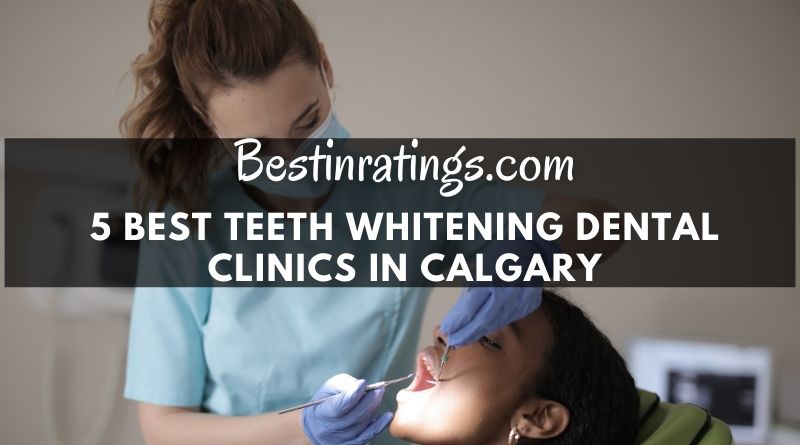 That's why we've pulled out a list comparing some of the top-rated dental hygiene centres in Calgary, Alberta that can help you get rid of the dull shade of your teeth.
The Teeth Whitening clinics have been handpicked exclusively based on factors including but not limited to – Clinic History, Public Reviews, Location, Range of Services, Cost of Services, Special Offers, Patient Engagement, and Awards & Recognition.
Here are the 5 dental clinics that offer state-of-the-art teeth whitening kits & treatments:
Lifetime Smiles Dental Hygiene Clinic
East Village Dental
Inglewood Family Dental
Pro Grace Dentistry
Southcentre Dental
1. Lifetime Smiles Dental Hygiene Clinic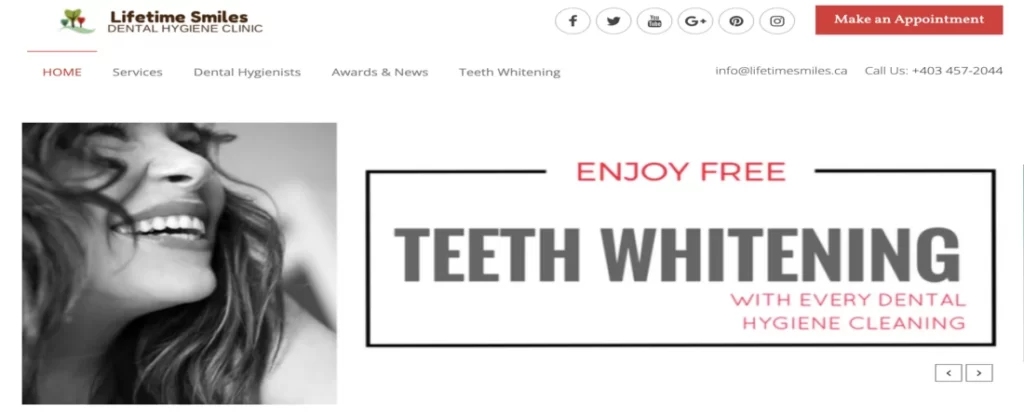 BEST KNOWN FOR
Periowave Laser for Gum disease, Thumb sucking Clinic, Teeth Whitening, Nitrous Oxide – Conscious Sedation, Dental X-rays, Dental Cleanings
WEBSITE
http://www.lifetimesmiles.ca/
TELEPHONE
+1 403-457-2044
EMAIL
info@lifetimesmiles.ca
ADDRESS
11150 Bonaventure Dr, South-East Calgary, AB T2J 6R9, Canada
CLINIC HOURS
Monday, Saturday (9.00 AM – 5.00 PM)
Tuesday, Wednesday (9.00 AM – 9.00 PM)
Thursday (7.00 AM – 9.00 PM)
Friday (7.00 AM – 5.00 PM)
Sunday (Closed)
RATINGS
4.6 out of 5
Lifetime Smiles Dental Hygiene Clinic is an establishment in Calgary that's synonymous with professional teeth whitening. With more than a decade of providing dental hygiene services, they call themselves experts in teeth whitening.
To determine how your teeth will respond to whitening treatment, the clinic provides a free teeth whitening session at the end of your dental cleaning. Additionally, you can book a teeth whitening package (including 6 months take-home kit) at a cost of $175.
Passionate, dedicated, and exceptionally talented registered dental hygienists, this team is exactly who you want to treat your dental health problems.
Top Features
No-Charge session with each booked dental cleaning
No cost first visit for children under the age of 3
Direct billing to most insurance companies
Teeth Whitening Reviews
The dental hygienist was amazing and extremely knowledgeable…
I saw this clinic on Instagram and was interested to see that they provided complimentary teeth whitening with cleaning. Because of their stellar Google reviews, I chose to make a reservation. It's a warm and welcoming clinic. My hygienist was fantastic and very knowledgeable; she provided me with a plethora of knowledge and advice regarding sensitive teeth. This is a place I would highly recommend!

– Tyler
2. East Village Dental
BEST KNOWN FOR
Children's dentistry, Cosmetic dentistry, Dental implants, Teeth cleaning, Teeth whitening, Teeth Whitening Kit, Root canals, Sedation dentistry, Mouth guards, Wisdom teeth, Invisalign and orthodontics, Dental emergencies,
WEBSITE
https://eastvillagedental.ca/
TELEPHONE
587 849-0676
FAX
(587) 390-0226
EMAIL
contact@eastvillagedental.ca
ADDRESS
526 Riverfront Ave South-East, Calgary, Alberta T2G 1E4
CLINIC HOURS
Monday – Thursday (8.00 AM – 8.00 PM)
Friday (8.00 AM – 4.00 PM)
Saturday (8.30 AM – 4.00 PM)
Sunday (Closed)
RATINGS
4.7 out of 5
The second on the list of best teeth whitening clinics is East Village Dental in downtown Calgary. From wisdom teeth removal and dental implants to family dentistry and children's dentistry; they have it all covered.
Each dentist associated with East Village Dental has an impressive academic background and they leave no stone unturned to find personalised treatments for their patients. They offer a quick and painless teeth whitening process that takes no more than an hour.
Moreover, if you're currently a patient of East Village Dental or looking for a teeth-whitening dentist in Calgary? you may be eligible for their FREE lifetime teeth whitening service.
Amazing, isn't it?
All you need is a call or a visit to the clinic to find out more.
Top Features
Open evenings & weekends
Free teeth whitening for life
Direct insurance billing
Teeth Whitening Reviews
Do an excellent job with routine cleanings…
For dental care, East Village Dental is a fantastic choice. They send you home with a teeth whitening kit and offer free teeth whitening once a year. Dental hygienists treat their patients with great care. They always ensure that you have an appointment set in advance and do a fantastic job with routine cleanings. Not enough good things can be said about this dental office! Check it out if you're in the downtown Calgary area.

– Kristyn
3. Inglewood Family Dental
BEST KNOWN FOR
Children's Dentistry, Cosmetic Dentistry, Family Dentistry, Teeth Cleaning & Checkups, Teeth Whitening Kit, Invisalign Clear Braces, Porcelain Veneers, Teeth Whitening
WEBSITE
https://www.inglewoodfamilydental.ca/
TELEPHONE
587 327-6644
EMAIL
inglewoodfamilydental@gmail.com
ADDRESS
1420 9th Avenue South East, Unit 24 Calgary, Alberta T2G 0T5
CLINIC HOURS
Monday – Thursday (8.00 AM – 8.00 PM)
Friday, Saturday (8.00 AM – 4.00 PM)
Sunday (8.00 AM – 3.00 PM)
RATINGS
4.9 out of 5
Inglewood Family Dental is yet another team of teeth-whitening experts in the city. Calgary dentist Dr. Arash Ravanbakhsh and his dental team have built a reputation around a high standard of oral health care.
Like some of their competing clinics, they do offer free lifetime teeth whitening services.
Moreover, their Invisalign treatment starts at $150 per month which also includes complimentary teeth whitening. Inglewood Family Dental follows the standardized price structure in accordance with Alberta Dental Fee Guide 2022.
Another thing that we liked about them, in particular, is their 'complimentary meet and greet', where all new or existing patients receive a complimentary consultation.
Top Features
Free teeth whitening for life
Multilingual office
Extended evening hours
Direct insurance billing
Teeth Whitening Reviews
Open and honest…
I was happy with my experience overall. They were honest and open in every conversation, and they went above and above to help me feel at ease while having a root canal. I can't suggest Dr. Drake and Yvonne highly enough, especially given my fear of dentists. They were both very friendly.

– Cameron Bastien
4. Pro Grace Dentistry
BEST KNOWN FOR
Porcelain Veneers, Teeth Whitening, Teeth Whitening Kit, Cosmetic Bonding, Invisalign Clear Braces, Gum Contouring, Dental Implants
WEBSITE
https://progracedentistry.com/
TELEPHONE
(403) 288-8080
ADDRESS
3630 Brentwood Rd North-West #233, Calgary, AB T2L 1K8, Canada
CLINIC HOURS
Monday, Tuesday, Wednesday, Friday (9.00 AM – 5.00 PM)
Thursday (11.00 AM – 7.00 PM)
Saturday & Sunday (9.00 AM – 5.00 PM)
RATINGS
4.3 out of 5
Next on the list is Pro Grace Dentistry, which is well known for providing dental implants, porcelain veneers, teeth whitening and wisdom tooth extraction among others. There is no referral required to an outside clinic as their in-house specialists take care of most of the dental treatments.
Like others, they're committed to the ADA Fee Guide to make dental care more affordable in Calgary, Alberta.
Whether you're experiencing a dental emergency like toothache, swelling or loss of teeth, or looking for more sophisticated root canal therapy and laser dentistry; it's important to contact them to ensure a quick evaluation and immediate treatment.
Top Features
Open 7 days a week
Free implants consultation
Direct insurance billing
Emergency walk-ins
Teeth Whitening Reviews
Ashley, did an amazing job…
My cleaning was excellent! Since Ashley, the dental hygienist who cleaned my teeth did a fantastic job, I would highly suggest this clinic. Because my teeth are generally sensitive, she took her time and made sure I was okay while we were there.

– Hanna Petkoff
5. Southcentre Dental
BEST KNOWN FOR
Smile Makeover, Tooth Whitening, Invisalign, Veneers, Dental Implants, Implant Dentures, Botox for Bruxism, Myofunctional Therapy
WEBSITE
https://southcentredental.ca/
TELEPHONE
+1 403-278-1415
EMAIL
info@southcentredental.ca
ADDRESS
100 Anderson Rd Southcentre Mall, #155, South-East Calgary, AB T2J 3V1
CLINIC HOURS
Monday – Thursday (7.00 AM – 4.30 PM)
Friday – Sunday (Closed)
RATINGS
4.8 out of 5
Southcentre Dental has been consistently working for more than a decade to enhance smiles in Calgary through a patient-focused approach. Their specialised team of dentists thoroughly discuss all procedures and treatment alternatives with the patients before arriving at any decision.
Tooth cleaning & check-ups, Dental emergencies, Family dentistry, Children's dentistry, and Wisdom teeth removal are some of the services that Southcentre Dental can be of great help.
Another best thing we liked about them is that they follow the Alberta Dental Fee Guide for all basic dental services (regular exams, cleanings, and fillings). So all prices are standardized, no surprises!
Top Features
Botox for Bruxism
Porcelain Veneers
State-of-the-art dental infrastructure
Teeth Whitening Reviews
Courteous, polite, and friendly…
I would highly recommend SouthCentre Dental to all of my friends and family since their staff was excellent. They treated me with respect and kindness and made me feel really at home. When I arrived for my exam, they walked me through everything slowly. They (Dr. Silver, Valerie, and Katie at the front) were excellent, and I didn't feel at all hurried.

– Nia
Frequently Asked Questions
1. How much does it cost in Calgary to bleach your teeth white?
Teeth whitening in Calgary, Alberta costs around $600 to $1200 on average. It also depends on the type of product used to bleach your teeth and the fee charged by your dentist.
3. Is it worth getting your teeth whitened by the Calgary dentist?
Professional teeth whitening is a safe, effective procedure that is carried out under the supervision of a dentist. In most circumstances, paying a little extra to see a dentist is worth it if you want long-lasting, safe results. So we can conclude it by saying that there's no harm in teeth whitening under observation.
4. Is laser whitening better than bleaching?
Laser teeth whitening is considered to be the most expensive method for teeth whitening and is administered in a dental office only. 

Bleach is applied to each tooth, and the heat generated by a laser enhances its effectiveness while ultimately speeding up the process. As it also includes bleaching, so the collective results are far better.
5. How long does laser whitening of teeth last?
Results from laser teeth whitening usually last 8–14 months. However, it may vary depending on the lifestyle of the patient.
Best Teeth Whitening in Calgary
| Dental Clinic | Zone | Our Ratings |
| --- | --- | --- |
| Lifetime Smiles Dental Hygiene Clinic | Calgary SE | ⭐️⭐️⭐️⭐️ |
| East Village Dental | Calgary SE | ⭐️⭐️⭐️⭐️⭐️ |
| Inglewood Family Dental | Calgary SE | ⭐️⭐️⭐️⭐️⭐️ |
| Pro Grace Dentistry | Calgary NW | ⭐️⭐️⭐️⭐️ |
| Southcentre Dental | Calgary SE | ⭐️⭐️⭐️⭐️⭐️ |
List of best teeth whitening experts in Calgary
Conclusion
In short, if you're struggling to find reliable teeth whitening services in Calgary and the surrounding areas, look no further than these 5 teeth whitening clinics.
This article is a private opinion and does not constitute advice or any suggestion. We encourage you to seek a professional advice to find out which places or local service providers are best for you. Note that any pricing, operating hours, or other such information provided above may have changed since initial publication. Read full disclaimer here.