There's a common misconception that a Hamilton orthodontist service is just for kids and teenagers, but more and more adults are making the switch nowadays. In fact, almost 25% of orthodontic patients today are adults!
So, we've curated the top 5 certified orthodontists near you who proudly serve orthodontic patients of all ages from Hamilton and the surrounding areas.
These orthodontists have been handpicked exclusively based on framework including but not limited to – Clinic History, Public Reviews, Location, Range of Orthodontic Services, Cost of Orthodontic Services, Special Offers, Client Engagement, and Awards & Recognition.
Hamilton's 5 Best Orthodontists
Searching for an orthodontist near me?
Here are the 5 top-rated dental practitioners that you could find in Hamilton, Ontario, CA:
| S. No. | Hamilton Orthodontists | Ratings |
| --- | --- | --- |
| 1 | Red Hill Orthodontics | 4.9/5 |
| 2 | Schacher Orthodontics | 4.2/5 |
| 3 | Hamilton Orthodontics | 4.6/5 |
| 4 | Smiles In Motion | 4.5/5 |
| 5 | Dr. Natalie Gaik | 3.9/5 |
5 best orthodontists near me
1. Red Hill Orthodontics
| | |
| --- | --- |
| BEST KNOWN FOR | Orthodontic Braces, Invisalign |
| ORTHODONTIST | Dr. Sam Al Fakir |
| PHONE NUMBER | +1 905-383-4746 |
| EMAIL | info@redhillortho.ca |
| LOCATION | 954 Upper James St, Hamilton, ON L9C 3A5, Canada |
The first Hamilton orthodontist on our list is Red Hill Orthodontics. You join their family at Red Hill Orthodontics when you become one of their patients. This is simply because they make avery effort to look out for you.
Together, the orthodontist specialists and their staff work to devise a personalized plan for you. For more than 16 years, they have offered Invisalign treatment as well.
The major highlight of this place is its multi-lingual environment. The staff members are fluent in Turkish, Spanish, French, Greek, Italian, Croatian, Serbian, Bosnian, and Bulgarian in addition to English.
Additionally, Davis Orthodontics has sites in the Greater Toronto Area (GTA) in Richmond Hill, Bowmanville, Toronto, Cobourg, Scarborough, Danforth, and Oshawa.
Highlights
Has locations on Hamilton Mountain (Upper James) and on Queenston Rd
Offers low monthly payments that fit almost any budget
Supports many charities, including City Kidz and the McMaster Children's Hospital
Reviews
Amazing care and service. They truly look after you and care! Reception staff was always so friendly and helpful. The hygienists were all so knowledgeable. The orthodontist is honest and helps you achieve the results you're looking for. Definitely worth the investment!

-Pavanpreet
2. Schacher Orthodontics
Looking for a seasoned orthodontist in Hamilton? Be sure to check in at Schacher Orthodontics.
The best available technology is used by Dr. Vic Schacher and his highly qualified orthodontic staff to give you stunning smiles. That too, with an emphasis on non-surgical orthodontics for teens, adults, and early treatment for children.
They are an expert in offering exceptional, cutting-edge orthodontic care in a welcoming environment. On top of it, Dr. Vic Schacher and his compassionate staff collaborate closely with patients to comprehend their goals and offer customised treatment strategies that produce outcomes. This covers cutting-edge orthodontic technology and early preventive care for young children.
Highlights
A skilled group of highly accomplished and educated employees
Provides Free Examination and Consultation
Has 3 locations in Brantford, Simcoe and East Hamilton
Reviews
I've been going to Dr. Schacher Orthodontists for years along with my siblings. We've always had great service and support here especially when something broke! They were always right one top of it and got you in asap. While you wait you get to watch a movie in the little movie theatre and when called you can still continue to watch it with the tvs all around you! Overall great experience and I'm on night a week with my removable retainers!

– Ashley
3. Hamilton Orthodontics
The third orthodontist is Hamilton Orthodontics, located at Upper Wellington St, Hamilton. Hamilton Orthodontics has been proudly transforming smiles in Hamilton, Dundas, Ancaster, and Stoney Creek, Ontario, since 1986.
Drs. Gordon Organ and Rohan Kirtane, partners and licenced orthodontists, appreciate the positive long-term effects orthodontic treatment has on patients' lives and feel privileged to be able to provide this service.
With the most recent technologies and more than three decades of experience, they address each patient's orthodontic care as an individual and a unique case. They take great pleasure in producing excellent results in a setting where you are comfortable and cared for.
To schedule a free first exam with Dr. Organ or Dr. Kirtane, please contact their Hamilton office. You'll be amazed at the positive impact a beautiful smile can have on your life!
Highlights
30+ years of orthodontic care experience
State-of-the-art services include: Traditional metal and clear braces, Empower® self-ligating braces, and Invisalign® clear aligners
Reviews
Hamilton Orthodontics has the most friendly and professional environment! Orthodontists are incredibly welcoming and provide a personalized experience. It's very well-run and is a consistently seamless experience each time we visit. I enjoy each visit and am confident in their ability to treat each patient with a high-level of care.

– Kelly
4. Smiles In Motion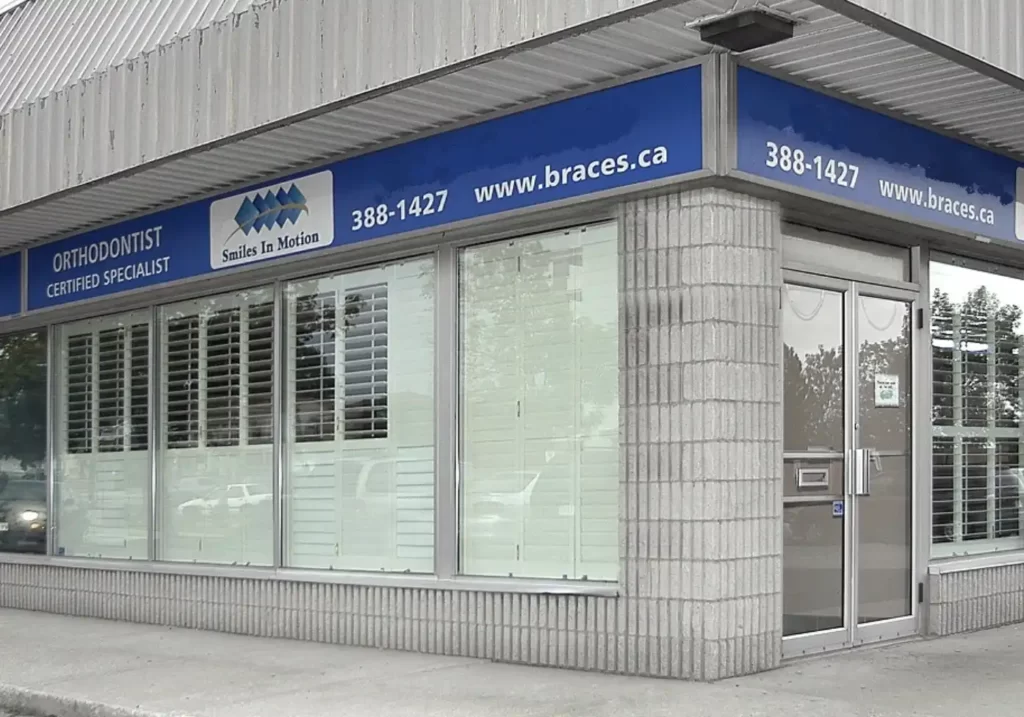 | | |
| --- | --- |
| BEST KNOWN FOR | Speed Braces, Invisalign, iTero Scanner |
| ORTHODONTIST | Dr. Allyson Bourke |
| PHONE NUMBER | +1 905-388-1427 |
| LOCATION | 875 Upper Wentworth St, Hamilton, ON L9A 4W5, Canada |
Hands down the best orthodontist in Hamilton, if you're looking for a fun, friendly, caring and relaxed atmosphere. The team at Dr. Bourke's office is dedicated to giving you a smile that is both attractive and healthy.
A new smile can change your life since it increases self-esteem and confidence. And they have received considerable training in the creation, use, and management of corrective equipment to realign teeth and jaws for ideal face balance.
Moreover, they have assisted numerous patients in smiling confidently by offering treatment choices ranging from Invisalign to conventional braces.
Highlights
Has 160+ years of combined experience in the field
Provide treatment tailored to your individual needs
Stay up to date on the latest technologies and advancements
Reviews
I have been a patient at Smiles in Motion for over 5 years and I cant stress how polite and welcomed I feel every time I step through those doors. Their staff has made me feel like family and have done a terrific job with my teeth. Dr Burke is wonderful and is very professional and kind. Highly recommend to everyone.

– Nicholas
5. Dr. Natalie Gaik
| | |
| --- | --- |
| BEST KNOWN FOR | Orthodontic Treatments |
| ORTHODONTIST | Dr. Natalie Gaik |
| PHONE NUMBER | +1 905-387-2938 |
| LOCATION | 883 Upper Wentworth St Suite 203, Hamilton, ON L9A 4Y6, Canada |
Last but not least, Since 1990, Dr. Natalie Gaik has provided orthodontic care to residents of Hamilton, Ancaster, and Stoney Creek, Ontario.
Dr. Gaik's first priority is to offer the best orthodontic care in a modern, welcoming, and comfortable setting. The office is conveniently located on Hamilton Mountain in the business wing of the Lime Ridge Mall.
In addition to this, Dr. Gaik has received considerable training and makes use of the most modern technological tools available in the market, including SPEED BracesTM, clear braces, and Invisalign® clear aligners.
No matter your age—adult, adolescent, or child—Dr. Gaik is dedicated to assisting you in getting the radiant, healthy smile you deserve!
Highlights
NO dentist referral is required before making an appointment

Provides Complimentary Consultation

Offers Flexible Payment Options that will suit every budget
Reviews
I cannot speak highly enough about this clinic. Dr Natalie Gail is so informative, professional and caring. The reception staff is very kind and helpful and the rest of the staff have a high attention to detail, which I find to be important when dealing with permanent changes. I am also super happy with my results! If your looking around to get any work done to your teeth, look no further!

– Andrea
About Hamilton Orthodontist
The effectiveness of the treatment ultimately depends on the patient, the family, the orthodontist, the general dentist, and other dental professionals having good communication.
So, if you're looking for warm and inviting orthodontic care in Hamilton and nearby, look no further than these 5 Best Orthodontists.
This article is a private opinion and does not constitute advice or any suggestion. We encourage you to seek a professional advice to find out which places or local service providers are best for you. Note that any pricing, operating hours, or other such information provided above may have changed since initial publication. Read full disclaimer here.