A dental emergency is a situation that could be serious and require immediate care. Not just that, it can occur at any time and without notice.
Therefore, in the event of an emergency, it is best to see a Vancouver emergency dentist as quickly as possible. They are the ones who will support you through your crisis.
Here, we've pulled out some amazing 24 hours emergency dental care providers in Vancouver and North Vancouver that are second to none!
The dentists have been handpicked exclusively based on factors including but not limited to – Clinic History, Public Reviews, Location, Range of Dental Services, Cost of Dental Services, Special Offers, Client Engagement, and Awards & Recognition.
Vancouver's 5 Best Emergency Dentists
Searching for a 24-hour emergency dentist near me?
Here are the five top-rated dental practitioners that you could find in Vancouver, British Columbia:
| S. NO. | EMERGENCY DENTISTS | RATINGS |
| --- | --- | --- |
| 1 | Van Dental Clinic | 4.7/5 |
| 2 | Peak Dental Arts (North Vancouver) | 4.8/5 |
| 3 | IQ Dental (North Vancouver) | 4.5/5 |
| 4 | Alma Dental Centre | 4.3/5 |
| 5 | Kingsgate Dental | 4.9/5 |
5 Best Vancouver Emergency Dentist Near Me
1. Van Dental Clinic
Call this Vancouver emergency dentist on West Broadway any day of the week, if you have a dental emergency.
At Van Dental, they are professionals well known for their individualised dental care that is of the highest calibre. A sudden accident that knocks out a tooth; an unexpected pain that wakes you up in the middle of the night; or crunchy food that chips a tooth or dislodges a filling; they keep it all sorted.
Moreover, this local emergency dental clinic has an after-hours dentist who is there to answer any questions you may have and is only a phone call away.
Whether you call during business hours or to their emergency line, their experts will be delighted to help you understand your options and how you may obtain the treatment you require as soon as possible.
HIGHLIGHTS
Speak to a real dental professional on the emergency line
Easy and convenient appointment bookings
All X-rays are performed digitally, reducing radiation exposure by approximately 90%
Free and secured underground parking available
REVIEWS
When you look forward to going to the dentist this speaks volumes about the excellent staff at Van Dental Clinic. The always cheerful Nola, the star at the front desk, gets the paper work and appointments done seamlessly. Dr Stulz and Dr Ficor are skilled, precise, quick and gentle. Just what you want for those pesky crowns.

The assistants and hygienists are also all top notch. When a couple of emergencies came up, the dental care was immediately available. Van Dental Clinic really is painless as it gets.

Karen Erickson
2. Peak Dental Arts
The second name on our list of best Vancouver emergency dentists is Dr. Omar Virani​ of Peak Dental Arts. They offer dental care in the North Vancouver and West Vancouver areas in welcoming, instructive, and professional settings.
The major highlight of their emergency dental clinic is that they pay close attention to each patient's oral concerns and involve them in the planning stage of the treatment. In addition to this, their skilled North Vancouver dentists and dental surgeons place a high premium on developing a comprehensive treatment plan and offering interesting patient education.
In order to relieve pain, identify tooth problems, and restore smiles, Peak Dental Arts offers one of the best emergency dental care in the region.
And if you want to book a same-day appointment, all you need to do is call them at 604-770-2222!
HIGHLIGHTS
Dental clinics serving North & West Vancouver
Welcome new patients and no referral is needed
Develop an inclusive treatment plan and simultaneously provide engaging patient education
REVIEWS
Amazing staff and excellent experience from first phone call to the end of the visit. They were super accommodating to get us in for an emergency procedure right away. We felt comfortable and cared for at all times. Highly recommended! Thank you!!

Beth Savage
3. IQ Dental (North Vancouver)
Looking for a seasoned emergency dentist? Just give IQ Dental a call if you need a dental emergency service in North Vancouver.
Additionally, Dr. Terry McKay and the team will provide you with a variety of smile remedies, many of which have quick results. They will give you the opportunity to make any changes you've always wanted to make to your smile.
For any dental emergency whatsoever, you can rely on the doctors and team at IQ Dental in North Vancouver to attend to you on an urgent basis. The IQ Dental Team will make every effort to book your appointment as soon as you call.
HIGHLIGHTS
35 + years of providing their patients with kind and tailored emergency service
Affordable, and comprehensive dental care to residents of North Vancouver, West Vancouver, and surrounding areas
Has coffee, tea, water, magazines, free WiFi, and a play area for the kids
REVIEWS
It's hard to find this kind of quality care delivered at a fair price. That's what they promise and that's what they deliver. Great doctor, great staff, they make me feel safe and cared for. I wouldn't go anywhere else!

Nancy McKay
4. Alma Dental Centre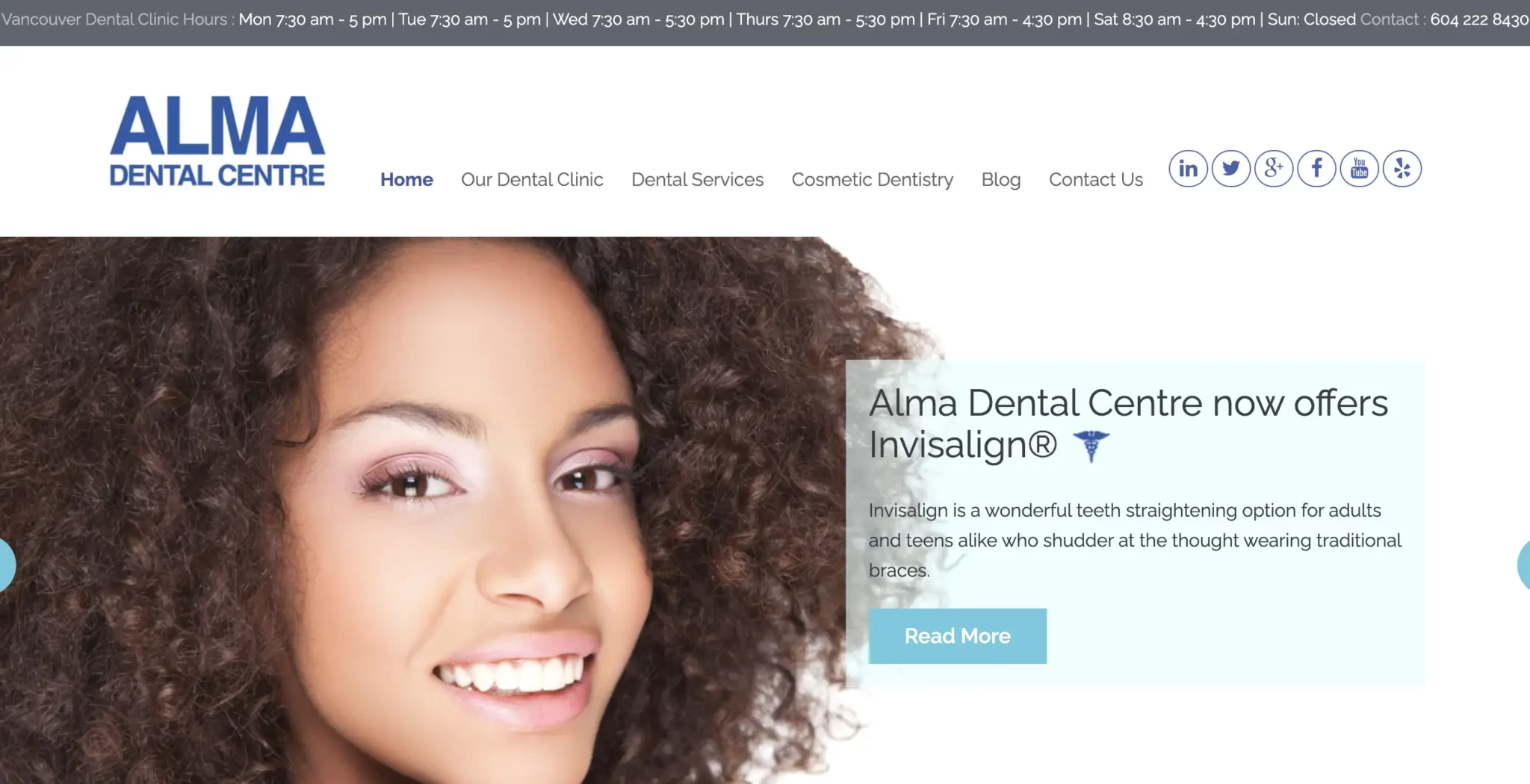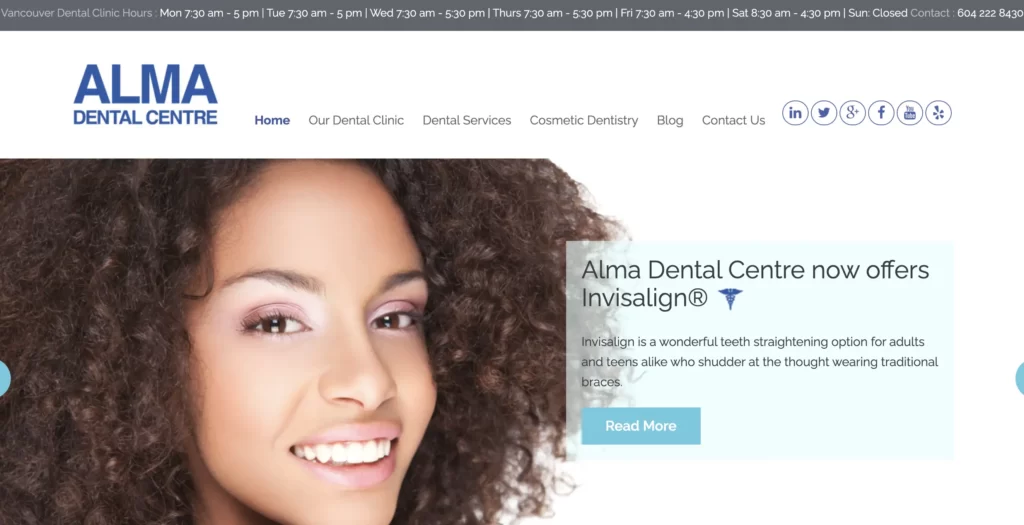 | | |
| --- | --- |
| BEST KNOWN FOR | Dental Emergencies |
| EMERGENCY DENTIST | Dr. Sandeep Sidhu |
| PHONE NUMBER | +1 604-222-8430 |
| EMAIL | info@almadental.ca |
| LOCATION | 2083 Alma St, Vancouver, BC V6R 4N6, Canada |
Be sure to check in at Alma Dental Centre for your immediate oral care. Dr. Sidhu and the staff are emergency dental specialists who provide dentistry in a soothing and welcoming setting.
For 15+ years, Alma Dental Centre has offered trustworthy preventative dental care to both families and students. Apart from this, their dental office in Vancouver is conveniently located for travel by car, bus, or foot.
This Vancouver dental team is dedicated to offering the best combination of care and services for neighbourhood families and UBC students, with flexible hours that fit your busy schedule.
Contact them to schedule your appointment by phone or use their digital appointment request form.
HIGHLIGHTS
Dental hygiene team having three decades of combined experience
Provides appointment scheduling and appointment reminders
Plenty of payment options to make the emergency dental care easier
REVIEWS
Loyal patient since 2005! Everyone from the front desk to the dentists are warm and wonderful people. I never feel scared because I know I'm in good hands, and I leave feeling good about taking care of my teeth with Alma Dental.

Update: I have moved so many times that I now practically live in Coquitlam and I STILL drive all the way to Alma Dental Centre!

Jennifer Ramesch
5. Kingsgate Dental
In the centre of Vancouver, BC, there lies this full-service family and aesthetic dental practice.
Kingsgate Dental has emergency dentists in Vancouver who have years of expertise, and several of them have served at the Faculty of Dentistry at the University of British Columbia. So you can rest assured knowing that you're in expert hands.
Dr. Do is a family dentist but also does cosmetic dentistry, teeth whitening, Invisalign, and emergency dental work. Not just that, Dr. Tam Do and his friendly office staff welcome new patients and accept walk-ins.
From paediatric dentistry to emergency dentistry, aesthetic dentistry to preventative dentistry, they specialise in it all.
Look no further if you're trying to locate an emergency dentist in Vancouver who is capable of taking immediate care of your whole family.
HIGHLIGHTS
Experience and highly accomplished dental team
Has new comfortable dental chairs and state-of-the-art equipment

Open Monday-Saturday (9:30am-5:30pm)
REVIEWS
Such a great clinic! Very nice and modern. Had an emergency filling replacement and they were able to get me in in no time! They do amazing work and explain everything they do along the way. It was my first time to the clinic and definitely won't be my last. Can't recommend them enough.

Noel MacKenzie
Urgent v/s Non-urgent Emergency Dental Care
Most people don't know the real difference between urgent and non-urgent emergencies. And, that's the truth!
For instance, a broken tooth requires immediate attention from an emergency dentist, regardless of whether the incident took place within regular business hours.
Emergency dental care may also include:
Severe toothache
Dental infection
Loose tooth or Knocked-out tooth
Large crack or chip in tooth
On the other hand, dental problems such as a lost lost bridge, crown, or filling, do not require the same level of urgency and can be handled during normal business hours.
Frequently Asked Questions
Can I return to work after having my wisdom teeth removed by a Vancouver emergency dentist?
Well, it's better to plan ahead. Because you won't be able to go back to work the same day your wisdom teeth are removed by an emergency dentist.
What is Sedation Dentistry?
Using pharmacological drugs to relax and soothe a patient both before and during a dental appointment is known as sedation dentistry.

The pharmacological agents typically come from a group of medicines known as sedatives, which work by slowing down some parts of the central nervous system
I have a broken or chipped tooth dental emergency. What do I do?
In such an emergency, it's critical to make an appointment with a dentist straight away, even if the tooth isn't sore just yet.

Because if the tooth is not safeguarded, this could soon result in decay, and only the Vancouver dentist can assess the severity of the issue.
About Vancouver Emergency Dentist
When you least anticipate it, dental emergencies happen, necessitating the assistance of a 24-hour specialist from an emergency dental clinic.
So if you're struggling with the dental emergencies listed above, consider these 5 Emergency Dentists in Vancouver/North Vancouver for the task.
This article is a private opinion and does not constitute advice or any suggestion. We encourage you to seek a professional advice to find out which places or local service providers are best for you. Note that any pricing, operating hours, or other such information provided above may have changed since initial publication. Read full disclaimer here.