When you are struggling with oral pain, it can be a frustrating and distressing experience. This is something that you won't want to live with for a long period of time. Luckily, we always have a 24-hour emergency dentist available in Winnipeg to address our concerns.
Here, we've got you sorted with our top picks for the best 5 Emergency Dentists in Winnipeg who can supply you with high-quality emergency dental services so you can quickly return to work and your daily life in no time.
The dentists have been handpicked exclusively based on factors including but not limited to – Clinic History, Public Reviews, Location, Range of Dental Services, Cost of Dental Services, Special Offers, Client Engagement, and Awards & Recognition.
Winnipeg's 5 Best Emergency Dentists
Searching for a 24-hour Emergency dentist near me?
Here are the five top-rated dental practitioners that you could find in Winnipeg, Manitoba, CA:
| S. NO. | EMERGENCY DENTISTS | RATINGS |
| --- | --- | --- |
| 1 | Plessis Dental Centre | 4.6/5 |
| 2 | Academy Dental Group | 4.8/5 |
| 3 | Seven Oaks Dental Centre | 4.9/5 |
| 4 | Tache Dental Centre | 4.3/5 |
| 5 | Westend Dental Clinic | 4.9/5 |
5 Best Winnipeg Emergency Dentists Near Me
1. Plessis Dental Centre
The first such well-known and respected emergency dental clinic is the Plessis Dental Centre in Winnipeg's Transcona neighbourhood. They specialise in offering a wide range of urgent and practical dental services that help everyone have a radiant, healthy teeth.
Be it emergency dental care, dental implants, Invisalign, or others; their wonderful services take care of all the family's dental needs and requirements while also being offered in a welcoming environment.
Furthermore, they are able to guarantee that their services will be available beyond regular business hours, so they will make every effort to give you the most appropriate and necessary care.
In the event that you require emergency dental care and are looking for a dentist in Winnipeg that is close by, call their office straight away!
HIGHLIGHTS
Locally owned and operated dental practice
Has experienced and knowledgeable practitioners
Free Consultation for Dental Implants
REVIEWS
Excellent service, they took care of my emergency root canal/ crown and they work with non insured health benefits. Thank you, thank you, thank you!

Jesse Green
2. Academy Dental Group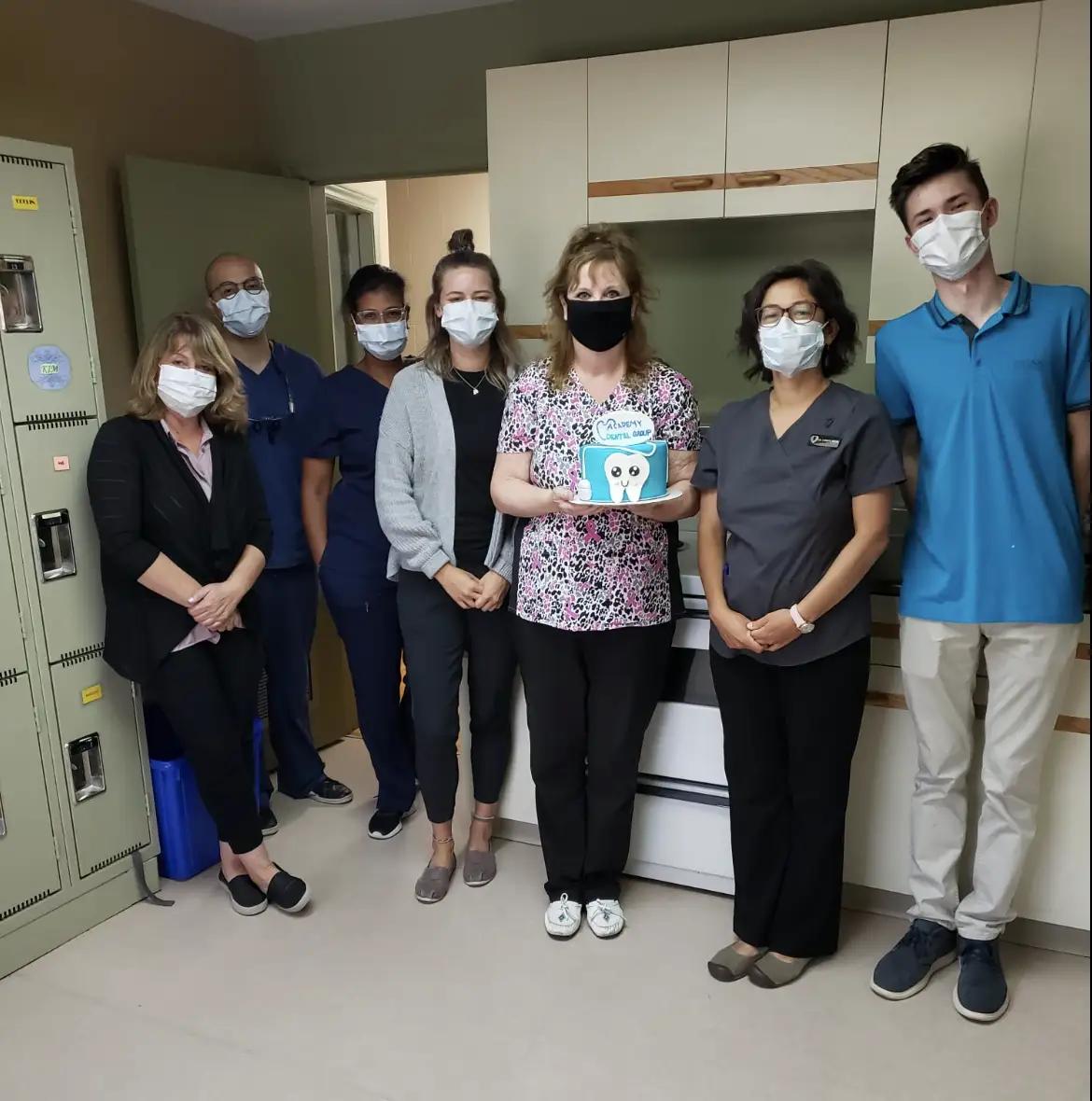 Regarded as one of the top emergency dentists in Winnipeg, Dr. Ken Shek and the team at Academy Dental Group are committed professionals who work to deliver compassion, quality, and skill to all of their treatments, ranging from regular cleanings to dental implants.
Patients in Winnipeg stated in their reviews that they've received top-notch emergency dental care from the Academy Dental Group staff. Moreover, since they view their patients as part of their dental family, they strive to make every appointment as simple and comfortable as we can.
Another highlight is that Academy Dental Group is part of the Hellodent dental network, which connects clinics across Canada to provide comprehensive family dental care to Winnipeg residents.
HIGHLIGHTS
Provides a complete range of dental services, including general dentistry, Invisalign, cosmetic treatments, emergency dental, and pediatric dentistry
Short wait times and On-site parking
Wheelchair-accessible dental clinic
Automated and over the phone appointment reminders
REVIEWS
AMAZING. Had to get emergency dental work and this is not the dental office i go to regularly. So empathetic and caring, they saw me in 15 minutes after I phoned. 100% recommend.

Jenna B
3. Seven Oaks Dental Centre
The Seven Oaks and West Kildonan areas receive outstanding urgent care from these amazing Winnipeg dentists, who have been serving the neighbourhood for over four decades.
Visit Seven Oaks Dental Centre's recently remodelled office if you're looking for an emergency dentist in Winnipeg for oral health. You'll discover all the latest technology combined with considerate dentists and staff who provide a warm and relaxed environment.
Moreover, patients can benefit from a thorough treatment plan and a wide array of available options. This makes it simpler to identify the best choice in light of individual dentistry requirements.
Ask Drs. Boyko and Sposob's expert team any questions or voice any worries you may have when you go to visit them for your dental emergency.
HIGHLIGHTS
37 years of proudly serving North Winnipeg and all nearby areas
Provides quality dental procedures using the latest medical equipment
Accepts customers with insurance cards and bills directly
Open on evenings to fit most lifestyles
REVIEWS
A super 👌 staff that has made my life more comfortable by dealing promptly and caringly with my issues in somewhat of an emergency. I am very grateful for their resolution, understanding, and tolerance of my senior's problem.

Elaine Wagner
4. Tache Dental Centre
Be sure to check in at Tache Dental Centre. Their St. Boniface office is open to serve the needs of local patients and offers dental emergency care to anybody living or working nearby. Plus, their after-hours dentists are aware of how incapacitating dental pain can be and how difficult it can be to function. Because of this, they make every effort to provide patients with prompt relief during any dental emergencies.
For 40+ years, Tache Dental Centre has offered specialised and reasonably priced dental services for individuals of all ages, whether they require a dental implant due to an unexpected break, an emergency root canal, or planned teeth cleaning for their loved ones.
Another thing is that dental emergencies are addressed quickly and effectively, and you will be seen as soon as you make a request.
And if for some reason, they are unable to provide a permanent solution to your emergency right away, their dental clinic will assist you in finding one as quickly as possible and provide care and short-term comfort until a suitable solution is found.
HIGHLIGHTS
Offers convenient working hours and easy parking
Appointments available before and after work or school
REVIEWS
I had horrible tooth ache and they manage to get me in on the Dentist's Lunch Hour!! They are life savers. A day later I only need the penicillin the Dentist prescribed and only used the Tylenol 3 yesterday. Thank you to Dr Ghodousi and his staff for helping when I had a dental emergency.

Deniz I
5. Westend Dental Clinic
Last but not least, emergency dental specialists at Westend Dental serve the needs of their multicultural patient population in Winnipeg.
Their multilingual dental team also speaks Polish, Vietnamese, Tagalog, and English. Furthermore, they make sure their patients are at ease and comfortable while in their care. In order to produce the most effective and efficient outcomes, they use the most recent dental techniques and technologies to deliver a comprehensive range of general, aesthetic, and emergency dental procedures.
What's best is that their Winnipeg dentist offers same-day urgent dental care to customers who have chipped, cracked, broken, or knocked-out teeth. Call them right away at 204 813-9620 if you or a member of your family is having a dental emergency.
HIGHLIGHTS
Serving the Westend Community of 70+ Years
Offers individualized dental care that is tailored to your unique dental need
Provides flexible financing options that will suit your budget
REVIEWS
We have had a great experience at this dental office. The staff are friendly, knowledgable and respectful. They responded very quickly to an emergency for one of our kids and we had great follow-up care. Awesome place.

El Freitas
Are there any 24-hour emergency dentists in Winnipeg open Sunday?
Yes, there are many emergency dental practitioners in Winnipeg who offer 24 hour oral care and some are even open on weekends i.e Saturdays and Sundays.
About Winnipeg Emergency Dental Clinics
Quickly making an appointment with one of Winnipeg emergency dentists could be the wisest thing that you can do. Especially, if you're in excruciating pain or if your mouth won't stop bleeding.
Patients in Winnipeg can get relief from dental discomfort thanks to these emergency dental clinics.
This article is a private opinion and does not constitute advice or any suggestion. We encourage you to seek a professional advice to find out which places or local service providers are best for you. Note that any pricing, operating hours, or other such information provided above may have changed since initial publication. Read full disclaimer here.