The Fort McMurray dentists have been handpicked exclusively based on rating factors including but not limited to – Clinic History, Public Reviews, Location, Range of Dental Services, Cost of Dental Services, Special Offers, Client Engagement, and Awards & Recognition.
FORT MCMURRAY'S 15 BEST DENTISTS
Searching for the Best Dentist near me?
Here's the list of 15 top-rated dental clinics that you could find in Fort McMurray, Alberta, CA:
1. Fort McMurray Dental (Uptown Dental Centre)
Fort McMurray Dental/Uptown Dental Centre Reviews
I very highly recommend Fort McMurray Dental (formerly called Uptown Dental)! I have avoided dentists at all costs for most of my life as I was traumatized from my wisdom teeth removal as a teen, it had been over ten years since I had a cleaning when I booked my appointment.

Everyone in the office was very professional and understanding of my anxiety and made me feel very comfortable during my visit. The dental hygienist that cleaned my teeth was absolutely amazing, she was informative and very thorough and had me laughing within the first five minutes of my visit. I cannot say enough good things about the people that work here and I'm actually looking forward to my next cleaning!

Jenny
2. The Dentists @ Thickwood
The Dentists @ Thickwood Reviews
I wanted to share my experience with Dr Patel and the team at dentists @ thick wood. Dr Patel was great and so friendly. the entire staff was very accommodating with my young children which were very helpful, they were even given gifts. I also had a dental cleaning there and it was the most gentle cleaning I have ever had!

Jessica
3. Maxx Dental Group
Maxx Dental Reviews
If you want a dentist that will make you feel comfortable go to Dr.Brake, she is absolutely wonderful! I had bad experiences in the past with dentists that made me not want to go, Dr.Brake makes me 100% comfortable and not scared/anxious or worried in any way for my appointments.

Kelly Hopkins
4. Timberlea Dental Clinic
Timberlea Dental Clinic Reviews
I'm quite happy and Grateful I discovered this dentist. Doctor Phil is a rare dentist, competent/skilled and humble. Has a very positive energy/presence around him. The staff is very friendly and welcoming as well. I was being quite annoying given my nervousness around getting my teeth extracted.

He and the staff handled it with a very calm, gentle and mature way without pressuring me for anything. Instead of driving all the way to Edmonton to my usual dental surgeon – I ended up getting my wisdom teeth extracted here – so convenient and great experience. Would recommend it to family and friends, given how rare it is to find good dentists given some of my and my family's past experiences.

Setu Sharma
5. Franklin Dental Centre
Franklin Dental Centre Reviews
Almost zero wait time and very quick service. I had to get a tooth pulled and the dentist was very quick and professional, he knew exactly what he was doing and didn't mess around. Painless experience and it wasn't too pricey!

100% recommend!

Janelle
6. Aurora Dental Clinic
Aurora Dental Clinic Reviews
This Dental Clinic made my day! The Doctor and the staff was very professional! I had three cavities and the Doctor was so gentle with me that I didn't feel a thing! Never in my life had I experienced such a gentle treatment in my teeth before.

I was so nervous and Doctor Molano helped me overcome that with his gentleness and patience. His assistant Kelsey was very nice and gentle as well. I am so grateful for Aurora Dental Clinic. Definitely coming back.

Erica Taylor
7. Peter Pond Dental Clinic
Peter Pond Dental Clinic Reviews
I walked in with a very painful tooth and wanted an extraction. I've avoided dentists for many years due to a traumatic experience and severe anxiety.
Coming here has changed all of that! I had an amazing experience. The staff, the receptionist and the dentist are so friendly and relaxed.
This dentist knows how to inject needles so smoothly! Hardly felt it! And it literally took him two seconds to pull my tooth out. He explains everything as he goes. Highly recommend!!

Sheena
8. River City Dental Clinic
River City Dental Clinic Reviews
Since I had my braces removed a couple years ago, my teeth have moved a considerable amount, leaving gaps between my front four teeth. I was told by other Dentists that the only way to fix these spaces would be to have my braces put back on.

Instead, I went to see Dr. Carl Yap at River City Dental Clinic for a Dental Bonding procedure, and within an hour the gaps were filled! I initially was very nervous about the procedure, but Dr. Yap was very informative and was eager to answer any questions I had. Thanks to Dr. Yap and his dental assistant Megan's expertise, my teeth have never looked better.

Would definitely recommend this clinic!

Talia Brown
9. Graystone Dental
Graystone Dental Reviews
Dr. Beaulne is definitely the best. He's in no rush to pull out your child's teeth as many dentists are so eager to do for extra money. Receptionists are great as well as the Dental assistants. All are very kind and my kids LOVE going there. A highly skilled, knowledgeable and very kind Dentist.

Caroline
10. Signal Road Dental Centre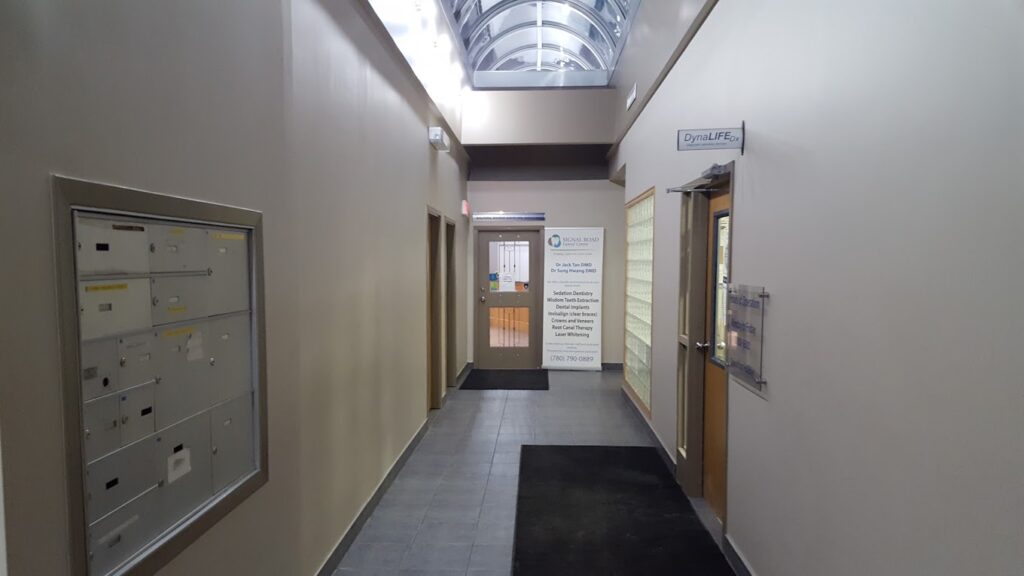 Signal Road Dental Centre Reviews
This is by far the best dental office I have ever been too. The hygienists are amazing, and Victoria on the front desk is so kind and considerate. They are always able to get me in, even on short notice, and have done everything from fillings to cleanings to installing my permanent retainer.

Dr. Sung is incredibly professional, considerate and accommodating. They are so great at working with insurance companies, and truly take all the stress out of going to the dentist. I would highly highly recommend this office to everyone, including children!

Cortni Engler
11. Eagle Ridge Dental Clinic
Eagle Ridge Dental Clinic Reviews
The team at Eagle Ridge Dental are always so great to deal with. I have had all kinds of work done there and every experience has always been pleasant. The dentists are very conscious of your experience as a patient and have fantastic bedside manner. The hygienists are very friendly, efficient, and respectful.

The front desk will work with your schedule to accommodate you any way they can, and they let the team know what your insurance will cover before they start their work. During my last cleaning the hygienist let me know that if I wanted a fluoride treatment I could have it, but that it would not be covered by my insurance for another 3 months.

Alison
12. Stoneycreek Village Dental
Stoneycreek Village Dental Reviews
I just had my second appointment with Dr.Chan, I honestly cannot say enough good things! He was highly recommended to me by a friend for his amazing cosmetic dentistry skills & I was not disappointed. The dental assistants & front desk staff are all super friendly as well. I would highly recommend this dental office.

Coral Brown
13. YMM Dental
YMM Dental Reviews
Dr. Tan is hands down the most professional and pleasant dentist to work with. Also, the price was very very good. I would recommend everybody go here. Clean, sleek, new office and very professional, kind employees.

Noah Gavin
14. Morrison Dental
Morrison Dental Reviews
Had my dentures replaced in June of 2018 at Morrison Centre Dental Group and highly recommend Dr. Deane and staff. I have had absolutely no problems with fit, no sore spots and have not had to go back for any adjustments. The entire staff are professional, personable and there were no surprises in billing or rates. Thanks gang, for giving my smile back!

Rick
15. Timberlea Services Centre
Timberlea Services Centre Reviews
Thank you for opening up your office to uptown dental while they are going to thru some unexpected renovations. I had my braces removal scheduled for June 3rd but due to the unforeseen circumstances at uptown dental my appointment had to be rescheduled.

Timberlea dental worked really hard to accommodate me and got me in 10 days later. I walked out today feeling like a new person with my braces off. I appreciate the hard work you all do! Thank you. ( big thanks to Dr Tran and Josie for putting up with me over the years- loving my new smile!)

Naomi
Final Thoughts
To sum things up, if you're looking for the top-rated dental clinics in Fort McMurray, Alberta and nearby, look no further than these 15 Best Dentists.