Searching for a cheap dentist in Calgary? If so, we have you covered.
In this article, we've identified 5 top-notch affordable dental specialists that are handpicked exclusively based on Clinic History, Public Reviews, Location, Range of Dental Services, Cost, Free Offers, Patient Engagement, and Awards & Recognition among other rating factors.
Calgary's 5 Best Affordable Dentists
Here are the 5 best reasonably priced dentists that you could find in Calgary, Alberta:
| S. No. | Budget-friendly Dentists | Ratings |
| --- | --- | --- |
| 1 | Bow Valley Dental | 4.7/5 |
| 2 | Legacy Dental Care | 4.9/5 |
| 3 | London Square Dental | 4.7/5 |
| 4 | Downtown Dental | 4.9/5 |
| 5 | Pathways Dental Clinic | 5.0/5 |
5 Low-Cost Dentists Near Me
1.Bow Valley Dental
BEST KNOWN FOR
Affordable General Dentistry, Cosmetic Dentistry, Restorative Dentistry, Orthodontics, Dental Guards
PHONE NUMBER
+1 403-266-5121
LOCATION
255 5 Ave SW #267, Calgary, AB T2P 3G6, Canada
OPENING TIMES
Monday: 7:30am–4pm
Tuesday: 7:30am–4pm
Wednesday: 7:30am–4pm
Thursday: 7:30am–4pm
Friday: 7:30am–2pm
Saturday: Closed
Sunday: Closed
RATINGS
4.7 out of 5
The Bow Valley Dental office is conveniently situated in Calgary's downtown. Their entire professional team of dentists, assistants, hygienists, and administrative staff are committed to providing every patient with the affordable, personalized dental care they deserve.
Dr. P.K. Naidoo and Dr. Keith have 40+ years of combined experience and are two renowned faces of Bow Valley Dental. They strive to provide exceptional dental care to all of their patients. Apart from treatment, they also provide the necessary resources and educate their patients to help them make informed decisions regarding their oral health.
So take charge of your oral health by contacting them to book your dental hygiene appointment today!
Top Features
Among leading dental clinics in Calgary
Accepting new patients
Personalised treatment plans
Also provides emergency dental care
Service Reviews
Dana is the best hygienist…
The best dentist in Bow Valley! I've been seeing Dr. Nielsen for more than 15 years now! The finest hygienist there is Dana, and the receptionist is usually very friendly and eager to help with busy, shifting schedules! Thank you, BV team!

– Erin
2. Legacy Dental Care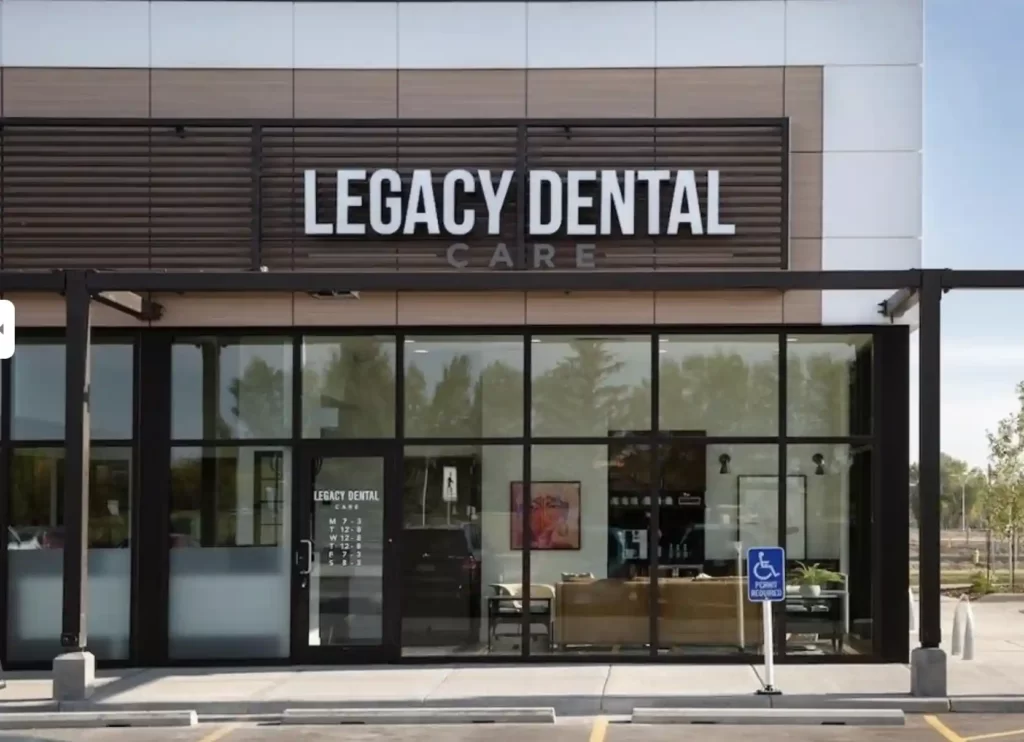 BEST KNOWN FOR
Affordable Cosmetic Dentistry, Preventive Dentistry, Invisalign Clear Braces, Veneers, Dental Crowns and Bridges, Children's Dentistry
PHONE NUMBER
+1 587-625-9222
LOCATION
1625 210 Ave SE #104, Calgary, AB T2X 4K8, Canada
OPENING TIMES
Monday: 7am–9pm
Tuesday: 7am–9pm
Wednesday: 7am–9pm
Thursday: 7am–9pm
Friday: 7am–3pm
Saturday: 8am–4pm
Sunday: Closed
RATINGS
4.9 out of 5
The second name on the list of affordable dentists in Calgary is Legacy Dental Care. They are a family-owned practice operated by three brothers who are all dental specialists. Their goal is to redefine the dental experience by offering reasonable and personalized patient care in a warm and welcoming office.
Whether you are a new family just starting out, or you are caring for an elder's health, Legacy Dental provides customize dentistry to meet every life stage needs.
Apart from that, if you experience a dental emergency, they reserve time in their daily schedules to look after broken teeth, toothaches, and damaged dentistry so you can minimize missed time at work or school.
Top Features
Follow the Alberta Dental Association Fee Guide
State-of-the-art technology makes dentistry comfortable for patients
Use intraoral cameras and photographs to give you an accurate picture of your oral health
Offers Direct billing and keeps the overall low cost for your dental treatment
Service Reviews
The costs are reasonable…
My sister suggested Dr. Laiton Wiedemann at Legacy Dental when our old dentist retired. It was a wonderful experience. I've never experienced a problem, and any issues are handled carefully and quickly. The service is top-notch. The costs are reasonable. I wholeheartedly endorse it.

Janelle
CHECK THIS OUT: Best Endodontist in Calgary
3. London Square Dental
BEST KNOWN FOR
Low-cost Sedation Dentistry, Cosmetic Dentistry, General Dentistry
PHONE NUMBER
+1 403-291-4945
LOCATION
3545 32 Ave NE Unit 230, Calgary, AB T1Y 6M6, Canada
OPENING TIMES
Monday: 8am–9pm
Tuesday: 8am–9pm
Wednesday: 8am–9pm
Thursday: 8am–9pm
Friday: 8am–9pm
Saturday: 8am–9pm
Sunday: 8am–8pm
RATINGS
4.7 out of 5
Another amazing cheap or low-cost dentist in Calgary is London Square Dental. Here, the dentists focus on providing you with quality patient care and beautiful smiles in a compassionate and accommodating environment.
Options like Porcelain Veneers, Tooth Whitening, and Composite Fillings may help you achieve that attractive, healthy look. Besides this, they also offer Dental Implants and Sedation options to their patients. The New patient dental exam will cost you only $50 at this site.
Their team is highly trained in performing a complete range of dental procedures designed to enhance the appearance of your smile. If you need affordable restorative, implant, reconstructive, or cosmetic procedures, contact Dr. T. Khattra today.
Top Features
Reasonably priced dental clinic
Open 7 days a week for your convenience
Welcome patients of all ages, including the little ones who are just beginning to develop a full set of teeth
Service Reviews
Provided the most delicate and painless cleaning…
Yesterday, I had a truly remarkable experience. My sincere gratitude goes out to Mr. Chuck, who provided the most delicate and painless cleaning while being very pleasant and reasonably priced. I experienced no sensitivity or discomfort, and it was quite soothing. Additionally, I was a little anxious about having my wisdom teeth removed, but the staff was really reassuring, and Dr. Kevin Kalin did a terrific job despite the surgery being a little challenging. We appreciate all of the Team members' hard work.

William
CHECK THIS OUT: Best Denturist in Calgary
4. Downtown Dental
BEST KNOWN FOR
Affordable Emergency Dental, General Dentistry, Sports Dentistry, Nightguards/Bruxism, Dental Implants in Calgary, Sedation Dentistry
PHONE NUMBER
+1 403-264-1736
LOCATION
215 9 Ave SW #150, Calgary, AB T2P 1K3, Canada
OPENING TIMES
Monday: 7am–2:30pm
Tuesday: 7am–2:30pm
Wednesday: 7am–2:30pm
Thursday: 7am–2:30pm
Friday: Closed
Saturday: Closed
Sunday: Closed
RATINGS
4.9 out of 5
Dr. Kristin Yont & Dr. Claire Whitney have a great reputation for their inexpensive dental treatments in Calgary. At Downtown Dental they focus on the foundation of our patient's oral health so that these choices can truly make a difference in their lives.
Despite the fact that Downtown Dental is in the city's centre, they accept patients from all across Calgary. They adore their thriving city and have a lot in common with their patients in terms of lifestyle.
Visit their cutting-edge office to see how lifestyle and health intersect!
Top Features
Tailor a comprehensive dental treatment plan for you and your ever-changing needs
Official Dentist of the Calgary Flames
Conveniently located on 9th Avenue SW, Downtown Calgary location
Now accepting new patients
Service Reviews
Excellent budget-friendly dentist service in Calgary…
Everyone at the office is incredibly friendly and courteous, and they all make you feel like a member of the family. They went above and beyond with safety procedures during COVID and gave me the peace of mind to go throughout the epidemic. They have been accommodating to my schedule and have found times to accommodate me when necessary.

Always wonderful cleaning and Dr. Yont did a great job filling a cavity for me. They offer helpful suggestions, don't try to upsell you on anything, and genuinely want to help you have better dental health. Highly suggested.

Sandra
CHECK THIS OUT: Best Teeth Cleaning in Calgary
5. Pathways Dental Clinic
BEST KNOWN FOR
Affordable Orthodontics, General Dentistry, Restorative Dentistry
PHONE NUMBER
+1 403-455-5565
EMAIL
info@pathwaysdental.ca
LOCATION
3220 5 Ave NE #22, Calgary, AB T2A 5N1, Canada
OPENING TIMES
Monday: Closed
Tuesday: 8am–7pm
Wednesday: 12–8pm
Thursday: 8am–8pm
Friday: 9am–6pm
Saturday: 8am–4pm
Sunday: Closed
RATINGS
5.0 out of 5
This budget-friendly NE Calgary Dental Clinic is conveniently located at Bay 22, 3220 5 Avenue NE, just West of Marlborough & Franklin Malls, only a few minutes away from downtown Calgary.
The team at Pathways Dental Clinic prides itself on their patient-centred practice. Dr. Tony Kim and Dr. Derek Bouma, along with the rest of their team of dental professionals, are dedicated to providing high-quality care in their modern dental office. Moreover, they utilize the most advanced materials, techniques and technology in the dental field today.
Top Features
Offers a comprehensive range of dental services to meet all your family dental needs
Free parking is located on-site
Also have extended evening and weekend appointment options
Service Reviews
By far the best reasonably priced dentist in Calgary I've ever been to…
Pathways dental is by far the best reasonably priced dentist in Calgary I've ever been to. The staff is friendly and always willing to clarify things and provide you with well-informed solutions. They are fantastic at utilizing advantages and maximizing what you can do. I'm quite nervous about dentists, yet I always feel comfortable there. Strongly advised Clinic.

Tiffany
CHECK THIS OUT: Best Orthodontist in Calgary
About Cheap Dentist Calgary
So if you're looking for a cheap dentist in Calgary, these 5 affordable dentists can save your day.
Sit back, relax and contact them to know more!
—END—
This article is a private opinion and does not constitute advice or any suggestion. We encourage you to seek a professional advice to find out which places or local service providers are best for you. Note that any pricing, operating hours, or other such information provided above may have changed since initial publication. Read full disclaimer here.