The Vancouver BOTOX Clinics have been handpicked exclusively based on framework including but not limited to – Clinic History, Public Reviews, Location, Range of Services, Cost of Botox Procedure, Special Offers, Client Engagement, and Awards & Recognition.
Vancouver's 10 Best Botox Clinics
Wanted to soften facial wrinkles or prevent excessive sweating? Botulinum toxin could be the answer you're looking for. So, here we present to you the 10 top-rated Botox clinics that are most loved by the people of Vancouver, British Columbia:
Medical Rejuvenation Centre
Skin Technique Medical Aesthetics
Vancouver Laser & Skin Care Centre
Refine Cosmetic Surgery
The Vanity Lab
R.S.V.P. Beauty Clinic
Caviar Skin Clinic Inc.
Dr. Lee Thompson
Dermal Laser Centres
One Clinic MD
1. Medical Rejuvenation Centre
Reviews
Excellent professional…
It was amazing! I could finally find an excellent professional in Vancouver to keep doing Botox with great results. Dr. Morelli is sensational. He has great knowledge in everything he does.

Lais Nunes
2. Skin Technique Medical Aesthetics
Reviews
Amazing work…
I went twice, one for lip filler and the other for Botox and the weary eye treatment. I couldn't be happier with the outcomes; amazing work! I have no hesitation about recommending it to any of my friends. I appreciate you helping me become a better version of myself.

Sherry Sharma
3. Vancouver Laser & Skin Care Centre
Reviews
Fantastic…
My Botox treatments from Dr. Brock were fantastic; he's a personable, laid-back expert with a lot of experience. I found exactly what I was seeking in his approach, which was to keep things natural.

Wen Liu
4. Refine Cosmetic Surgery
Want to learn more about the cosmetic benefits of #Botox? Check out our website! #Vancouver https://t.co/eZbKZG8VrW pic.twitter.com/5IUTyfCaWN

— Pender Medi Spa (@PenderMediSpa) November 2, 2018
Reviews
Quick and almost painless…
I get Botox done by the doctor here. Very professional place, and I love it. He is a skilled injector – quick and almost painless and I never get bruising the way I often do at other establishments. I love the chocolate at the front desk too.

Jessie
5. The Vanity Lab
Reviews
Lovely setting…
What an amazing place! I made an appointment for botox here and other procedures. The staff members are sincere and competent. Lovely setting, I also like some of the fresh products I bought, like the lovely ZO exfoliator. Excellent location to treat yourself.

Lukasz Czyzewski
6. R.S.V.P. Beauty Clinic
Reviews
Professional…
The best location for Laser Genesis therapy and Botox injections! The team is really professional, and Dr. Villar has amazing knowledge, so I feel completely confident!

Ana Claudia
7. Caviar Skin Clinic Inc.
Reviews
Incredibly helpful…
With Dr. Noya, I had the most pleasant experience. I decided to try Botox for the first time since I was so anxious about completing anything. She was incredibly helpful and guided me through the procedure.

Sabrina
8. Dr. Lee Thompson
Reviews
Love the outcomes…
My time at this clinic was fantastic! Since I'm new to Botox and lip fillers, the staff thoroughly explained the procedure to me and addressed all of my questions. I absolutely love the outcomes!
I had no idea that lip enhancement and a little Botox could make such a difference. I like it! Strongly Recommended! I'm 39 years old, and this small treat I bought for myself made me feel rejuvenated and enthusiastic about ageing gracefully.

Evelyn
9. Dermal Laser Centres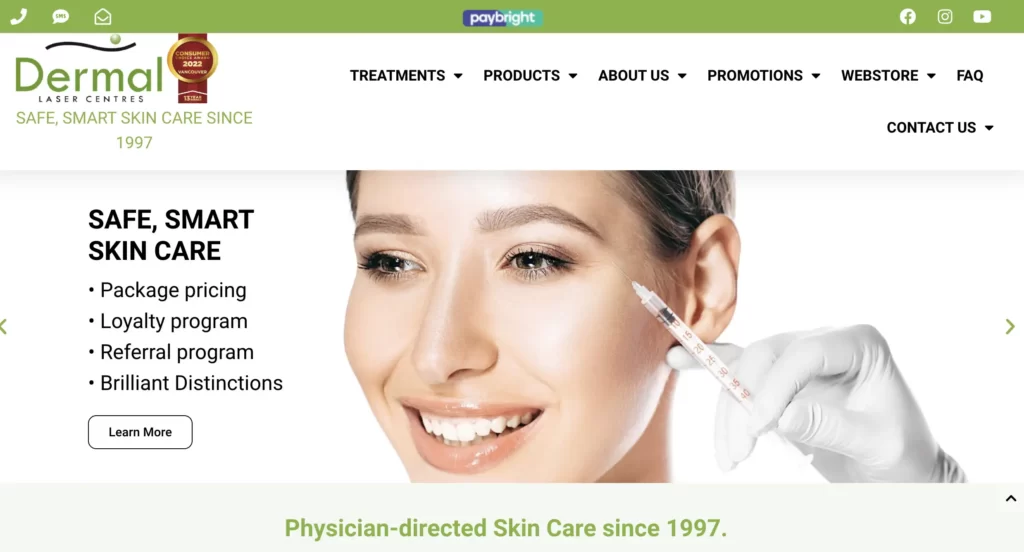 Reviews
Proper consultation…
I have been seeing Dr. Fung for Botox for the past couple of years. He always does a proper consultation. I always leave with the results that I want.

Kelly
10. One Clinic MD
Reviews
Comfortable and painless…
I love The One Clinic MD. With Dr. Nel, I received preventative Botox, and the entire procedure left me speechless. He explained everything he was doing in great detail and the advantages to me. His approach was so effective that the operation was comfortable and painless. The clinic itself is stunning, spotless, and contemporary. The entire team, led by Danielle, was outstanding and hospitable. Definitely worth the visit!

David Allison
Final Thoughts
To cut a long story short, if you're looking for injections to make your skin smoother, look no further than these 10 Best Botox Clinics in Vancouver.
—END—
This article is a private opinion and does not constitute advice or any suggestion. We encourage you to seek a professional advice to find out which places or local service providers are best for you. Note that any pricing, operating hours, or other such information provided above may have changed since initial publication. Read full disclaimer here.