The Vancouver mole removal Clinics have been handpicked exclusively based on the rating framework including but not limited to – Clinic History, Public Reviews, Location, Range of Services, Cost of Mole Removal, Special Offers, Client Engagement, and Awards & Recognition.
VANCOUVER'S 7 BEST MOLE REMOVALS
Searching for the best mole removal? Here's the list of 7 top-rated wart & mole removal clinics that are most loved by the people of Vancouver, British Columbia:
Project Skin MD
Pacific Derm
Arbutus Laser Centre
Yaletown Laser Centre
Dr. Alexander Seal
EverYoung Laser & Skin Care Centre
Shine MD
1. Project Skin MD
Reviews
Kind and supportive…
I went for mole removal. Project Skin provided outstanding customer service. They were so kind and supportive! I would without a doubt suggest project skin.

David
2. Pacific Derm
How can DermEngine & #MoleScope support your workflows? https://t.co/A02KgfFhDZ
Read the experience of Dr. Jason Rivers, a practicing dermatologist at @pacificderma using the latest #HealthTech for patient care.#Dermatology #DigitalHealth #AI #ArtificialIntelligence

— DermEngine (@DermEngine) October 2, 2018
Reviews
Stood out for their treatment and professionalism…
I made my first visit to see Dr. Ulmer today. I've seen a lot of cosmetic and medical doctors in Vancouver, but Dr. Ulmer and the staff at Pacific Derm stood out for their treatment and professionalism. For all of my skincare requirements going forward, I will visit Pacific Derm.

Colleen
3. Arbutus Laser Centre
Reviews
Take the time to learn about your needs…
For a laser hair removal procedure, Juli, Amy, and I had the pleasure of working together. There is no team I could have asked for better. Being treated with the utmost professionalism, punctuality, and efficiency by Arbutus Laser made this an amazing experience for me. They take the time to learn about your needs and are open and upfront about what you can anticipate from each course of treatment.

Samantha
4. Yaletown Laser Centre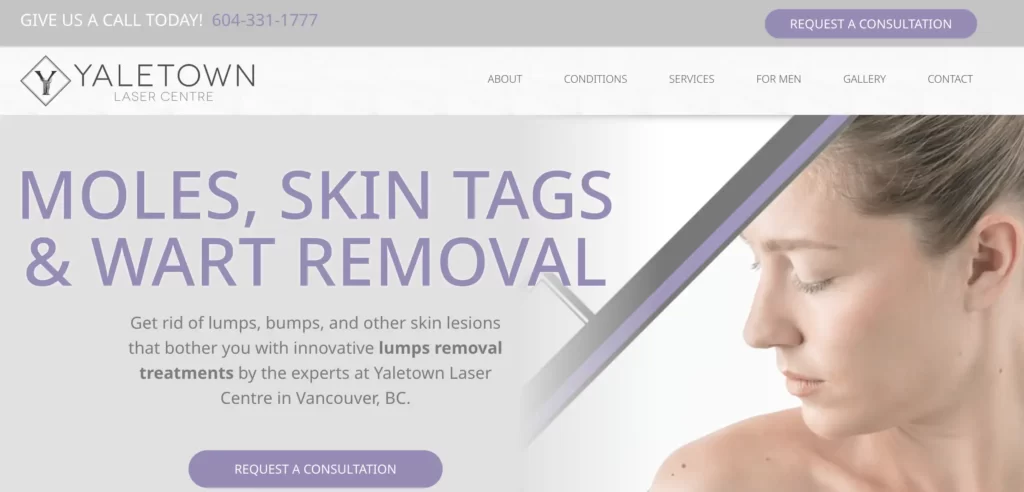 Reviews
The procedure was extremely quick and painless…
I entered to get certain moles and freckles on my face removed. As she used the PicoWay laser, Tara assisted me. She was very knowledgeable, and she customised the procedure after examining the tone and type of my skin. The procedure was extremely quick and painless! The clinic itself is highly mindful of COVID, and everyone there is genuinely incredibly kind and helpful. Highly advised!!!!!

Lisa
5. Dr. Alexander Seal
Reviews
Very open and honest about the price…
The most skilled and competent surgeon I've ever met. He always attends to the fine details and actively hears my worries. I feel so at ease in the setting he sets that I can choose my treatment wisely. Very open and honest about the price. Lisa, his nurse, is incredibly competent, encouraging, and helpful. I am overjoyed with the mole removal services I received from them.

Hina
6. EverYoung Laser & Skin Care Centre
Reviews
I am really grateful…
Dr. Jia amazes me! She cut off a mole on my face and removed it. I wasn't sure what to anticipate, but the outcome is excellent. I am really grateful that I chose EverYoung for this operation because it healed up beautifully.

Anna
7. Shine MD
Reviews
Completely painless…
Wonderful experience from beginning to end! The staff was really compassionate and attentive. It was completely painless when I had a couple of moles removed. I was made to feel comfortable by Dr. Khurana, who went through all the details of the procedure with me. I totally support this wonderful clinic!

M Nguyen
Final Thoughts
To sum it up, if you're looking for mole and wart removal in Vancouver and nearby, look no further than these 7 Best Mole Removal Clinics.
—END—
This article is a private opinion and does not constitute advice or any suggestion. We encourage you to seek a professional advice to find out which places or local service providers are best for you. Note that any pricing, operating hours, or other such information provided above may have changed since initial publication. Read full disclaimer here.