The Montreal Laser Hair Removal Clinics have been handpicked exclusively based on rating factors including but not limited to – Clinic History, Public Reviews, Location, Range of Services, Cost of Laser Hair Removal, Special Offers, Client Engagement, and Awards & Recognition.
Cost of Laser Hair Removal in Montreal
Montreal's 13 Best Laser Hair Removal Clinics
Here are the 13 laser hair removal clinics that are most loved by the people of Montreal, Quebec:
Centre Esthétique Montréal Vieux-Port
CHIC Laser Centre
MediSpa Jouvence
Dermamode
IPL Lab
Dermazur
Victoria Park Medispa
Lumilaser Esthetics
Clinique Revolution
New Age Spa
Zena Esthetique
Permanent Hair Removal Center
Spa Sahel
1. Centre Esthétique Montréal Vieux-Port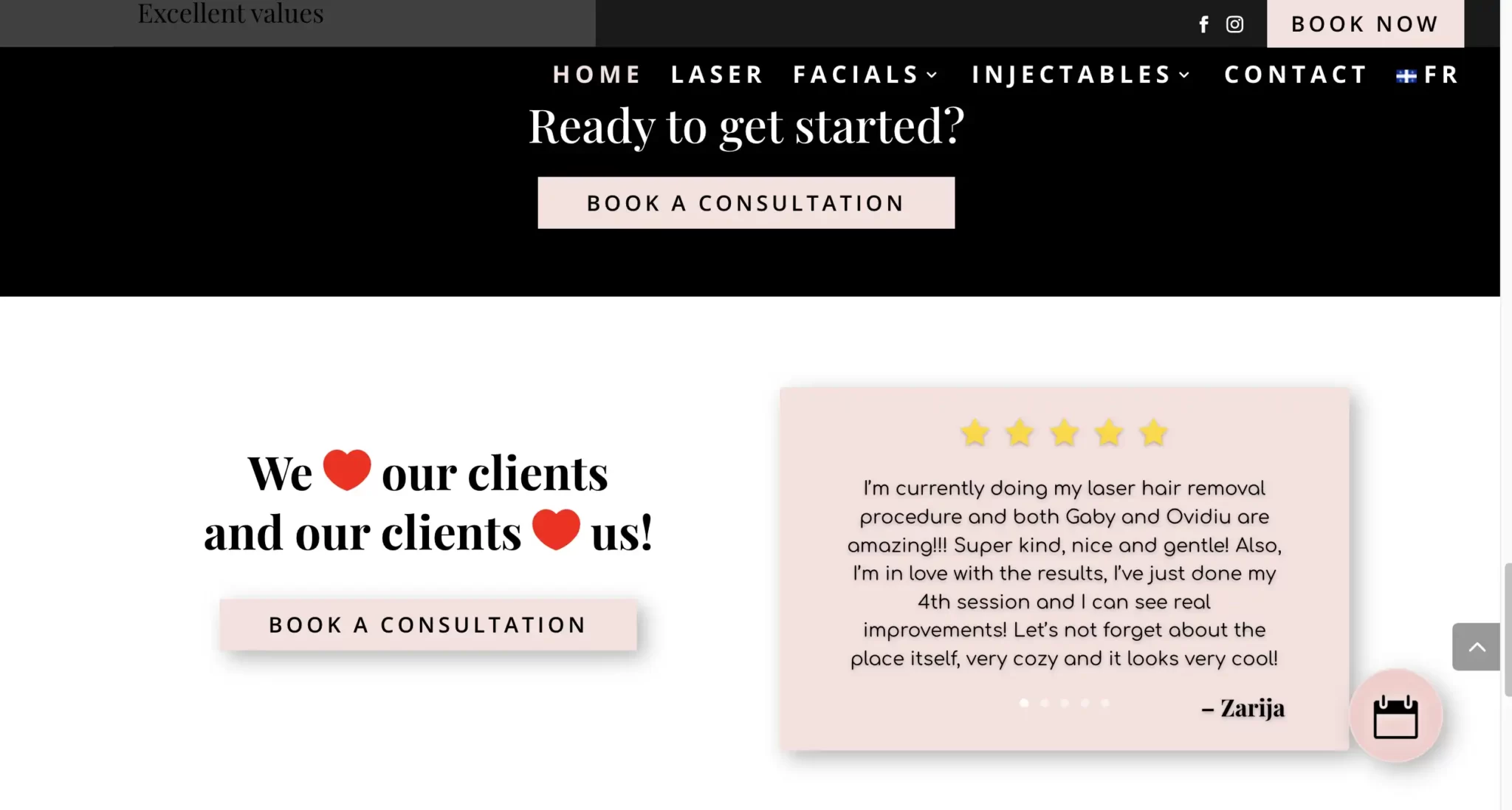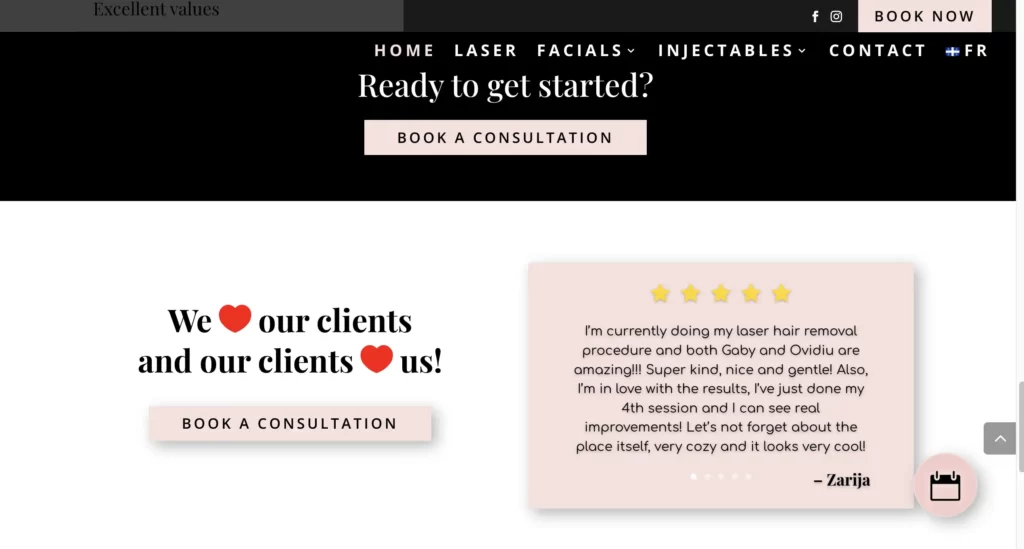 Reviews
Friendliness and professionalism…
I wanted to treat my underarms first (I was not sure I would be comfortable enough for other parts). I recently discovered this facility, and I appreciate how thorough the before and after treatment paperwork is. Then I met Noemie, who had a nice blend of friendliness and professionalism. She immediately made me feel at ease. I felt so at ease that I made the decision to wear a full bikini. They do have a high moral code and won't perform the procedure if it might damage your skin. As soon as the summer was gone, I scheduled an appointment for my legs as well. I heartily endorse this location.

Mélissa Fiorentino
2. CHIC Laser Centre
Reviews
Very realistic and honest…
I had previously undergone multiple laser hair removal procedures at various locations, but this facility provided the finest results by far. The degree of professionalism definitely raised the standard for me, and the laser technician, Lobna, was very educated and patient with me since I had a lot of questions about the laser hair removal procedure from the session itself to the aftercare. When it came to how long it would take me to accomplish my intended goals, she was very realistic and honest with me. Highly advised!

Andrea
3. MediSpa Jouvence
Reviews
Saved a lot of time and money…
You GET what you PAY for. Highly recommend!!!
It's only been 3 sessions and 75% of my targeted hair is gone.
(For reference: I have dark hair with light skin)
MediSpa Jouvence seems pricy at first when compared to other laser hair removal clinics, but the results are immediately noticeable!
We actually saved a lot of time and money with but a few sessions, instead of going elsewhere that may seem cheaper, but having to return for twice as many sessions.
Lorie and her reception team are professional and attentive.
They will speak with you if you feel stressed about the session, and you can always look at the picture of her adorable pug, Dante, on her desk. Trust me, you will feel much more relaxed.

Angela Han
4. Dermamode
Bye-bye underarm hair 👋🏼 Leave your shaving days behind you with laser hair removal!

Call to book your free consult today! pic.twitter.com/pDZYKdMH4X

— Dermamode Medical Aesthetics (@Dermamode) July 9, 2019
Reviews
Fantastic results…
I enjoy Dermamode so much! Since 2020, I've been a customer. The entire team is incredibly nice, I've gotten fantastic results, and their prices are very fair considering the calibre of service they offer.
I would suggest Audrey to anyone who needs laser hair removal because she is the technician that handles my case. She constantly goes above and above when it comes to service, is professional, and cares about her clients' outcomes.

Katie Ross
5. IPL Lab
Reviews
Prices are fair…
Love that place. It was referred through a friend who had an amazing experience. Their prices are fair, they are super quick to reply with any questions or bookings, the treatments are good and the results are there. The staff is sweet and professional. Thanks for everything!

Madeleine
6. Dermazur
Reviews
I've already had six sessions here…
Badia is incredibly knowledgeable and skilled. I'm very happy I discovered this location for laser hair removal. The outcomes demonstrate that she is an expert. I've already had six sessions here, and the outcome is fantastic. The Badia treatment was fantastic. She is an incredibly kind and wonderful lady.

Majid Gul
7. Victoria Park Medispa (Downtown Montreal)

Reviews
Quality service…
Amazingly professional and quality service. Top clinic in Montreal for laser hair removal. Major thank you to Dr. Wong for understanding the customer's needs and vision so perfectly.

Matis
8. Lumilaser Esthetics
Reviews
Cultivates a great relationship…
Eve is truly the best esthetician! 💕
She's so knowledgeable about skincare and also carries a wide range of the best products for acne prone skin.
What's also important, is that she cultivates a great relationship with her client and does several followups all in the best intention so you can build confidence and have healthy glowing skin ✨✨

Vana Kerimian
9. Clinique Revolution
Reviews
Recommended…
I had a great experience with Dr. Moyal today. With all honesty, he was one of the few doctors that took the time to clearly explain, answer the questions and give needed advice. Recommended!

Amani al-asmar
10. New Age Spa
Reviews
Wonderful and friendly…
Here, my experience was excellent. Without a doubt, the best. They were really friendly and educated about their services right away, which really helped me choose the ones that suited me and schedule an appointment.
Francesca, who I saw for a laser hair removal treatment, was wonderful and friendly. The atmosphere was perfect, and the room was quite clean. 💕👌

Elahe Heidari
11. Zena Esthetique
Reviews
Feel so comfortable…
I've been doing my laser hair removal with Zena and Valerie and cannot be any happier with the results!! They make you feel so comfortable and this is very important when you do laser hair removal.

Stephanie
12. Permanent Hair Removal Center
Reviews
Clean, efficient & sweet…
Lisa is phenomenal ☺️ Been going to Lisa for a year, and she's done my laser and my upper hair Electrolysis, she's clean, efficient & sweet. Whenever I go, she's ready & on time. She's managed to decrease the peach fuss on my lips; and my upper arms & bikini are almost hairless. I highly recommend her service, as she's a very detailed, and good worker

Carly
13. Spa Sahel
Reviews
Great service and great price…
I've been doing my back treatments here for the last couple of years and the staff has been very accommodating. Great service and great price. Thank you for always taking such good care of me 🙏🏼

Amir
Final Thoughts
To cut a long story short, if you're not happy with shaving, plucking or waxing to get rid of unwanted hair, laser hair removal from one of these Montreal's top clinics may be an option worth considering.
—END—