The Red Deer Laser Hair Removal Clinics have been handpicked exclusively based on rating factors including but not limited to – Clinic History, Public Reviews, Location, Range of Services, Cost of Laser Hair Removal, Special Offers, Client Engagement, and Awards & Recognition.
RED DEER'S 4 BEST LASER HAIR REMOVAL CLINICS
Interested in removing unwanted hair from the face, legs, arms, underarms, chin, back, bikini line, and other areas? So, here are the 4 laser hair removal clinics that are most loved by the people of Red Deer, Alberta:
Luxe Laser Studio
Aphrodite's Laser Hair Removal
Iconic Beauty Aesthetics
Innovation Dermatology
1. Luxe Laser Studio
Reviews
The sensation following the laser is incredible…
The best staff can be found at Luxe Laser Studio. These girls really concentrated on fostering an environment of acceptance since I'm ashamed of the substantial amount of body hair I have. Every time I visited, I was made to feel at home. I was there to have a significant portion of my body lasered, thus spending so much time sitting wasn't monotonous because my technician always allowed me to indulge in conversion. But the sensation following the laser is incredible. My back hair hasn't grown much in over six months since I last went. They perform well, and I can see the effects. Once more, I'd want to thank the Luxe Laser Studio staff for the shirtless summer.

Brian
2. Aphrodite's Laser Hair Removal
Reviews
Practically painless…
Christine is incredible! She is prompt, competent, and responsive to the conversation. It is amazing to see how little hair I have left after three treatments. She uses a device with an ice-cold tip that is practically painless. All it takes is a tiny pinch every now and again! I'd advise everyone to use her laser hair removal services.

Carmen Del Bello
3. Iconic Beauty Aesthetics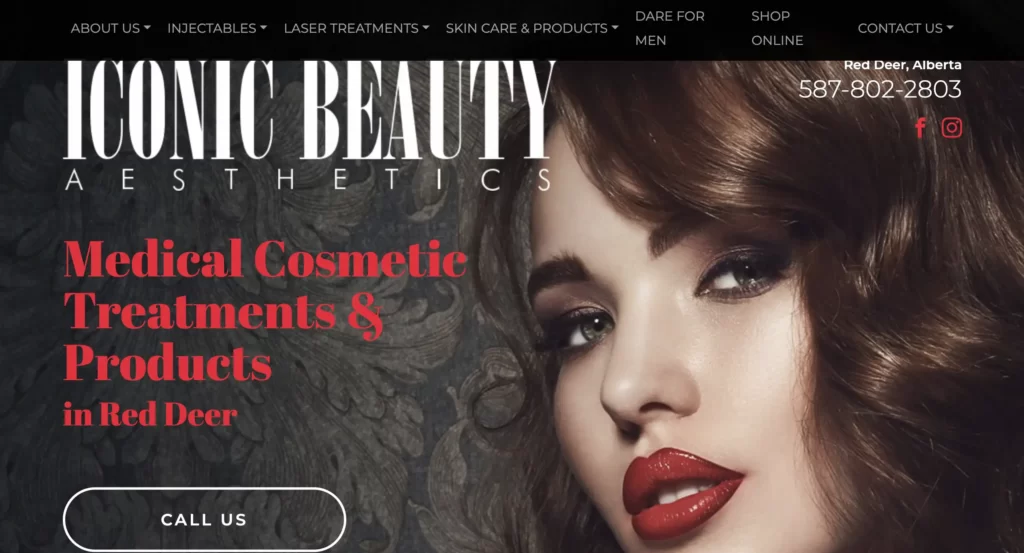 Reviews
The facility is beautiful…
These ladies are fabulous! They do such an amazing job. You get a warm welcome the moment you step through their doors. The facility is beautiful. If you need anything done or just need some knowledgeable info- this is the place! No pressure just honest women talking honest stuff ( you will have many laughs and giggles) give these ladies a call.

Megan
4. Innovation Dermatology
Reviews
Results are unbelievable…
Absolutely the best! Dr. Day and his amazing team are outstanding. The treatments and products are above grade by far. Everything is explained in simple language and the results are unbelievable. My acne scars are at a bare minimum and plus ppl wonder why my skin looks so great in my 60's. Innovation Dermatology is the answer. Helping us all look and feeling fabulous!✔😊

Debra
Final Thoughts
In a nutshell, if you're not happy with shaving, plucking or waxing to get rid of unwanted hair, laser hair removal from one of these Red Deer's top clinics may be an option worth considering.
—END—
This article is a private opinion and does not constitute advice or any suggestion. We encourage you to seek a professional advice to find out which places or local service providers are best for you. Note that any pricing, operating hours, or other such information provided above may have changed since initial publication. Read full disclaimer here.