The Guelph Laser Hair Removal Clinics have been handpicked exclusively based on rating factors including but not limited to – Clinic History, Public Reviews, Location, Range of Services, Cost of Laser Hair Removal, Special Offers, Client Engagement, and Awards & Recognition.
GUELPH'S 6 BEST LASER HAIR REMOVAL CLINICS
Interested in removing unwanted hair from the face, legs, arms, underarms, chin, back, bikini line, and other areas? So, here are the 6 laser hair removal clinics that are most loved by the people of Guelph, Ontario:
Guelph Medical Laser & Skin Centre
AFYA Skin and Body Laser Clinic
em clinic Guelph
Seema's Laser Spa & Salon
ArtMed
Natalie Maaden Laser & Spa
1. Guelph Medical Laser & Skin Centre
Reviews
Beyond any expectations…
Tammy is amazing; the results of my treatment are beyond any expectations I had! If you want to feel and look refreshed I am highly recommending this team of professionals and the wonderful Tammy!

Valerie
2. AFYA Skin and Body Laser Clinic
Reviews
I have never been let down…
Fantastic service! Always taking the time to attend to my needs and make sure I am satisfied with their services, and the employees. I have experimented with numerous procedures laser hair removal and skincare products in search of healthier skin, and I have never been let down. AFYA, many thanks!

Barbara
3. em clinic Guelph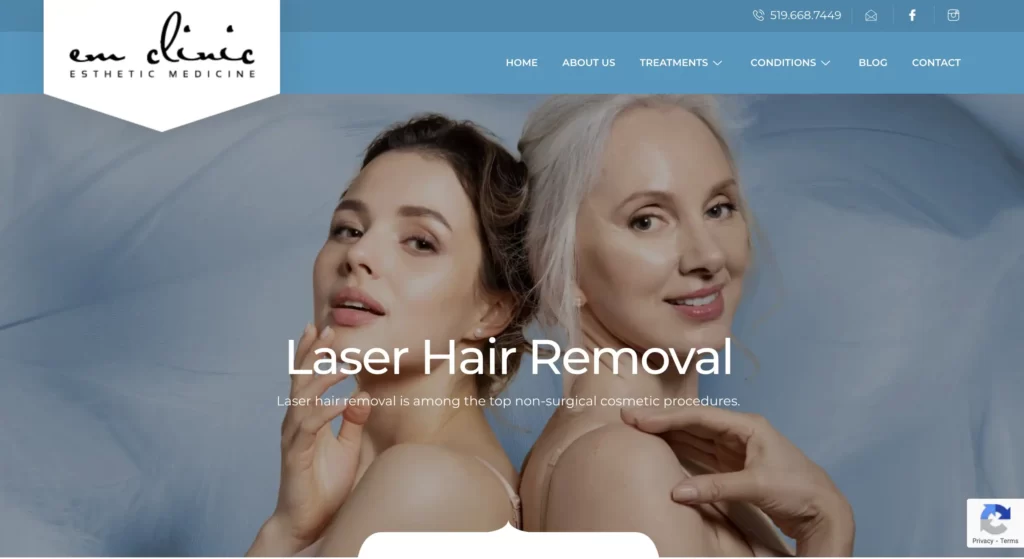 Reviews
Friendly and knowledgeable…
The staff are all so friendly here. I had my first hair removal laser with Katelyn and she was so friendly and knowledgeable. The hair removal laser was not painful at all. I would highly recommend this treatment at this clinic for everyone 😃

Linh Nguyen
4. Seema's Laser Spa & Salon
Reviews
Fantastic rates, staff, and surroundings…
You will undoubtedly feel safer and more at ease after reading this. To anyone searching for a good laser hair removal procedure, I would strongly recommend it. Fantastic rates, staff, and surroundings. Fast and painless laser hair removal. You should definitely visit Seema's Salon, in my opinion. The outcomes are astounding.

Jessica Rai
5. ArtMed
Reviews
Beautiful skin…
My skin looked worse after receiving laser therapy at a separate clinic. I was a little hesitant to get another one because of this, but after reading some fantastic reviews, I decided to try it again and I'm so glad I did!
Jennifer Glazer is to credit for the beautiful skin I have.
Jennifer excels in everything she does. She is extremely smart, friendly, and compassionate. She takes her time describing your skin and the suggested treatment in detail. Then, she also explained what would happen next, and everything she said was accurate. The aftercare that I received has been wonderful for my skin.

Susanne
6. Natalie Maaden Laser & Spa
Reviews
Excellent laser hair removal facility…
Excellent laser hair removal facility; Jaclyn is fantastic. she is really sweet and patient. She continually checks in to see how I am doing because I do full leg, which takes some time. The spa is pristine and fashionable. prompt service. I have had a great experience working with everyone at the front desk.

Brittany Arnold
Final Thoughts
To sum things up, if you're not happy with shaving, plucking or waxing to get rid of unwanted hair, laser hair removal from one of these Guelph's top clinics may be an option worth considering.
—END—
This article is a private opinion and does not constitute advice or any suggestion. We encourage you to seek a professional advice to find out which places or local service providers are best for you. Note that any pricing, operating hours, or other such information provided above may have changed since initial publication. Read full disclaimer here.