View our top recommendations for the top five immigration consultants serving the community in Winnipeg, Manitoba with a wide range of immigration-related services.
These accredited Canadian immigration consulting and naturalization companies have been pulled out based on key factors like business history, public reviews, location, service offerings, fees, paid or free consultation, special offers, client engagement, awards & recognition, and other things.
Winnipeg's 5 Best Immigration Consultants
Here are the five top-class immigration advisors most trusted by clients in Winnipeg, MB:
World Gateway Immigration – rated 4.5 out of 5
Westlink Immigration – rated 4.3 out of 5
Verge Immigration Services Inc. – rated 4.7 out of 5
Great Start Canada Immigration Consulting Inc. – rated 4.9 out of 5
Duque Immigration Services Inc. – rated 4.8 out of 5
1. World Gateway Immigration
Winnipeg-based World Gateway Immigration is a recognized consultant with expertise in a range of immigration-related areas, as well as career and foreign education consulting. They have consistently offered high-quality services you can rely on for the past 11 years.
World Gateway Immigration was established in 2010 by Mr. Zora Kainth, a member in good standing of the approved regulating body (ICCRC). He now oversees a group of highly motivated professionals with in-depth knowledge and experience in the practice of immigration.
This team of professionals can assist you in realizing your ambition of emigrating to Canada because they have aided a wide variety of immigrants from various nations. Simply get in touch with them and request a free assessment.
Highlights
Has more than 20 years of combined experience
Take care of a variety of immigration application forms
Provide feedback by email of your inquiries
Offer a no-cost initial consultation
Office Hours
Monday

10:00 am – 6:00 pm

Tuesday

10:00 am – 6:00 pm

Wednesday

10:00 am – 6:00 pm

Thursday

10:00 am – 6:00 pm

Friday

10:00 am – 6:00 pm

Saturday

10:00 am – 2:00 pm

Sunday

Closed
Client Reviews
Very professional and hard-working team. Excellent service!! My experience with World Gateway immigration has been so great. I highly recommend the services of World Gateway Immigration to everyone. Their staff is well-versed in immigration guidelines. They returned all my calls promptly and completed the application quickly. Special thanks to Zora sir and Rupinder. They are very knowledgeable and I got guidance at every step of the process.

Jorge Joseph
2. Westlink Immigration
Westlink Immigration is an immigration consultant in Winnipeg that's synonymous with the best client representation in Canada and around the world.
Pragati Sharma is a reputable member of the Immigration Consultants Regulatory Council of Canada (ICCRC) and a Regulated Canadian Immigration Consultant. She is qualified to manage every aspect of your application procedure. She will make sure you feel safe and comfortable at every turn.
During your initial consultation, they will determine which immigration options are available to you. Then, they will advise you of the pros and cons of each option. This can help you to make the best choice in taking your next step.
Moreover, you can narrow down your options for migrating to Canada by taking a FREE assessment offered by Westlink Immigration.
Highlights
Specializes in Manitoba Provincial Nominee Program (MPNP)
Committed to providing Ethical, Honest and Reliable service
Provide services in English, Hindi and Punjabi
Office Hours
Monday

10:00 am – 5:00 pm

Tuesday

10:00 am – 5:00 pm

Wednesday

10:00 am – 5:00 pm

Thursday

10:00 am – 5:00 pm

Friday

10:00 am – 5:00 pm

Saturday

Closed

Sunday

Closed
Client Reviews
Our experience with Westlink Immigration has been an absolute delight! Their constant efforts and unwavering dedication to getting our study permit approved filled our hearts with joy and gratitude.

Throughout the entire process, they guided us with the utmost care, making us feel like a valued part of their family. We cannot express enough thanks to Pragati Sharma, whose boundless enthusiasm and expertise brought our visa proceedings to a triumphant conclusion.

Westlink Immigration's empathy and understanding turned what could have been a stressful time into a joyful journey. We wholeheartedly recommend their services to everyone seeking immigration assistance. Thank you, Westlink Immigration, for making our dreams come true!

Harshit Bakhshi
3. Verge Immigration Services Inc.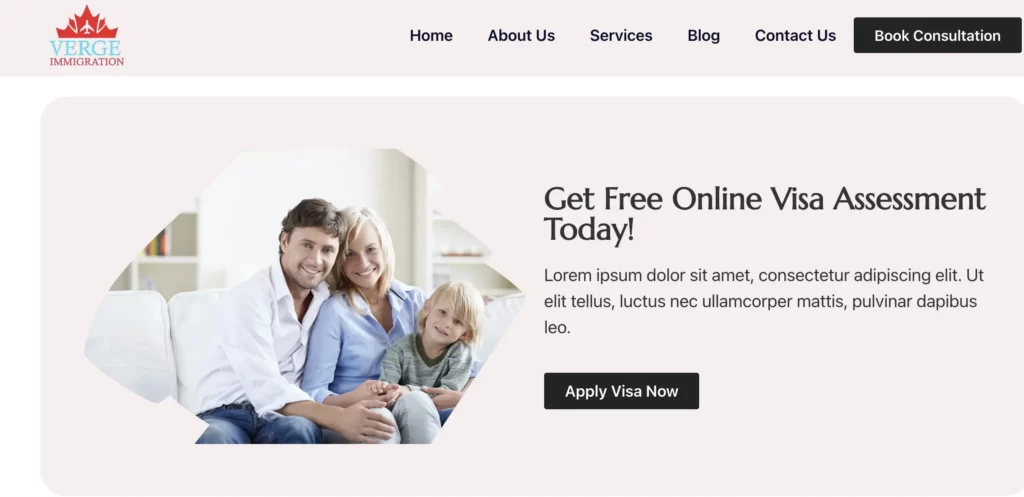 Before submitting an application, one must have a complete understanding of immigration laws and procedures. Verge Immigration experts make the Canadian immigration process simple and stress-free with timely service and client assistance.
You can anticipate receiving professional advice in Winnipeg from immigration specialists who have received training from reputable universities.
At Verge Immigration they produce results, so if you're looking for immigration experts with outstanding professional Results?
Then look no further!
Over the last 5 years, they secured work permits and jobs and countless numbers of accepted Visas and application forms.
Highlights
Has a good understanding of different immigration streams
Offer extended hours and keep everything highly organized
Respond to emails promptly
Provide FREE consultation over the phone
Office Hours
Monday

9:00 am – 6:00 pm

Tuesday

9:00 am – 6:00 pm

Wednesday

9:00 am – 6:00 pm

Thursday

9:00 am – 6:00 pm

Friday

9:00 am – 6:00 pm

Saturday

9:00 am – 5:00 pm

Sunday

Closed
Client Reviews
for me. The best immigration service, without a doubt. Jatinder is really thorough and informed. His level of professionalism is unmatched. The entire process ran exceptionally smoothly because of the excellent planning, communication, and attention to detail. Verge Immigration has my highest recommendation.

Robson
4. Great Start Canada Immigration Consulting Inc.
Do you require the top immigration advice in Winnipeg, Manitoba? You can rely on the staff at Great Start Canada!
The CEO and Founder of Great Start Canada is Daniel Peimbert. Daniel is a Certified Education Agent and a Regulated Canadian Immigration Consultant (RCIC). He has intimate knowledge of the Canadian immigration process because he is an immigrant himself. He promises to pursue your case fast and diligently as a result.
Some of this local company's key highlights include initial consultation services, immigration services, education services, employer services, relocation services, translation services, and emergency medical insurance.
You may reach out at info@greatstartcanada.com if you cannot find an answer to your question.
Highlights
Deliver timely case updates to keep you updated
Offer services in Spanish and English
Has a useful YouTube channel
Office Hours
Monday

9:00 am – 5:00 pm

Tuesday

9:00 am – 5:00 pm

Wednesday

9:00 am – 5:00 pm

Thursday

9:00 am – 5:00 pm

Friday

9:00 am – 5:00 pm

Saturday

Closed

Sunday

Closed
Client Reviews
I had an emergency with my work permit application to Canada. Daniel and his team, which had previously helped my parents to come to Canada, took my case very happily and professionally.

With great attention to detail, the application they submitted on my behalf got approved with no problem, giving me the chance to keep pursuing the Canadian dream. 100% recommended to anyone looking for immigration help to come to Canada

Douglas Coto
5. Duque Immigration Services Inc.
| | |
| --- | --- |
| BEST KNOWN FOR | Permanent Residence, Family Sponsorship, Economic Class, Humanitarian and Compassionate Considerations, Refugee, Temporary Residence, Study Permit, Work Permit, Visitor Visa |
| IMMIGRATION CONSULTANT | Joel Duque |
| EMAIL | info@duqueimmigration.ca |
| PHONE | +1 204-339-2522 |
| ADDRESS | 2536 Main St Unit 2, Winnipeg, MB R2V 4Y1, Canada |
Within the bounds of Canadian law, Duque Immigration Services Inc. provides sage advice, efficient management of immigration applications, and polite advocacy. Their personnel will do everything possible to make your immigration worries simple.
Joel Duque is a top pick for a reliable Winnipeg immigration advisor. He joined the Immigration Consultant of Canada Regulatory Council (ICCRC) in 2016 and is currently a member in good standing.
Prior to becoming a member of the CICC, Mr. Duque completed the Immigration Practitioner Course with flying colours, under the previous governing body for Immigration consultants, the Canadian Society of Immigration Consultants (CSIC).
He is among the best in Winnipeg because of his dedication to remaining current with immigration advancements!
Highlights
Experienced and accomplished immigration consultant
Provide round-the-clock assistance to customers who are located in different time zones
Have had many successful cases from countries around the world, such as the Philippines, United Arab Emirates, Saudi Arabia, Nigeria, Singapore
Office Hours
Monday

9:00 am – 5:00 pm

Tuesday

9:00 am – 5:00 pm

Wednesday

9:00 am – 5:00 pm

Thursday

9:00 am – 5:00 pm

Friday

9:00 am – 5:00 pm

Saturday

Closed

Sunday

Closed
Client Reviews
It was a long journey but still blessed we got approved. Thanks to the agency who helped us with our papers, especially Sir Kyle, Sir Joel and Ms. Katrina who are patient and understanding with our questions and issues. A bit expensive agency compared to the agencies here in the Philippines but I guess it is all worth it. Kudos to the team! I am excited to fulfill my Canadian Dream with the love of my life ❤️

Emily
Is Winnipeg a good place for immigrants?
Winnipeg is a popular destination for newcomers to Canada. It is more cheap and offers a better work-life balance than other Canadian cities.
The Manitoba Provincial Nominee Program helped a record number of immigrants enter Canada, and Winnipeg became their new home.
Our Final Thoughts
So there you've it – the 5 best immigration consultants in Winnipeg in a nutshell.
We hope that our comprehensive list of Winnipeg, MB consultants will make it easier for you to locate the top Canadian immigration experts in the area. Call the counsellors of your choice to see which would best meet your needs and budget.
Do you think we overlooked any good consulting firms in Manitoba? Please let us know if you have any recommendations so we may review them and possibly add them to our list.
This article is a private opinion and does not constitute advice or any suggestion. We encourage you to seek a professional advice to find out which places or local service providers are best for you. Note that any pricing, operating hours, or other such information provided above may have changed since initial publication. Read full disclaimer here.