A chipped tooth can damage your beautiful smile, while a displaced tooth might have an adverse effect on your general health. Whatever your issue, one thing is for sure, you will need immediate medical attention from a Toronto emergency dentist so that you may carry on with your everyday life.
So whether you are living in Etobicoke, North York, Downtown, or wherever in the city of Toronto, we've done some hard work for you and have narrowed it down to the 5 Best Emergency Dentists in Toronto, ON who can make sure that you'll walk out free from your pain and suffering.
These dentists have been handpicked exclusively based on factors including but not limited to – Clinic History, Public Reviews, Location, Range of Dental Services, Cost of Dental Services, Special Offers, Client Engagement, and Awards & Recognition.
But before that, let's check out the average price of different emergency dental services in Toronto, ON.
How much will the Toronto emergency dentist charge for an appointment?
Now you must be wondering about the cost of urgent dental treatment in Toronto. Well, the truth is that there is no one-size-fits-all solution to the question. Here's an approximate price range for your reference:
Tooth Removal
Tooth removal or extraction is occasionally required to protect the neighbouring teeth from harm.
---
Dental Filling
The main purpose of a dental filling is to repair the damaged area of your tooth.
---
Endodontics
Your dentist may decide to use endodontic therapy to save a badly decaying or infected tooth.
---
The charges vary according to the situation and circumstances, and some dental hospitals may charge a little bit more than usual for urgent after-hours appointments.
However, your dental insurance will pay for the majority of these expenses. As a result, you shouldn't worry too much about it.
Toronto's 5 Best Emergency Dentists
Searching for a 24-hour emergency dentist near me? Here are the five top-rated dental practitioners that you could find in Toronto, Ontario:
| S. NO. | EMERGENCY DENTISTS | RATINGS |
| --- | --- | --- |
| 1 | Elmwood Park Dental (Downtown Toronto) | 4.8/5 |
| 2 | Dental Emergency Services | 4.5/5 |
| 3 | Emergency Dental Care Centre (Etobicoke) | 4.7/5 |
| 4 | Walk In Dental Clinic (North York) | 4.2/5 |
| 5 | Emergency-Dental-365 (North York) | 4.5/5 |
5 Best Toronto Emergency Dentists Near Me
1. Elmwood Park Dental (Downtown Toronto)
| | |
| --- | --- |
| BEST KNOWN FOR | Dental Emergencies: Root Canal, Cracked Tooth Repair, Bleeding Gums, Tooth Infection |
| EMERGENCY DENTIST | DR. ANDRE HUGHES |
| PHONE NUMBER | +1 416-971-8181 |
| EMAIL | christieparkdental@gmail.com |
| LOCATION | 29 Elm St, Downtown Toronto, ON M5G 1H1, Canada |
If you are trying to find top-rated emergency dentists in Downtown Toronto, then you should visit Elmwood Park Dental. For all of your dental requirements, including preventative, restorative, and aesthetic procedures, they could be the ideal solution.
This emergency dental clinic has the its roots in the local community, and is offering each patient high-quality, reasonably priced dental care. Furthermore, their ability to provide a wide range of dental procedures has allowed them to treat hundreds of clients who required immediate dental assistance.
Another highlight of their services is that they accept all forms of payment i.e. Cash, Visa, Mastercard, Debit, and all dental insurance plans. Plus, they offer direct billing to your insurance provider, taking care of all the paperwork for you to make the process simpler for you.
For a free consultation, reach out to them right away.
HIGHLIGHTS
Staff has vast experience in dentistry and offers a wide range of emergency dental services
Same-day emergency dental appointment is available
Take in all major forms of payment, and deals in university/college insurance as well
Has the "PayBright" program, so that you can pay for your dental emergency overtime
REVIEWS
It was my first time there. And it was kind of an emergency. They saw me immediately and took care of my issue. They also took the time to keep me very well informed over what was happening and why and what will be needed in the future.

Definitely the best dental experience I've ever had. They're my new dental clinic, for sure.

Andrew Zold
2. Dental Emergency Services
| | |
| --- | --- |
| BEST KNOWN FOR | Dental Emergencies: Toothache, Broken tooth, Dislodged tooth, Loss of a dental crown, Accidents to teeth |
| PHONE NUMBER | +1 416-485-7121 |
| EMAIL | info@dentalemergencyservices.ca |
| LOCATION | 1650 Yonge St #100, Toronto, ON M4T 2A2, Canada |
Need an emergency dentist nearby that has been providing emergency dental care for the longest? Dental Emergency Services is up for the task.
At this Toronto site, they have been in business for over four decades. They are open all 7 days a week, including all statutory holidays; which is another added advantage.
Moreover, they provide extended hours (8 AM to midnight) because they are aware that dental emergencies can occur anytime, anywhere. So if you have an emergency, you can call their phone line anytime.
Another thing about Dental Emergency Services in Toronto is that their staff is multilingual. They speak Filipino, Cantonese, French, Hindi, and Japanese in addition to English, to put you at ease.
HIGHLIGHTS
Proudly serving the Greater Toronto Area & nearby for 40+ years
Open on Saturdays and Sundays i.e 7 days a week, 365 days a year
Immediate, same-day appointments are available
REVIEWS
I dreaded having to go to a 'strange' dentist but it was urgent. From the moment I got there to pay the bill, everything was smooth, professional, and easy. Dr. Bleeman and his staff were extremely professional and addressed my issue. I will definitely use this service again.

John T
3. Emergency Dental Care Centre (Etobicoke)
| | |
| --- | --- |
| BEST KNOWN FOR | Dental Emergencies: Toothache, Chipped or Broken Tooth, Knocked Out Tooth, Badly Bitten Lip or Tongue, Lost Filling |
| PHONE NUMBER | +1 647-830-4899 |
| EMAIL | office@emergencydentalcarecentre.ca |
| LOCATION | 5080B Dundas St W, Etobicoke, ON M9A 1C2, Canada |
In the case of a dental emergency, we all know that prompt treatment comes first. Luckily, the staff at Emergency Dental Care Centre in Etobicoke, Toronto is always ready to give you excellent care and relief when you need it most.
Their prompt after-hours care can perfectly manage an unanticipated dental emergency. To relieve discomfort and be ready for your consultation, all you need to do is follow their dental emergency guidelines.
Not just that, their fully licensed practitioners are recognised by the Ontario Dental Association, The Canadian Dental Association, and the Academy of General Dentistry. The Emergency Dental Care Centre staff works as a unit and attends to their patients with respect.
HIGHLIGHTS
Wide service reach in and around Toronto, Etobicoke, Mississauga, and surrounding areas
Accepts Cash, Visa, Mastercard, American Express, Interac Debit, Apple & Android Pay
Open 7 days a week (8:00 AM – 1:00 AM), Emergency Hotline (1:00 AM – 8:00 AM)
REVIEWS
I honestly had the best experience at this establishment today. Everyone from the ladies in the reception, the dental assistant and the actual Dentist were absolutely fabulous. They were so kind and sweet to me. I felt so well taken care of. Keep up the good work 💕💕

Luvlay1
4. Walk In Dental Clinic (North York)
Looking for an emergency dental specialist for your nighttime toothache? Call Walk In Dental Clinic in North York, Toronto right away to make an urgent appointment.
In order to quickly address your urgent dental requirements, they provide same-day and after-hours appointments. What it means is that, throughout the week, their dentist office is open late to further assist patients.
And there could be a variety of reasons for choosing them over others, such as experience, industry understanding, and competence. Their dentists have 30+ years of combined expertise to handle all kinds of emergency dental services.
HIGHLIGHTS
Free parking is available
Offers same day appointment
Has an exclusive discount for seniors and students
Free consultation
Open Sunday (From 11:00 AM to 4:00 PM)
REVIEWS
I was in a lot of pain for a few days and as my dentist was unavailable to help, I went here. The staff here are very accommodating, and understanding and they helped me with my tooth extraction. They explained to me my options for my tooth and were patient with me! Thank you to the whole team. If you are in a dental emergency this is the place to go!

Thinlay Dorjee
5. Emergency-Dental-365 (North York)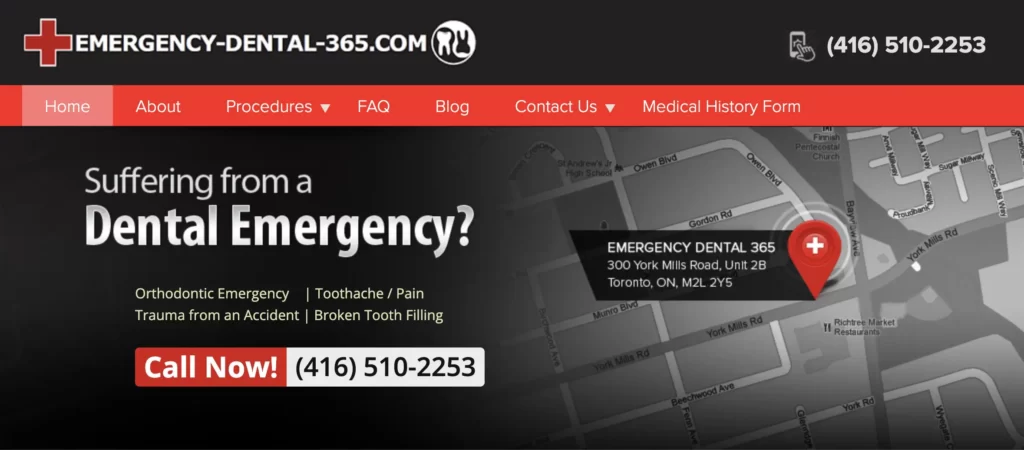 | | |
| --- | --- |
| BEST KNOWN FOR | Dental Emergencies: Broken Teeth, Lost Fillings, Broken Dentures, Crowns or Bridges, Extractions, Emergency Root Canal, Knocked Out Teeth |
| PHONE NUMBER | +1 416-510-2253 |
| LOCATION | 300 York Mills Rd #2b, North York, ON M2L 2Y5, Canada |
The fifth and last name on our Toronto emergency dentist list is Emergency-Dental-365. Like their name says, they are known for offering services for individuals in need of urgent same-day dental care 7 days a week, 365 days a year.
Based in North York, Toronto with easy access to the TTC and York Mills Station, getting dental care from them is a delight. Over the past ten years, they have treated large no. of patients at their emergency dental clinic. The so-called feared and annoying toothache receives the most immediate dental care at Emergency-Dental-365.
In addition to this, they make scheduling an emergency appointment with a dentist quick and simple for you. You can access their emergency dental medical history form online, fill it out, and bring it with you to our dental emergency facility.
HIGHLIGHTS
Same-day appointments exclusively available for dental emergencies
FREE Parking and TTC access
Hours of operation are from 6.00 AM to 10.00 PM
Open Saturdays and Sundays as well i.e 7 days a week
REVIEWS
I had two root canals done here today! I was in excruciating pain prior, and can't get into my dentist for another week. I would recommend this place to anyone who needs emergency work done! He is absolutely amazing, thorough, takes his time, listens to concerns, and is overall a great dentist. 5 stars hands down!

Becky DeMille
What is considered dental emergency in Toronto, Ontario?
However shifting dental emergencies to a Toronto emergency dentist may sound ideal, but it rapidly becomes unclear what constitutes a dental emergency.
Here are four typical dental urgencies that necessitate a trip to an emergency dental specialist:
Toothache
Infections in the pulp of the teeth and objects wedged in the teeth are two prevalent causes of toothaches. It is crucial to visit an emergency dentist near you when tooth pain appears unexpectedly, worsens over time, or is severe.
Cracks or chips
A trip to an emergency dentist is necessary if you have a tooth that has chipped or cracked.
Soft-Tissue Injury
You should contact your emergency dentist in Toronto if lips, gums, inside of the cheeks, and tongue has been hurt.
Knocked-out or loose teeth
Any face trauma that results in teeth coming loose or falling out requires urgent dental care.
Frequently Asked Questions
Where can I find an emergency dentist in Toronto near me?
Toronto is a big city and you'll find plenty of emergency dentists near you. You can use Google to identify one that is closest to you and locate urgent dental care.

To further understand your dental emergency and establish whether a visit is required, get in touch with them over the phone.
What are the opening times of Toronto emergency dental clinics?
The Toronto emergency dentists that we've listed above, provide extended hours of service. So most of them are open every day of the week. Additionally, a 24-hour answering service is also available from some of them.
Can I fix my teeth for free in Toronto, ON?
This is what CDA says if you're looking for free emergency dental treatment in Canada or Toronto specifically.

Ask your dentist for a payment plan if you don't have dental insurance coverage and you can't afford to pay your complete amount at once. Contact the nearest social services organisation to check if you qualify for government-funded dental care if you are unable to pay for treatment, even with a payment plan.
About Toronto Emergency Dental Clinics
There you see, some amazing emergency dental clinics in Etobicoke, North York, and Downtown Toronto. From immediate tooth extraction to a replacement filling, these experienced emergency dentists in Toronto provide comprehensive care to save your life from agony.
So are you ready to show your smile to the world again, pain-free?
This article is a private opinion and does not constitute advice or any suggestion. We encourage you to seek a professional advice to find out which places or local service providers are best for you. Note that any pricing, operating hours, or other such information provided above may have changed since initial publication. Read full disclaimer here.