The Surrey Dermatologists have been handpicked exclusively based on rating factors including but not limited to – Clinic History, Public Reviews, Location, Range of Dermatology Services, Cost of Dermatology Services, Special Offers, Client Engagement, and Awards & Recognition.
SURREY'S 15 BEST DERMATOLOGISTS
Here's the list of 15 top-rated and reviewed dermatology clinics that are most loved by the people of Surrey, British Columbia:
1. The Skin Doctor™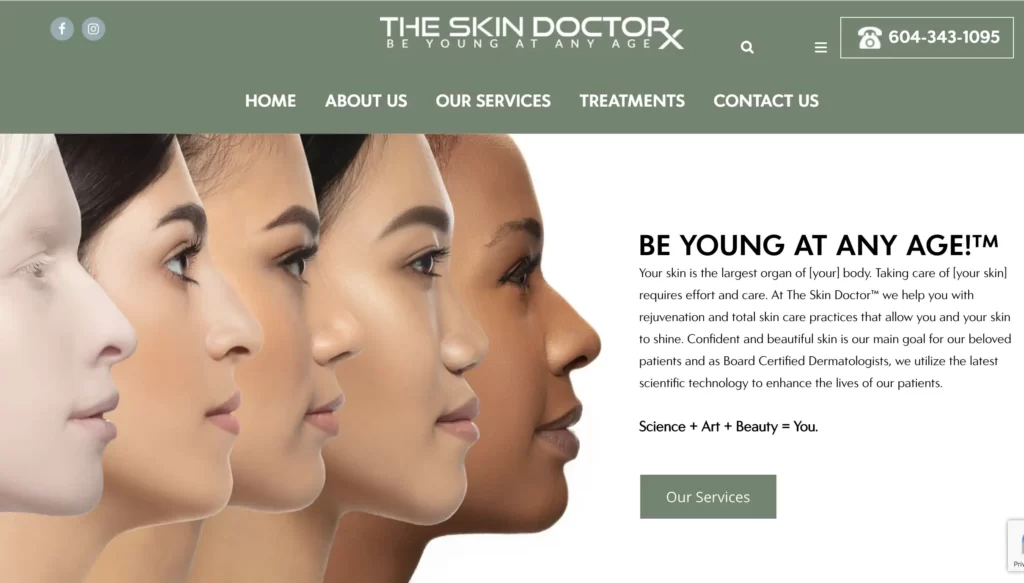 Reviews
Awesome Staff. Gave me some great advice on how to keep my skin in great condition. Had a lot of sun damage from years of not taking precaution. Also the Laser Genesis for my skin has already done wonders! (The investment is totally worth it!)

The Dermatologist and his team are great at what they do.

Nick Jaura
2. Dr. Lorne E. Albrecht & Associates
Reviews
By far my favourite dermatologist I have ever seen. I've been seeing dermatologists my whole life and this office is professional and knowledgeable much better than many I've seen. They remember who you are and treat you like your family. Highly recommend it for trails or regular needs 🙂

David
3. Dr Chih-Ho Hong Medical Inc
Reviews
My experience with Dr. Hong was excellent. He is knowledgeable, experienced. approachable and direct. My appointments were on time and the simple procedure was done with ease. I would most definitely recommend Dr. Hong as your Dermatologist

Stephanie Norris
4. Wave Skin Care
Reviews
I've been seeing Dr. Sanghe for over 10 years. He is very experience in his field and he is a professional. I wouldn't trust anyone else with my skin. I have always found he recommends the most beneficial treatments that would be best for me.

Jessica
5. MD Wellness Solutions
Reviews
For the first time since childhood, I have my skin under control, Dr. Tkatch is nothing short of a miracle worker. I've struggled with acne and adult acne for over 25 years, have seen many doctors and specialists and tried multiple product lines and prescriptions, including Accutane.

Dr. Tcatch sat down with me, listened intently about what I had done in the past, discussed my diagnosis, Rosacea, in detail, discussed treatment options, and proposed a plan. I couldn't be happier with the results, and I look forward to adding IPL and resurfacing laser in the future. Highly recommend it without reservation.

Royden Stanford
6. Beautiful Canadian Laser and Skincare Clinic
Dramatically reduce underarm sweat with this proven treatment.

We were 1st on the mainland to offer miraDry® to get rid of sweat and odour glands.

We ensure the treatment is done right.https://t.co/1UodsHYoRA#miradryvancouver #hyperhidrosis #sweatsolution #sweattreatment pic.twitter.com/NVHyJ5jCol

— Beautiful Canadian Laser and Skincare Clinic (@bclaser) November 15, 2022
Reviews
Jennifer was absolutely amazing! She was very professional and kind. Made me feel super comfortable from the moment I walked in. Can't wait to come back soon for more services.

Amanda Runcer
7. Clear Complexions Skin Therapy
Reviews
I was extremely apprehensive about getting skin tags removed on my neck after a less than pleasant experience with a dermatologist years ago. Sandy was extremely understanding and patient with my nervousness, checking in on me regularly. There was extra time in my appointment and she even fixed up some blemishes on my face that I wasn't happy with. I can't recommend Sandy enough and will be heading back soon for a facial.

Dasilva
8. Healthy Skin Centre
Reviews
I had an appointment with Dal and she was super nice and very informative! She answered all my questions and explained what my skin needed. I'm about to start the regimen and I'm looking forward to the results!

Vivian Chang
9. White Rock Skin and Laser Clinic
Reviews
I LOVE this place. I do not heap praise randomly and I can say without hesitation You will receive the greatest of care and attention from the moment you walk through the door. Mirella is amazing and Dr. Bradenkamp is outstanding in his attention to detail and his recommendations for me (and my aging skin!). My rosacea has completely disappeared. The laser treatments I've had were pain free and the care I received was first notch, right up to and including follow up calls. You're not going to find a better place. And the music is fun too. I know you be as impressed as I am.

Linda
10. Glow Laser & Skin Care Surrey
Reviews
Gina is very nice and professional. The place its is very clean and welcoming. Treatment is painless and amazing results. One of my friend recommended Gina and me and my sister are both getting laser done from her. Thank you Gina for your amazing service.

Jaskaran
11. Spotless Laser Medical Aesthetics
Reviews
Using the SkinPen (microneedling), Benisha has helped me lighten deep acne scars on my back that dermatologists told me would be impossible to treat. After just one treatment I saw a HUGE improvement!

She also helped me pick out Allumier products that would compliment the microdermabrasion and microneedling she had done on my face – my face is glowing!

Shareefa Jaffar
12. Allure Laser & Skincare Spa
Reviews
My skin was so bad that when I looked in the mirror, I thought to myself, "What an awful person I am." It had terrible pigmentation and was covered in pimples. Everyone advised me to see a dermatologist. I met Sandi by chance, and she did a fantastic job on my skin. With my first Hydra facial, my skin significantly improved.

And today, I was asked if I'd taken any medication because my skin was looking better. Then I responded that I had just had a facial and had not taken any medicine. She excels at what she does. To everyone, I would heartily suggest Sandi. She possesses magical abilities. Sandi, thank you for providing beautiful skin.

Amritpal Kaur
13. Allyson O'Brien
Reviews
Five stars hands down! Allyson is wonderful. She does an absolutely amazing job. She is friendly, impeccable, professional, and knows how to make my eyes look beautiful and perfect. Allyson also uses high quality products which is important to me. She understands my needs, yet she gets it better than me. I have been using lashes extensions for more than 10 years. I have moved a lot so I've tried a lot, but no one like Allyson, she really cares. I get so many compliments on my lashes and I love them. Thank u, thank u!

Johanna Lasner
14. All Beauty Laser clinic & spa
Reviews
I have finally finished all of my treatments here and can say that I'm very happy with my results. As someone who has fair skin and dark hair it has always been a issue for me. I did 10 sessions and I have about 85% hair gone in some areas and about 90% in others. To me that is totally worth it. I also want to add that this service is near painless for those people pain shy. I'm extremely sensitive and it did not harm my skin at all. Overall my experience has been great and I will continue doing my beauty services here. Thank you.

Shanda L.
15. Mediworks Rejuvenation Centre
Reviews
Had a wonderful experience at Mediworks the customer service was wonderful and Dr. Badesha was very knowledgeable and explained everything clearly.

K McCafferty
Final Thoughts
To sum things up, if you're looking for the top-rated dermatology clinics in Surrey, BC and nearby, look no further than these 15 Best Dermatologists.