The Saskatoon Dermatologists have been handpicked exclusively based on rating factors including but not limited to – Clinic History, Public Reviews, Location, Range of Dermatology Services, Cost of Dermatology Services, Special Offers, Client Engagement, and Awards & Recognition.
SASKATOON'S 10 BEST DERMATOLOGISTS
Here's the list of 10 top-rated dermatology clinics that are most loved by the people of Saskatoon, Saskatchewan:
| S. NO. | DERMATOLOGISTS | RATINGS |
| --- | --- | --- |
| 1 | Dermapure Oshun House | 4.6/5 |
| 2 | Saskatoon Dermatology Centre | 4.2/5 |
| 3 | Bella Sante Dermatology Clinic | 4.3/5 |
| 4 | Walker Dermatology | 3.9/5 |
| 5 | Saskatchewan Laser Hair Skin Care Centre | 4.0/5 |
| 6 | Fade Away Laser & Skin Centre | 4.7/5 |
| 7 | Saskatoon Skin Renewal | 4.5/5 |
| 8 | Polished Beautyspa | 4.8/5 |
| 9 | Prairie Bliss | 4.8/5 |
| 10 | Skin Care Laser YXE | 4.6/5 |
10 Best Saskatoon Dermatologist Near Me
1. Dermapure Oshun House
Reviews
I had a fantastic skin consultation today with Rebecca! She was extremely knowledgeable, professional and honest. I'll definitely be going back to follow through with her skin treatment recommendations.

Emily Wade
2. Saskatoon Dermatology Centre
BEST KNOWN FOR
Belkyra/DCA Botox/Dysport (Neuromodulators), Chemical Peel – Jessner's Peel, Chemical Peel – TCA Peel, Cosmetic Filler, Cryotherapy, Dermal Infusion Peel, Hair Removal, IPL, Photo Facial, Microneedling
DERMATOLOGIST / SKINCARE SPECIALIST
Dr. Kyle Cullingham
WEBSITE
https://www.saskatoondermatology.ca/
PHONE NUMBER
+1 306-373-0040
EMAIL
info@saskatoondermatology.ca
cosmetic@saskatoondermatology.ca
LOCATION
303 Stonebridge Blvd #3, Saskatoon, SK S7T 0G3, Canada
Reviews
Such a beautiful and clean clinic!!
Dr. Siegling did my Botox and she was amazing. Took her time to explain the procedure and the after care to me. No touch up was even needed!! Also in the past I saw Dr. Cullingham who looked at a lesion on my scalp. He took his time to explain what it was, and reassured me that it was nothing serious. Highly recommend this Dermatology Clinic!

Kaitlin Beznoska
3. Bella Sante Dermatology Clinic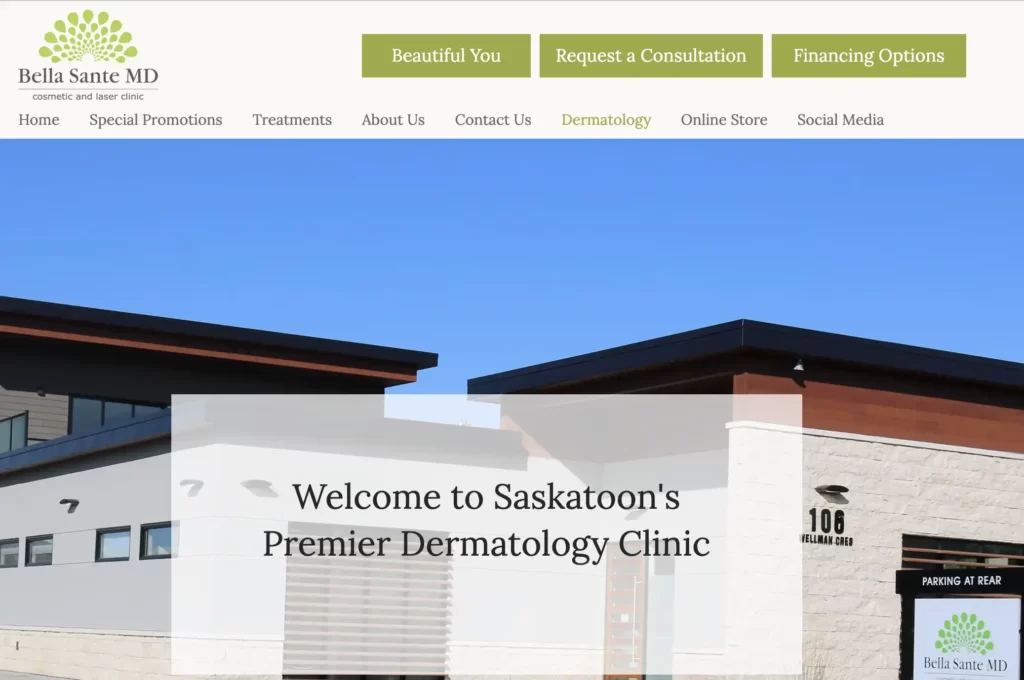 Reviews
I always have an incredible experience from the moment I walk through the doors at Bella Sante until my treatment is complete. I have had three treatments of the Morpheus 8 and the results were great, it helped reduce fine lines around my mouth and eyes and also provided skin tightening. If you are looking for an anti-aging treatment this is one to consider.

Shannon Waldman
4. Walker Dermatology
Reviews
Dr. K Walker is patient ,extremely kind and very professional with a gentle soul. She is compassionate and takes time to answer all of your questions in depth.

She successfully treated my skin issues.

"Pleasant staff. Friendly doctor. What else could one possibly want?"..Highly recommend

Guneet K.
5. Saskatchewan Laser Hair Skin Care Centre
| | |
| --- | --- |
| BEST KNOWN FOR | Oxygeneo, Laser Services, Body Treatments, Skin Care |
| DERMATOLOGIST / SKINCARE SPECIALIST | Dr. Glenn M. Daguio |
| WEBSITE | https://saskatchewanlaserhairskin.com/ |
| PHONE NUMBER | (306) 881-1025 |
| EMAIL | sasklaserhairskincarecentre@gmail.com |
| LOCATION | 1804 McOrmond Dr #110, Saskatoon, SK S7S 0A6, Canada |
Reviews
Location is great. Parking is never a problem. The clinic reception and staff are courteous. Aesthetic staff are friendly, experienced, and highly educated. Scheduling is easy, flexible, very accommodating. Patient education offered is a highlight. Lots of popular services we love..

Thomas
6. Fade Away Laser & Skin Centre
| | |
| --- | --- |
| BEST KNOWN FOR | Injectables, Laser Hair Removal, Facials, Laser Facial, Fractional Skin Resurfacing, Photorejuvenation |
| DERMATOLOGIST / SKINCARE SPECIALIST | Noural El Salem |
| WEBSITE | https://fadeawaylaseryxe.com/ |
| PHONE NUMBER | +1 306-716-4901 |
| EMAIL | hello@fadeawaylaseryxe.com |
| LOCATION | 144 2nd Ave N, Saskatoon, SK S7K 2B2, Canada |
Reviews
Space is pretty, bright, and always clean. I always get a friendly hello when I walk in. Adrea is very thorough walking you through whatever service you're getting and always follows up on your previous service. Love the results too!

Karla Bell
7. Saskatoon Skin Renewal
| | |
| --- | --- |
| BEST KNOWN FOR | Micro-Needling & PRP, Thermo-Clear, Chemical Peel, High Frequency, LED Therapy |
| DERMATOLOGIST / SKINCARE SPECIALIST | Shelley Bridgman |
| WEBSITE | https://www.saskatoonskinrenewal.com/ |
| PHONE NUMBER | +1 306-385-5112 |
| EMAIL | saskatoonskinrenewal@gmail.com |
| LOCATION | 125 Ave C North #2, Saskatoon, SK S7L 0C5, Canada |
Reviews
Shelley was incredibly helpful in picking my pre-wedding face treatment for the ultimate glow for my wedding day. Incredibly happy with her advice and microneedling with PRP. I would 100% go back to Shelley for her skills, knowledge, and the care she provides for her clients.

Catherine Shepphard
8. Polished Beautyspa
Reviews
Jessica was absolutely amazing. I left feeling amazing! She knows how to take care of you from start to finish and looks after everything you can think of to make the experience amazing. My skin feels refreshed and happier already. Will definitely recommend to anyone! She is a amazing person who knows so much about your skincare needs and even writes you a personalized recommendation to fix your problem areas. Highly recommend and can't believe I waited this long to try it out!

Brody & Simmi
9. Prairie Bliss
Launching a new product line for 2016 called Prairie bliss botanicals. #100% natural #skincare #yxe pic.twitter.com/e5zh978AkA

— Prairie Bliss Spa (@_YoginiSpa_) January 11, 2016
Reviews
I've had fillers and Botox/Dysport for over a decade and have had a lot of good work but Dr.Kelly did amazing work giving me the best results yet! She's the perfect package of fun, kind & professional! She answered all of my questions in detail so I was able to make informed decisions. When I wasn't sure, she patiently educated me even more. I'm already booked for a next appointment because I will no longer go anywhere else!

Vanessa
10. Skin Care Laser YXE
| | |
| --- | --- |
| BEST KNOWN FOR | Laser hair removal, Skin tightening, Wrinkle reduction, Leg veins and Spider removal, Port wine stains and redness, Sunspots and Pigmentation |
| WEBSITE | https://www.skincarelaser.ca/ |
| PHONE NUMBER | +1 639-318-9969 |
| EMAIL | office@skincarelaser.ca |
| LOCATION | Unit 240, 536 2nd Ave N The Monarch. 2nd level. Honeybee, Saskatoon, SK S7N 2K6, Canada |
Reviews
I purchased a series of treatments through Skin Care Laser YXE through Groupon and have not been disappointed. The biggest challenge I had was finding the location as it is inside the tattoo place on the second floor and signage is a little lacking. That does not reflect the quality of the treatment or service. The treatment was fast and effective. Having done laser treatments at 2 other locations the results I experienced here were much better. I will continue to use up the rest of my treatments and hopefully will not need any more. Would highly recommend.

Nate Mckenzie
Final Thoughts
In a nutshell, if you're looking for the top-rated dermatology clinics in Saskatoon, Saskatchewan and nearby, look no further than these 10 Best Dermatologists.
This article is a private opinion and does not constitute advice or any suggestion. We encourage you to seek a professional advice to find out which places or local service providers are best for you. Note that any pricing, operating hours, or other such information provided above may have changed since initial publication. Read full disclaimer here.