The North Vancouver Dermatologists have been handpicked exclusively based on parameters including but not limited to – Clinic History, Public Reviews, Location, Range of Dermatology Services, Cost of Dermatology Services, Special Offers, Client Engagement, and Awards & Recognition.
NORTH VANCOUVER'S 4 BEST DERMATOLOGISTS
Here are the top-rated dermatology clinics that you could find in North Vancouver, British Columbia:
| S. NO. | DERMATOLOGISTS | RATINGS |
| --- | --- | --- |
| 1 | DERM Lab | 4.1/5 |
| 2 | EverYoung Laser & Skin Clinics | 4.4/5 |
| 3 | Skin Blossom Pro | 4.7/5 |
| 4 | DMC Skin Clinic | 4.5/5 |
4 Best North Vancouver Dermatologist Near Me
1. DERM Lab
Reviews
I was referred to see Dr. Kuritzky and she was great, and very caring. She got right to the point and told me my options. I was prescribed Accutane (or epuris as it's now called) and I've been having some really bad depression and stomach pains, of course this isn't her fault and more of a warning to others to be wary of its side-effects. Overall the front desk staff were great and very kind. The location is central and the office is very clean and professional.

Shaun Sussbauer
2. EverYoung Laser & Skin Clinics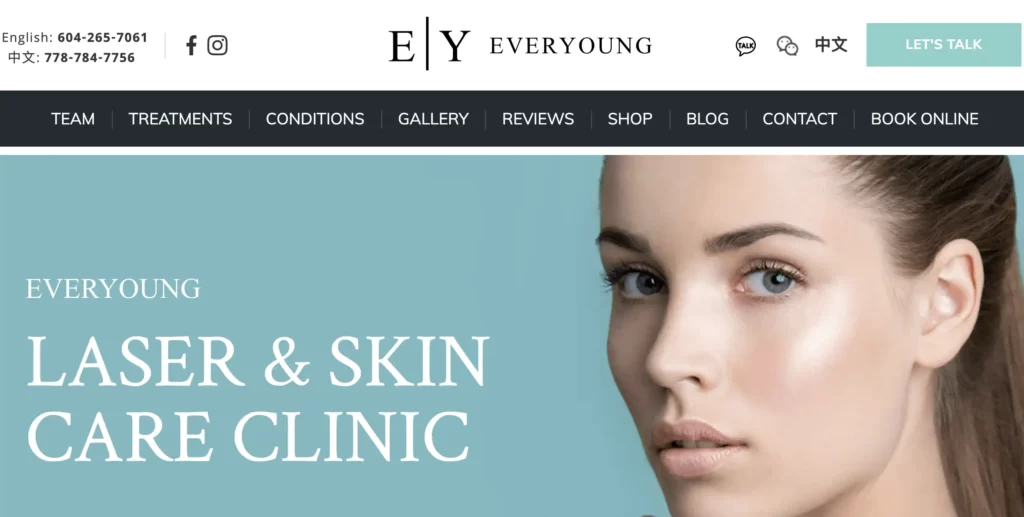 Reviews
Dr Tam is an absolute angel – she puts so much care into her work and she will get you exactly the results you're after. It shocks me every time how painless botox/filler is with her. She's extremely skilled but kind and approachable at the same time. I'm so humbled to receive excellence at a convenient location with responsive and informative staff.

Nina Lahiri
3. Skin Blossom Pro
Reviews
Claudia and Carolina Leon provided excellent care in removing some dark spots and moles for me. Claudia's experience and expertise was evident and I am very happy with the results! I wasn't able to see a dermatologist through the public system for over a year, so a friend suggested I try Skin Blossom. I really trusted Claudia's assessment. I would recommend this clinic to anyone.

Anne Whittaker
4. DMC Skin Clinic
| | |
| --- | --- |
| BEST KNOWN FOR | INJECTABLE FILLERS, DERMASCULPTING, AQUA GLO |
| DERMATOLOGIST/SKINCARE SPECIALIST | Dr. Moon Choi |
| WEBSITE | https://dmcskin.ca/ |
| PHONE NUMBER | +1 604-990-6655 |
| EMAIL | info@dmcskin.ca |
| LOCATION | 138 13th St E Suite #215, North Vancouver, BC V7L 0E5, Canada |
Reviews
I had the pleasure of working alongside Dr. Choi at immunization clinics where his attention to detail let me to visit his clinic. I found DMC Skin Clinic to be at surgical grade cleanliness yet welcoming, and Dr. Choi's manner is professional and reassuring.

Joan Laine
Final Thoughts
In a nutshell, if you're looking for the top-rated dermatology clinics in North Vancouver and nearby, look no further than these 4 Best Dermatologists.
This article is a private opinion and does not constitute advice or any suggestion. We encourage you to seek a professional advice to find out which places or local service providers are best for you. Note that any pricing, operating hours, or other such information provided above may have changed since initial publication. Read full disclaimer here.