The Toronto BOTOX Clinics have been handpicked exclusively based on framework including but not limited to – Clinic History, Public Reviews, Location, Range of Services, Cost of Botox Procedure, Special Offers, Client Engagement, and Awards & Recognition.
How much do Botox injections cost in Toronto?
The truthful response to the question of how much Botox costs in Toronto is that it depends on various factors like treatment area, number of units required etc. Although prices differ from clinic to clinic, they typically range from $9 to $15 per unit in Toronto.
Since everyone has unique facial architecture, muscular action, and skin; we would suggest you get in touch with the below-mentioned Toronto clinics and inquire about the price of Botox. Your cost will then be individually calculated.
Toronto's 13 Best Botox Clinics
Wanted to soften facial wrinkles or prevent excessive sweating? Botulinum toxin could be the answer you're looking for. So, here we present to you the 13 top-rated Botox clinics that are most loved by the people of Toronto, Ontario:
Skinjectables Cosmetic Clinic
Sovereign Skin
Skin Vitality Medical Clinic
Therapeutic Aesthetics
Lift Clinic Toronto
The Pout Clinic
Rejuuv Medi Spa
Pearl on King
Let Them Notice
Youth MediSpa
Philosophy of Beauty
NewDermaMed Clinic
Fresh Cosmetic Clinic
1. Skinjectables Cosmetic Clinic
Reviews
Natural result…
I underwent my very first Botox procedure ever. Because I was anxious, I overstudied it, lol. I had an appointment with Nurse Elizabeth last year, and we scheduled another one in February. I have to admit that choosing this was the finest move. She excels at producing a natural result that is neither overdone nor forceful. Both before and after my time with her, I feel assured. Looking forward to seeing her again. I'm grateful.

Ivy Chen
2. Sovereign Skin
Reviews
Kind and considerate…
Just a few weeks ago, I visited Sovereign for my face treatment. My face feels as soft as a newborn baby because to their service, which I'm really grateful for! I experienced no pain at all during the session because the doctor was so kind and considerate.
It's also important to note that Summer did an excellent job with the introduction; from her, I learned how to use the service. She is bilingual in Mandarin and English.

Clara
3. Skin Vitality Medical Clinic
Reviews
Happy with my botox…
I've had Botox injections at other Toronto clinics and have always felt a bit underwhelmed. Skinvitality immediately understood my needs without trying to sell on more treatments or injections. I've never been this happy with my botox 🙌🏼

Dalila Fransson
4. Therapeutic Aesthetics
Reviews
Super friendly service…
Fantastic experience. No upselling. Sound, medically-based advice was given. Easy to schedule. Easy to pay. Super friendly service. Good value for Botox. This is your only spot for Botox in Toronto.

Cody Dean
5. Lift Clinic Toronto
Reviews
So young and natural…
It had been a few years since I started my Botox treatment and Lindsay made me feel so comfortable and gave me the impression that she knew exactly what she was doing. She spent time going over my worries, outlining my options, and educating me on why her suggestions made the most sense. She provided me with a precise breakdown of how much stuff and how much it would cost before the treatment even began.

I'm overjoyed with the outcomes! My face is still moving, yet it still looks so young and natural. I'm eager to return!

Natasha
6. The Pout Clinic
Reviews
This place is amazing…
I used to have Botox elsewhere in Toronto until discovering the Pout clinic on Instagram. Bev gave me Architox, and she was simply great. The effects are amazing! Anyone who is new to Botox should avoid wasting their time and money by visiting any other clinic besides this one. Their attention to detail is out of this world, and they use an injection technique that is customised for each client. In addition, everyone that works here is incredibly friendly and welcoming. This place is amazing, and my only regret is that I didn't locate them sooner.

Louise
7. Rejuuv Medi Spa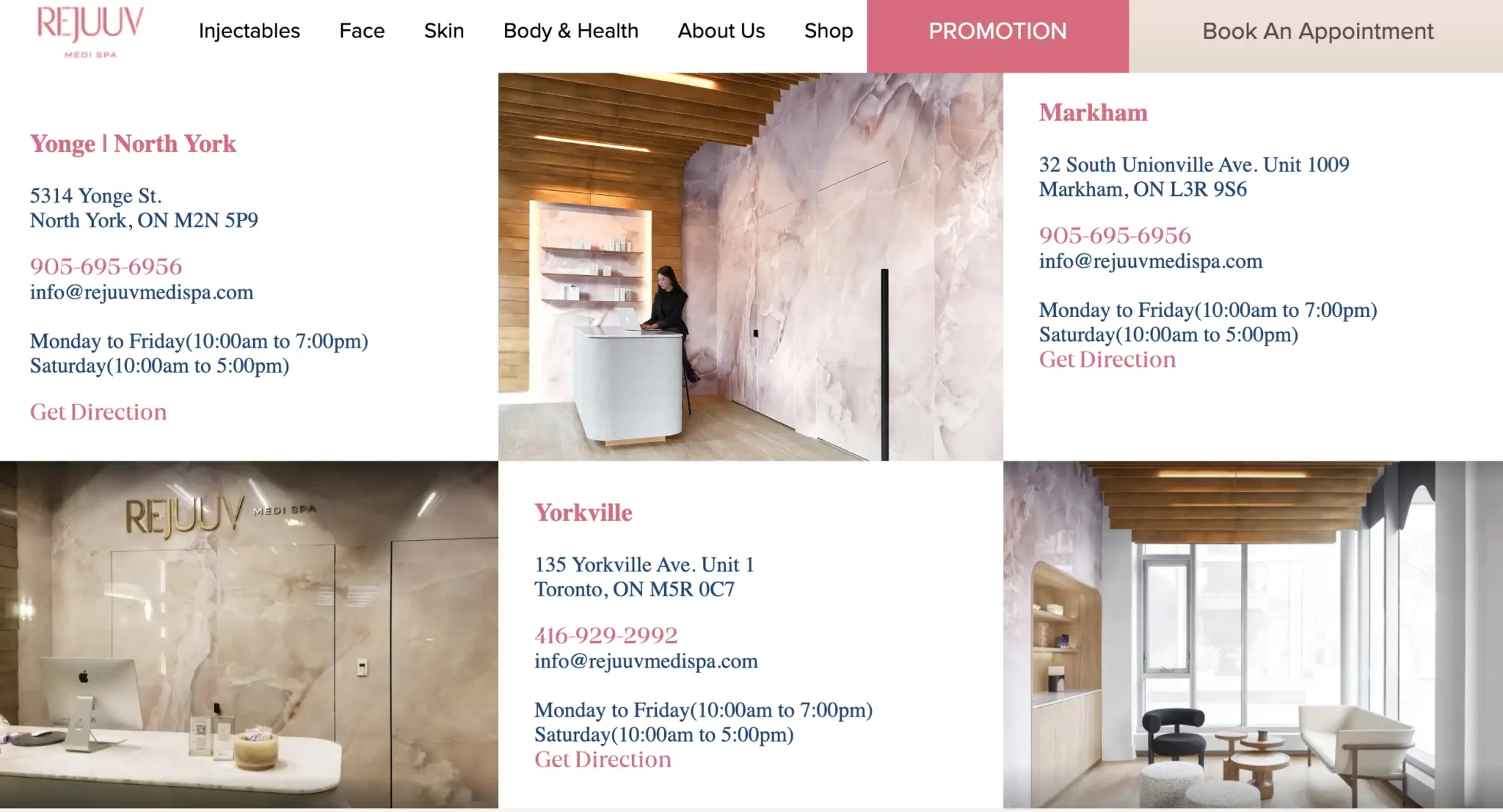 Reviews
Go-to clinic in Toronto…
The service and staff at Rejuuv are outstanding. They are without a doubt my go-to clinic in Toronto for all face and skincare requirements for men. The after-treatment results I see are always outstanding, and they go above and beyond to provide a great experience.

Zach Friedman
8. Pearl on King
Reviews
Amazing experience…
Had an amazing experience with Juliana! I have gone there a couple of times now and would highly recommend it. The Spa is on a high level of King West but more importantly, Juliana knows what she is doing and is a real professional. Look forward to the next visit.

Vishal
9. Let Them Notice
Reviews
Knowledgeable and trustworthy…
My mother wanted a more youthful appearance for my brother's wedding, so I took her here to have botox for the first time. After just one session, she saw a significant improvement, particularly where she had very deep lines around her eyes, between her brows, and on her forehead. If you want knowledgeable and trustworthy assistance, I suggest visiting this place.

Shannon
10. Youth MediSpa
Reviews
Incredible…
Dr. Anthony Chen is so gentle with his technique; which is so lovely. Botox is incredible, it was my first time doing Botox and the results are just simply amazing. My wrinkles are gone.

Amanda
11. Philosophy of Beauty
Reviews
Totally satisfied…
Hey everyone! I just got my lips and botox done and it looks amazing! I am totally satisfied with the results and the service. Top-notch place. Thank you so much!

Maryana
12. NewDermaMed Clinic
Interesting read about the growing number of men opting for #Botox: http://t.co/PB7eksvlly pic.twitter.com/gHEIocqJdB

— NewDermaMed (@NewDermaMed) April 29, 2014
Reviews
Toronto downtown location…
I came to this Toronto downtown location for Botox. Found the staff super professional, knowledgeable and friendly. The nurse Catherine doesn't inject too much like some other places, perfectly what I needed and wanted.

Elizabeth
13. Fresh Cosmetic Clinic
Reviews
Kind, skilled and professional…
Carol was kind, skilled and professional. I came here for Botox a few days ago and already starting to see results, which is great! I will definitely come back to her for more Botox and fillers. You are in good hands here. The space is also extremely clean and comfortable.

Becca
Final Thoughts
To sum things up, if you're looking for injections to make your skin smoother, look no further than these 13 Best Botox Clinics in Toronto.
—END—