Whether it's the keys of our file cabinets that need to be replaced, or we've locked our house and lost the keys; a locksmith near us can be our guardian angel. However, finding a cheap/affordable locksmith in Calgary who is available 24/7 may prove trickier than picking a lock itself.
That's why we've pulled out a list comparing some of the top-rated locksmiths that can help you with quick quality emergency services. The lock and key specialists have been handpicked exclusively based on Business History, Public Reviews, Location, Range of Products/Services, Cost, Special Offers, Customer Engagement, and Awards & Recognition among other rating factors.
Here are the 10 highly-rated locksmiths in Calgary, Alberta:
Ability Lock & Safe Ltd. (SE)
Always Affordable Always Available Locksmiths (SE)
Parry Bros Lock & Safe (SW)
B&W Locksmith & Auto Marda Loop (SW)
SMC Locksmith (SW)
Calgary Lock & Safe (NE)
Super G&R Installation (NE)
ABOE Lockworks Ltd.

(NE)

Calgary Lock Services (NW)
NW Calgary Locksmith Pros

(NW)
Best Locksmiths in Calgary South-East (SE)
Ability Lock & Safe Ltd and Always Affordable Locksmiths are two leading locksmiths in Calgary SE. Their commitment to top quality service is second to none. Look below to know more about them:
1. Ability Lock & Safe Ltd.
| | |
| --- | --- |
| BEST KNOWN FOR | Commercial services, Residential services, In-shop services, Fire department lock box |
| YEARS OF SERVICE | 30+ |
| WEBSITE | https://www.abilitylock.ca/ |
| TELEPHONE | +1 403-248-0008 |
| EMAIL | services@abilitylock.ca |
| ADDRESS | #1, 5301 21A Avenue, Calgary SE, AB, T2B 2E9 |
| WORKING HOURS | Monday – Friday (8.00 AM – 5.00 PM) |
| RATINGS | 4.3 out of 5 |
Established in 1986, Ability Lock & Safe Ltd. has been running as a family-operated business that offers a variety of security and locksmith services in Calgary and the surrounding areas. So when you need to safeguard your home or business, you can rely on their certified, insured and bonded locksmiths.
Ability Lock & Safe Ltd. provides a comprehensive range of products and services to both residential and business customers in Calgary, including Mechanical/Digital keyless entry locks, Door closures, Panic bars, Doors and frames, Card readers, Rekeying of all locks and key duplication among others.
The best part about their service is that whether you own a small store or a commercial facility, they'll have a solution that fits your requirements and budget. Moreover, The locksmith also offers a variety of fire safety solutions to meet all kinds of security access requirements of your property.
This locksmith does have another shop in Airdrie by the name of "Airdrie Lock & Key", which is a subsidiary of Ability Lock & Safe Ltd., and services Olds, Crossfield, Carstairs, and nearby areas.
Pros & Cons
PROS
Full-service lock shop
Dedicated and trained staff
Over 30 years of experience
Affiliated with the Professional Locksmiths Association of Alberta
CONS
Closed on Saturdays with long weekends
Reviews
"They squeezed in my car lock re-key on very short notice and did a perfect job. Very much appreciated and would definitely recommend their services to anyone. Thanks for being awesome."

– Shaun Cullen
2. Always Affordable Always Available Locksmiths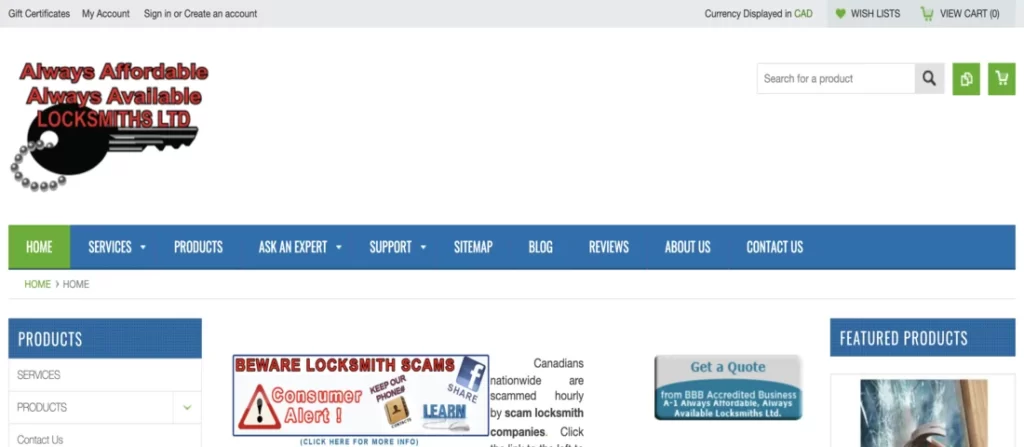 BEST KNOWN FOR
Rekeying or Recoding locks, Commercial locksmith services, Residential locksmith services, Key cutting, Security film sales, Repair locks, Break-in repair & prevention, Car, Home, Business unlocks, Phone & intercom entry systems, Surveillance & CCTV
WEBSITE
https://www.affordablelocksmiths.com/
YEARS OF SERVICE
23+
TELEPHONE
North Dispatch: 403-272-8923
South Dispatch: 403-235-9913
Toll-free: 1-866-356-2587
FAX
1-403-235-2072
EMAIL
info@affordablelocksmiths.com
ADDRESS
4114-Macleod Trail, Calgary SE, Alberta, T2G 2R7
WORKING HOURS
Store Hours: Monday – Friday (8.00 AM -5.00 PM)
Mobile Hours: 24/7
RATINGS
4.5 out of 5
Always Affordable Locksmiths Ltd. is a global Company servicing cities throughout North America. The company has been providing key services in Calgary since 1998 and has swiftly established the reputation of providing the best service delivery, and high-quality workmanship.
The company offers the technology and skills to handle everything from lockouts to safes for both residential and business clients. Also, the locksmith offers high-security locks as well as the most up-to-date security choices on the market through its website and physical store.
Another reason to trust this locksmith is that Always Affordable Locksmiths Ltd is a member of the Better Business Bureau with an A+ rating in the category of Calgary Locksmiths, as well as Bonded and Insured.
Always Affordable Locksmith is a leading supplier of commercial and home safes to the City of Calgary. They have the largest security showroom in Canada to help you find the right safe for your requirements.
Unfortunately, this locksmith has also received complaints about the prices despite the company's claims to offer transparent quotations for each service request.
Pros & Cons
PROS
24/7 mobile service availability
Plenty of free parking space
Seller of popular brands like Master Lock, Don-Jo, Emtek etc.
Comprehensive website with product displays and prices
CONS
Some complaints about price quotes
Reviews
"Was locked out of my house with two kids. I locked keys in house and couldn't get into my car as well. I am lucky I had my phone. Called Affordable Locksmiths and they sent a guy in 15 minutes. Terry let me and the kids sit in his van to warm up while he opened the front door. He got in so fast that we didn't get a chance to warm up. Great Service!!"

– Beth R
Best Locksmiths in Calgary South-West (SW)
Parry Bros Lock & Safe, B&W Locksmith, and SMC Locksmith are the three best names in locksmithing in Calgary SW. They are praised for their affordable and professional services. Look below to learn more about them:
3. Parry Bros Lock & Safe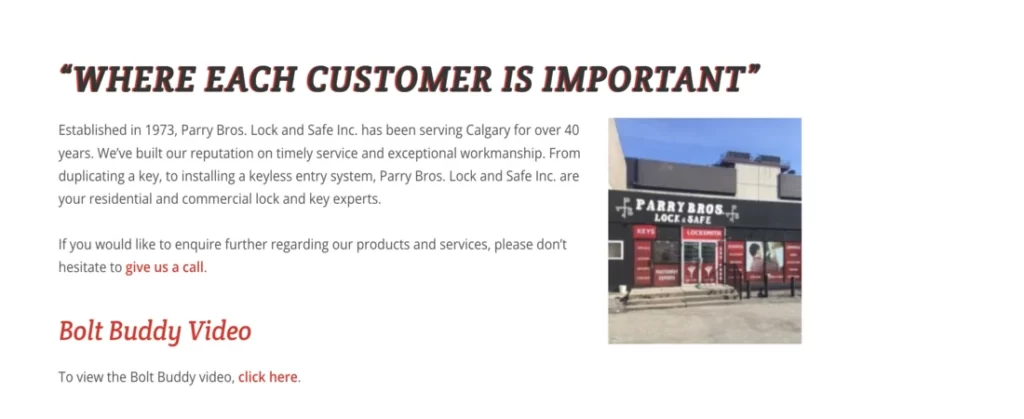 | | |
| --- | --- |
| BEST KNOWN FOR | Deposit safes, Floor safes, Cash safes, Data safes, Key duplicating, Intercom entrances, Mul-T-Lock, Fire dept. lock box, Keyless entry for commercial and residential applications |
| WEBSITE | https://www.parrybros.com/ |
| YEARS OF SERVICE | 40+ |
| TELEPHONE | 403-245-6666 |
| EMAIL | pbros@shaw.ca |
| ADDRESS | 1318 11 Ave, Calgary SW, AB T3C 0M6 |
| WORKING HOURS | Monday – Friday (8.30 AM – 4.00 PM) |
| RATINGS | 4.1 out of 5 |
Now, if you're searching for the best locksmiths near Calgary that can handle all aspects of your home or business security system, then Parry Bros Lock and Safe should be given a thought.
Parry Bros. Lock and Safe Inc. has been serving Calgary for almost 40 years, having been founded in 1973. The company has made a name for itself by providing prompt service and high-quality work.
Their consumer-friendliness is reflected in the way they offer a 2-hour window for service calls, so you can plan your day. In addition to this, Parry Bros. Lock and Safe Inc. will also phone ½ hour in advance to intimate the client before the lock technician's arrival.
The firm handles everything from key duplicating to keyless entry installations.
Pros & Cons
PROS
Offers a fully displayed showroom
Staff members carry photo IDs and wear uniforms
8 service vehicles to serve the whole city of Calgary
CONS
Limited hours
Closed on Saturday, Sunday and holidays
Reviews
"I needed some keys cut for my apartment and went to three different places before I tried Parry Bros Lock & Safe. The quality of cut keys here are far better than any home improvement store. I also appreciate their great customer service. Their experience shows they know copied keys will not always be perfect (it happens) and you will be reminded to hang on to your receipt in case your new key doesn't work. When I needed new keys cut after an office move, Parry Bros was obviously my first choice. I had to get a correction for one of the keys the next day but I was confident they would do right by me and they did. Absolutely stellar place, would highly recommend their services."

– Kimi Nguyen
4. B&W Locksmith & Auto Marda Loop
BEST KNOWN FOR
Emergency locksmith services, Car ignition repair services, Broken car key extraction, Car keys duplication, Lock installation services, Safe opening
WEBSITE
https://bnwlocksmith.com/
TELEPHONE
403-668-1446
EMAIL
info@bnwlocksmith.com
ADDRESS
Branch 1: 2022 33 Ave, Calgary SW, AB T2T 1Z4, Canada
Branch 2: 560 Cleveland Crescent, Calgary SE, AB T2G 4A9
WORKING HOURS
24/7 (Always available)
RATINGS
4.9 out of 5
The next locksmith in Calgary who is best in ratings is B&W Locksmith. It is Calgary's leading full-service and emergency locksmith firm which caters to both residential and business customers, as well as motorists facing problems such as lost, stolen, or damaged keys.
B&W Locksmith now has three facilities in Calgary, one in the South-West and two in the South East, which provides fast response for all types of locksmith service requests in the city and adjacent regions. Its professionals can work on locks in both residential and business doors, as well as in automobiles.
The company understands the different security needs of a business and as such provide a beefy layer of protection with tough, durable locks to keep them safe from intruders. And when it comes to residential services, they also provide emergency access services, comprehensive re-keying services, lockout solutions, backyard gate locks as well.
Furthermore, their 24-hour emergency assistance for cars and motorcycles is most liked by the residents.
Pros & Cons
PROS
24-hour residential locksmith service
Competitive service rates
Fully bonded and insured, certified master locksmiths
CONS
Some complaints about scheduling appointment
Reviews
"Excellent and Amazing services! We got locked out of our apartment due a faulty lock and spent so long calling different locksmiths who couldn't help us or too pricey. B&W was super helpful and accommodating to our financial issue. Drew was really professional and was able to get us into our apartment and installed a new lock for us so it wouldn't happen again. I highly recommend B&W locksmith to my family. Their service is amazing!"

– Nancy Moraox
5. SMC Locksmith
| | |
| --- | --- |
| BEST KNOWN FOR | Car locksmith, Ignition key replacement, Lost car key solutions, Car lockout services, File cabinet locks, Door installation/repair, Lock picking, Lock installation/repair, Lock re-key, Home/car lockout solutions, Lost key replacement, Lock rekey, Key duplication |
| WEBSITE | https://smc-calgary-locksmith.ca/ |
| YEARS OF SERVICE | 3+ |
| TELEPHONE | (403) 667-0654 |
| ADDRESS | 4101 Eversyde Blvd #3, Calgary SW, AB T2Y 0J4, Canada |
| WORKING HOURS | 24/7 (Always available) |
| RATINGS | 4.3 out of 5 |
Another big name in the list of best locksmiths is SMC Locksmith of Calgary. SMC Locksmith Ltd. provides a competent, dependable, and inexpensive locksmith service in Calgary and the surrounding area, aiming to give you high-quality service and peace of mind.
The company place its bet on a network of locksmiths who are able to tackle any lock & key problem, from replacements to lockouts and security system installation.
Moreover, SMC Locksmith promises a first-class service every time and respond to all queries and attend all call-outs without a miss. So whenever you find yourself in an emergency predicament, call their 24-hour emergency service line and they will be there for you.
SMC Locksmith also provides free consultation regarding security risk evaluation and space monitoring to arrive at an appropriate security system. But there's a catch; mostly business clients can avail this free consultation.
Pros & Cons
PROS
24/7 emergency locksmith services
Supplies and installs security products
Provide residential locksmith services at NE Calgary, NW Calgary, SW Calgary and SE Calgary, Airdrie, Chestermere, Cochrane, Strathmore and Bragg Creek.
CONS
Some complaints about prices and slow response times
Reviews
"Alexey made the call to help us get our keys out of our trunk. He was professional and made his best efforts to get the trunk open after getting into the cab. After a bit of difficulty due to the built-in security, he got us into the trunk to get the keys. Thanks for the great work in a frustrating situation!"

– Ben Hartney
Best Locksmiths in Calgary North-East (NE)
Calgary Lock & Safe, Super G&R Installation, and ABOE Lockworks Ltd. are yet another top-notch locksmiths based in Calgary NE. They possess extensive knowledge and expertise in the field of commercial and residential security solutions. Look below to know more about them:
6. Calgary Lock & Safe
BEST KNOWN FOR
Automatic door services, repair, and new installations, Door Services, Doors Replacement, Repair, Restricted Key, Master key, Safes, Traditional/Electronic locking devices, Keyless locks, Transponders/Non-transponder keys, Padlocks, Camera, Alarm integration & Auto locksmithing
WEBSITE
https://www.calgarylockandsafe.com/
YEARS OF SERVICE
35+
TELEPHONE
(403) 768-9158
For 24/7 emergency services: 403-250-5698
EMAIL
dispatch@calgarylockandsafe.com
ADDRESS
1655 32 Ave, Calgary NE, AB T2E 7Z5, Canada
WORKING HOURS
Monday – Friday (8.00 AM – 5.00 PM)
RATINGS
4.7 out of 5
Calgary Lock and Safe is a highly-rated full-range locksmith offering its services to commercial and residential buildings as well as automotive vehicles. To stay competitive, Calgary Lock and Safe also handle 24/7 emergency service requests.
With more than 50 employees, 25 mobile vans, and over 100,000 Calgary doors under management, the company has grown tremendously over the years. They've only partnered with high-quality product manufacturers, including Medeco, ABLOY and MUL-T-LOCK to establish trustworthiness among its consumers.
Their big list of Accreditations & Associations and Key partners is another reason to try out Calgary Lock & Safe services.
Apart from re-keying or re-coding the business or residential locks, Calgary Lock & Safe is available 24/7 to help with any automotive lock issues, including if you've locked your keys inside, stuck keys in doors or ignitions, need new transponder or remote keys or more.
The best part about Calgary Lock & Safe is that the client can upload photos and videos while contacting the locksmith on its website. This ensures quicker and appropriate service delivery by the company.
Pros & Cons
PROS
24/7 emergency service
Large workforce and mobile vans
Comprehensive website
Serve Calgary, Airdrie, Banff, Brooks, Canmore, Cardston, Claresholm, Drumheller, Fort Macleod, Fort McMurray, Grand Prairie, Hanna, High River, Lake Louise, Lethbridge, Medicine Hat, Okotoks, Olds, Pincher Creek and Red Deer
CONS
Non-emergency services limited to weekdays
Reviews
"HIGHLY RECOMMEND!! If you are looking for a door lockset or lock change, this is the place to go. Jake was so friendly and amazing in helping me figure out exactly what I needed and was super responsive to ALL of my questions along the way! Gary was the technician who came out to install the locks and he did such a skilled, professional fantastic job. He had to return to put in some lock-sets and it felt like welcoming a friend back – he's funny to boot! He also gave me some good advice about my garage lock that I really appreciated. These guys are trustworthy, go above and beyond and the prices were great too. 10 thumbs up! :)"

– Monique N
7. Super G&R Installation
| | |
| --- | --- |
| BEST KNOWN FOR | Lock installation, Lock replacement, Key cutting and rekeying locksmith services, Master key solutions, Deadbolt installation, Filing cabinets and desk locks, Buzzer systems, Automotive locksmith services |
| WEBSITE | https://calgarylocksmithservices.ca/ |
| TELEPHONE | (403) 461-7473 |
| EMAIL | info@calgarylocksmithservices.ca |
| ADDRESS | 2750 3 Ave #101, Calgary NE, AB T2A 2L5, Canada |
| WORKING HOURS | 24/7 (Always available) |
| RATINGS | 4.9 out of 5 |
Super G&R has been in the locksmith business in Calgary for a long time and has built a reputation of trust and professionalism over the years.
The company offers a variety of services for residential, business, and automobile needs through a team of highly trained, certified locksmiths. Restricted key system, Double cylinder deadbolts, Knob sets, Safes or Padlocks, and buzzer systems are among the complex lock and security systems that this locksmith can install and operate with.
Despite technological advancements, Super G&R Services still provide traditional automotive locksmith services including: duplicating keys, making new keys, supplying new genuine or aftermarket door, boot, ignition and glove box locks. Indeed, peace of mind for old car owners!
Whenever you need emergency services, Super G&R has locksmiths available 24 hours a day, 7 days a week who can bypass the lock in no time. Another best part about the company is their fix priced $45 emergency service call, which you can avail at any time of the day.
Pros & Cons
PROS
24/7 lock services
Additional local services at Airdrie, Okotoks, Chestermere
Fully equipped with the tools
Marked fleet of vehicles
Provide traditional as well as high-tech locksmithing
Reviews
"On Oct 21, 2021 I needed an automotive locksmith. I chose this company since my friend's friend had just used them for automotive service and were very happy with their service. The service from Greg did not disappoint. Excellent service, professional, showed up on time. Very knowledgeable. I will certainly use this company again in the future should I need a locksmith."

– Syl Outwest
8. ABOE Lockworks Ltd
| | |
| --- | --- |
| BEST KNOWN FOR | Door closers, Glass and aluminum door hardware, Key and card access systems, Emergency exit devices, Cabinet locks & Mailbox locks, Locks rekeyed, Commercial door hardware, High-security locking systems, Deadlock (bolt) systems, CCTV products: Security Cameras & Systems |
| WEBSITE | https://www.aboelockworks.com/ |
| YEARS OF SERVICE | 35+ |
| TELEPHONE | (403) 230-5625 |
| FAX | (403) 230-5494 |
| EMAIL | shop@aboelockworks.ca |
| ADDRESS | 1308 Centre St, Calgary NE, AB T2E 2R7 |
| WORKING HOURS | Monday – Friday (8.30 AM – 5.00 PM) |
| RATINGS | 4.7 out of 5 |
Looking for a new safe, deadbolts or locks for doors or windows, or even surveillance products like CCTVs? ABOE Lockworks is your go-to firm.
It is a well-established and locally owned locksmith firm based in Calgary. In 1978, Bruce Attwell and Ernie Olson, two young Calgary locksmiths, launched the company. And it is now one of the downtown Calgary's oldest and most dependable locksmiths.
Ernie now has a fleet of eight vans, which can be seen travelling around Calgary en route to their next assignment, up from the two vans they started with.
Safes, automotive locks, door security, card access systems, cameras, and other services are now available through ABOE Lockworks. You can't miss out on Bruce and Ernie's ABOE Lockworks if you want the greatest security service for your house, company, or automobile.
Pros & Cons
PROS
Distinctive black and yellow coloured mobile vans
Over 3 decades of service experience
After-hours emergency service available
CONS
Non-emergency services limited to weekdays
Reviews
"Received excellent service from Chris at ABOE this week. He changed multiple locks for me and was super knowledgeable, professional, efficient, tidy, respectful, and genuinely a nice guy. Great prices as well when compared to other competitors in the area. Will definitely consider using ABOE in the future."

– Nico B
Best Locksmiths in Calgary North-West (NW)
Calgary Lock Services and NW Calgary Locksmith Pros are reputed names in Calgary NW. The core of their business focuses on providing customers with an efficient and reliable service. Look below to know more about them:
9. Calgary Lock Services
| | |
| --- | --- |
| BEST KNOWN FOR | Emergency lock, Home lockouts, Automotive lock & Auto lockouts, Lock repairs, Lock re-keying, Door and window lock change, On-site key cutting, Supply and install deadlocks, deadbolts, window locks |
| WEBSITE | https://calgarylockservices.com/ |
| TELEPHONE | +1 (403) 870-4095 |
| ADDRESS | 307 Trafford Dr, Calgary NW, AB T2K 2T1, Canada |
| WORKING HOURS | 24/7 (Always available) |
| RATINGS | 4.8 out of 5 |
A 24/7 locksmith like Calgary Lock Services is especially helpful when you are locked out of your vehicle or house at night.
Calgary Lock Services has two teams: Calgary South Lock Services headed by Greg and the other Calgary North Lock Services headed by Rob. Aside from locksmithing services, the company also safeguard homes and businesses by doing the security inspection of the site and expert recommendations to increase security.
The company promises that locksmiths can make it to your place very quickly (15-40 minutes for most areas in Calgary) at a very reasonable and cheap rate. Like some of their competitors, they've placed a fixed service call rate of $44.99.
But while it claims to offer fast service delivery, Calgary Lock Services has still received some complaints about delays in processing service requests.
Pros & Cons
PROS
24 hour emergency lockout service
Cover all regions of Calgary, Airdrie, Okotoks and Chestermere
CONS
Some complaints about slow response time
Reviews
"Rob was fantastic, came to my house and cut 2 car keys for me. Best priced quote out of anyone I called, and he came by within 30 mins. Highly recommend and will call them for any other locksmithing needs."

– Sam
10. NW Calgary Locksmith Pros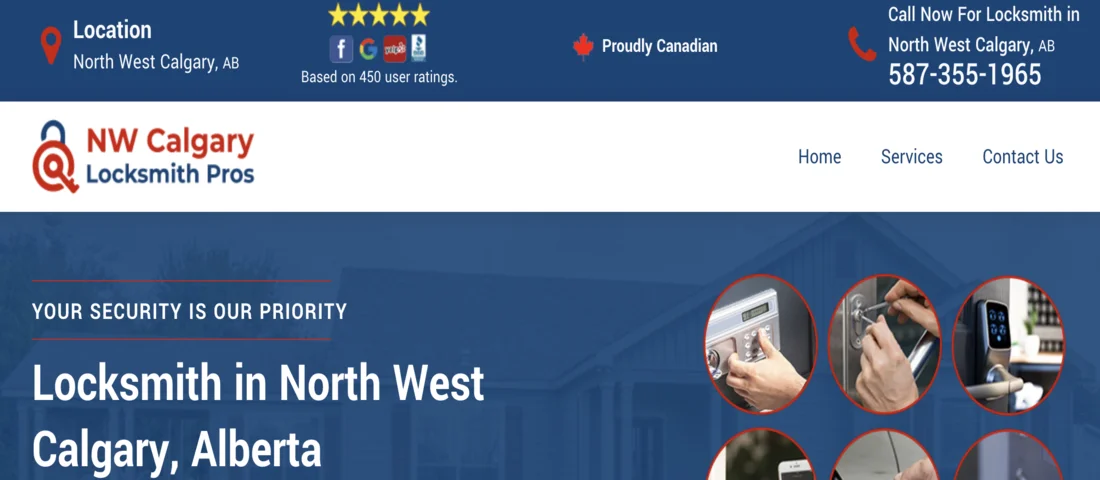 | | |
| --- | --- |
| BEST KNOWN FOR | High-security door locks, Master key system, Electric door lock repair, Smart lock repair, Door knobs repair, Residential locksmith, Bluetooth locks, Wi-fi locks, Mailbox lock replacement, Emergency locksmith |
| WEBSITE | https://www.nwcalgarylocksmithpros.ca/ |
| YEARS OF SERVICE | 20+ |
| TELEPHONE | 587-355-1965 |
| EMAIL | info@nwcalgarylocksmiths.com |
| ADDRESS | North West Calgary, AB |
| WORKING HOURS | 24/7 (Always available) |
NW Calgary Locksmith Pros are professional locksmiths specialize in replacing door locks, solving emergency lockouts problems, commercial locksmith services, and car locksmith services.
Their locksmith services are completely mobile so no matter where you need locksmith services, a friendly member of their team will come to you.
NW Calgary Locksmith Pros can duplicate house, business, or car keys on your premises using their mobile and fully supplied vans, and their high-tech technology can even generate copies from broken or damaged keys, allowing them to get your new keys made swiftly and on the spot.
Pros & Cons
PROS
24/7 mobile locksmith vehicles
Comprehensive website
CONS
Exact address not available
Reviews
"Really happy with the service provided by NW Calgary Locksmiths, arrived really quickly, fixed the lock within an hour, and had a great price. Would highly recommend it to all."

– David Henley
Frequently Asked Questions
1. How much does it cost to rekey a lock in Calgary?
Re-keying is less expensive than replacing locks. The cost to rekey a lock in Calgary usually ranges between $90 to $200 depending on the type of lock and service request.
2. How much does a locksmith charge in Calgary, Canada?
Now that you know some of the best locksmiths in Calgary, it's important to know how much do they charge for their services. After all, it's important to find one that fits your budget. Most locksmiths charge anywhere from $3 to $550, depending on the size and scope of the service.
Below is a chart of the average costs of locksmith services in Calgary:
| Type of service | Average price (in CAD) |
| --- | --- |
| Replacing a house lock | $50 to $240 |
| Rekeying a house lock | $90 to $200 |
| Duplicating a house key | $3 to $10 |
| Replacing a house key | $50 to $150 |
| House lockout | $150 to $300 |
| Replacing a car key | $85 to $200 |
| Repairing a car ignition key | $200 to $550 |
| File cabinet or Safe vault lockout | $20 to $45 |
When it comes to calling a locksmith to fix your problem, keep in mind that these costs also factor in the type of lock, time and day of your request.
3. How can I avoid locksmith scams?
Canadians nationwide are scammed every day by various scam locksmith companies. A few news outlets, including the CBC, have covered the topic. Still, many consumers are unaware and so the scam continues.
So here are top 6 things people can do to avoid being duped:
Stay away from rip-off locksmiths with no real physical address: While there are still many of good, honest, and hardworking locksmiths who can efficiently cater to all of your commercial or residential security needs, there are also plenty of con artists who are eager to take advantage of you. The first thing you should do to avoid locksmith scams in Calgary is verify that their shop's address is correct and that it exists.
Before You Call, Look for a reputable business name & Check their website: If you locate a locksmith with a neighbourhood address, look up that address on the internet. When you contact, inquire about the company's location.
Pay special attention to toll-free numbers: While not all locksmiths who offer a toll-free number are necessarily fraudsters, there are situations when seeing a toll-free number might raise your suspicions.
Ask for identification: When the locksmith arrives at your door, ask for their identification to establish the identity is real or not.
Double-check the prices before the job starts: Get a thorough cost breakdown in writing before allowing them to begin the work, and have them note any changes that occur.
Always follow these best practices next time you need to hire a locksmith in Calgary.
Conclusion
If you're looking for all kinds of locksmith services for your unique needs in Calgary and the surrounding areas, look no further than these 10 locksmiths. So just sit back and dial them!
Do you have any other locksmiths in mind who deserve to be called "Best in ratings"? or Have you worked with any of these businesses before…?
Let us know your experience in the comments below.
This article is a private opinion and does not constitute advice or any suggestion. We encourage you to seek a professional advice to find out which places or local service providers are best for you. Note that any pricing, operating hours, or other such information provided above may have changed since initial publication. Read full disclaimer here.