The Nanaimo dentists have been handpicked exclusively based on rating factors including but not limited to – Clinic History, Public Reviews, Location, Range of Dental Services, Cost of Dental Services, Special Offers, Client Engagement, and Awards & Recognition.
Nanaimo's 15 Best Dentists
Searching for the Best Dentist near me?
Here's the list of 15 top-rated dental clinics that you could find in Nanaimo, British Columbia, CA:
1. Brooks Landing Dental (Downtown Nanaimo)
Clinic Highlights
Extensive selection of dental services and treatment options
Short wait times and multiple appointment bookings for families
Dental sedation techniques and technologies available
Always taking in new patients to their clinic
Dentistry Reviews
Fun, professional, exceptionally courteous and listen to your questions and concerns. Each gives it their all. Can't ask any better than that. Dr. Mckenzie is the best dentist I've ever had and there have been some awesome others along the way. Highly recommend!

Sarah
2. Northfield Dental Clinic
Clinic Highlights
Serving families as Nanaimo dentists since 2007
provide gentle, individualized dental care for you and your family
Always welcoming new patients of all ages
Open on Saturdays and has flexible hours to suit most lifestyles
Dentistry Reviews
Nothing but professionalism from the talented people at Northfield Dental. I'm a new patient with them, having moved here recently. They've made the transition between dentists seamless.

Often with past dentists, I've felt somewhat 'in the dark' about what's going on with my teeth. This is not the case here. They're up front and transparent about cost and procedure; they make sure you know what's happening the whole way through. Dr. Booker is a talented, highly skilled dentist and she's incredibly charismatic and full of good conversation as well which takes the edge off of having one's mouth frozen for a filling.

Jacob McConnell
3. Dover View Dental Centre
Clinic Highlights
General, cosmetic, and speciality services all under one roof
Proud members of Blue Ocean Dental Group
Office is wheelchair-friendly and accessible
New patients are always welcome
Dentistry Reviews
The Dover View Dental office is the best Dental office I've ever had. Our daughter had braces 10 years ago she had had numerous cleaning in another city over the years. She had a cleaning at Dover Dental and they found some glue from her braces that the previous dentist office had never found.

The staff are all very friendly, professional and explain everything very well. The front reception staff are also very helpful and friendly. Highly recommend this dental office.

Jane White
4. Wellington Dental Clinic
Did you know you can miss 35% of the teeth's surface by not flossing? https://t.co/sYR8zoQBcD pic.twitter.com/BvEWFbP8ow

— Wellington Dental (@Videntist) September 16, 2016
Clinic Highlights
Wheelchair-accessible, cosy, patient-focused office
Expert doctors, hygienists, and assistants will make use of the most recent technologies
Accept direct payment from insurance companies as a service to their patients
Dentistry Reviews
Amazing clinical staff! I've been seeing Dr. Grewal primarily since I was a kid, however I've seen both of his associates here and there and they are all incredible. No praise is high enough for their patience and bed side manner. They also have the most talented hygienists, so much so that I actually enjoy my regular cleanings.

Additionally, whenever I've walked through the door the receptionists have all done a fantastic job of making me feel welcome and comfortable. I would highly recommend coming to this clinic if you're new in town and looking for a dentist or hygienist!

Lina
5. Brickyard Dental Clinic
Clinic Highlights
Offer you the best medical treatment and practical financial options
Employs in-office digital imaging technologies
Accept Visa, MasterCard and Interact as modes of payment
Dentistry Reviews
If you're in need of a new dentist like I was, check out the Brickyard Dental Clinic. You're first greeted with a smile and a cheery hello by Allison. She makes you feel welcome and at ease.

Dr. Tan and Crystal are fantastic! Still healing from a TBI, they both showed me compassion, explained everything, sometimes twice. Dr.Tan was very thorough and meticulous. Most impressive was her gentleness. I almost fell asleep in the chair.

I highly recommend Dr.Tan and the Brickyard Dental Clinic!!

Andy
6. Eagle Point Dental
Clinic Highlights
Specialize in dental hygiene and restorative dental services
Welcome and accept new patients to their practice
Use state-of-the-art dental tools in a friendly and relaxing atmosphere
Dentistry Reviews
As a retired dentist I know a thing or two about dentistry and dental offices. This is the office my wife and I attend since I retired almost 10 years ago. Dr Chisholm is a combination of friendly, efficient, and competent.

Her staff is the kind I always tried to have. The one appointment in house digital crown fabrication is what I did for years and know first hand the value, quality, and convenience this provides. Few dentists invest in the technology and learning curve for this state of the art ability for their patients.

Don White
7. Lakeside Dental Clinic
Clinic Highlights
Focuses on general dentistry as well as preventive, restorative, and cosmetic dentistry
Has three decades strong track record of successfully treating patients
Provide Sedation Dentistry option for scared patients
Dentistry Reviews
I had my dental implants done by Dr. Wolanski after about 6 months of preparatory work and I couldn't be happier with the results. The 6 months wait time was absolutely necessary for a successful outcome and I'm grateful to Dr. Wolanski for his thoroughness and professionalism. Anyone considering a dental implant should put Dr. Wolanski at the top of their list.

Roger Johnson
8. Westhill Dental Clinic
Clinic Highlights
Staff that is caring, fun, and hard-working individuals
Provide high-quality dental fixtures and implants

Educate patients on the methods needed to get the best long-term results

Accept assignments of payments from most insurance plans
Dentistry Reviews
We've been going to Dr. Liu for years and very satisfied and pleased with the service he and his staff provide. Not only do they provide excellent work, but they are very friendly and considerate and it always feels like they care about every single patient they have.

Anisa Barraquias
9. Seven Sails Dental Centre
Clinic Highlights
Conveniently located about two blocks from the Nanaimo Regional Hospital
Boasts state-of-the-art dental facility in the region
Accept Third party insurance, MasterCard, Visa, and cash
Dentistry Reviews
Our family have been coming to Dr. Olesen's office since the early '90's when we moved from Vancouver. We were in need of a dedicated and professional Dentist because of our dental conditions and we knew that we required many different types of corrective work. Dr. John has always been very thorough, kind and dilligent with all three of us and we each have completely different types of teeth. We are very happy to have found the best of care.

Wayne Trevor
10. Malaspina Dental
Clinic Highlights
Offer a wide range of dental services and treatments
Serve patients from Nanaimo, Lantzville, Cedar, Parksville, Qualicum Beach, Coombs, Ladysmith, Nanoose Bay and the nearby communities
Currently taking in new patients to their clinic
Dentistry Reviews
The whole dental experience was very positive. Staff and Dr. Tayari were friendly and caring. Staff and dentist very knowledgeable and took the time to explain things to me about my teeth. I am so happy to have found this dental office and highly recommend to anyone looking for a new dentist.

Deborah Mueller
11. Diver Lake Dental Clinic
Clinic Highlights
Helping families in Nanaimo as dental specialists since 1995
Provide emergency dental care that is quick and efficient for sudden injuries or accidents
Use a variety of best-in-class tools, like computerised x-rays
Offer Sedation Dentistry to give a more relaxing experience
Dentistry Reviews
Megan and Dr. Gill were both very kind, compassionate and knowledgeable. Megan explained what she was doing every step of the way and Dr. Gill explained his treatment recommendations and the costs involved in the process.

Scott Graff
12. Nanaimo Dental Specialists
Clinic Highlights
Experts in the treatment of complex dental procedures

Dentists have specialized training, clinical and scholastic accomplishments

Nearly any oral condition can be managed by their dental specialists
Dentistry Reviews
Thank you to Dr Beiriache, Sharlene & Megan at Nanaimo Dentist Specialist Center for your great care. They were very helpful, friendly & knowledgable. Highly recommend them all.

Kathy
13. Terminal Park Dental Clinic
Clinic Highlights
Over 3 decades of serving the Nanaimo community as dentists
Before- and after-work appointments with simple access and FREE parking
Multilingual approach to dental services by speaking English, French, & Punjabi
Dentistry Reviews
I had a "dental emergency" that needed to be taken care of. Terminal Park Dental, Dr Beslic and Terry took great care in looking after my tooth and infection. I highly recommend this practice for any of your dental care.

Rick
14. Harewood Dental Clinic
Clinic Highlights
Friendly and caring staff that is treating patients of all ages
Has a playroom for kids, TVs, magazines and music to enjoy in the office
All dental insurance accepted
Dentistry Reviews
I had a great experience at this dental office. It's clean and modern. The staff and hygienist were welcoming and accommodating. I will recommend this dental practice to other family and friends in the Harewood area.

Ariel Bent
15. Avonlea Dental Clinic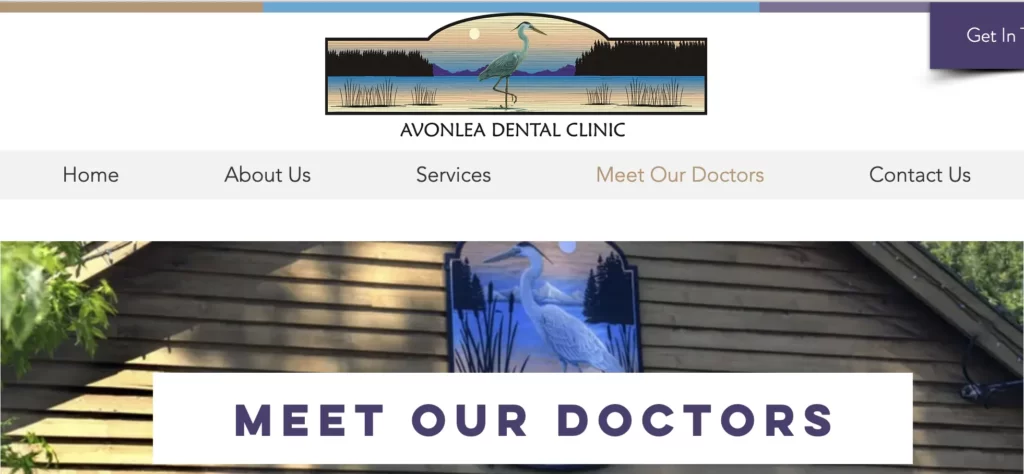 Clinic Highlights
Develop a custom, comprehensive plan to fully meet patient's dental needs
Keep up with the most recent medical developments and technological advancements
Provide immediate care and attention to people of all ages in case of dental emergency
Dentistry Reviews
Excellent Clinic. Dr. Quinn is amazing, explains in a clear, concise and understandable manner the procedure and what is involved. The staff are also very warm and friendly…..you can hear the smile in their voice even though they are masked. COVID protection procedures are excellent

Would highly recommend this dental clinic for anyone looking for a new dentist in Nanaimo. Only concern is that wait times are long….but well worth it.

Donn
Final Thoughts
In a nutshell, if you're looking for the top-rated dental clinics in Nanaimo, BC and nearby, look no further than these 10 Best Dentists.